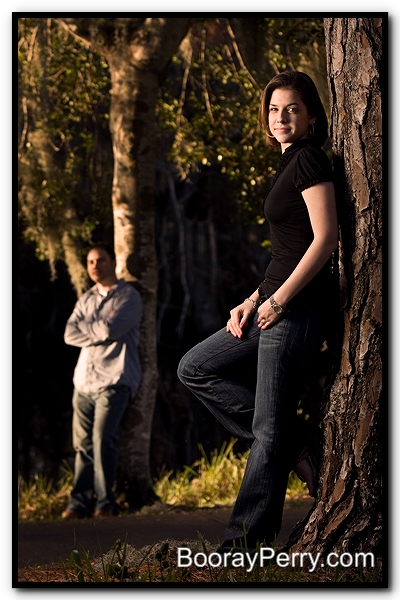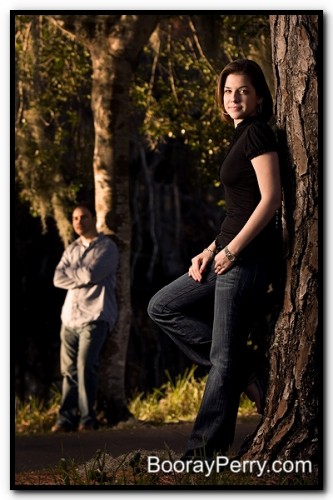 Last week I shot an engagement session that started earlier in the day than I prefer. Most photographers will try to shoot during the "golden hour" just before sunset because you generally get the best light then and maybe a great sunset to work with. For this session, we started about three hours before sunset with no clouds in sight. Fighting the sun can be a challenge sometimes but it also offers some great opportunities for unique shots.
I'm a wedding photographer in Tampa Bay, FL and these pictures were taken in Sawgrass Lake Park.
For this shot I used a 70-200mm zoom  and a Canon 580EX on  a tripod with a shoot-thru umbrella. The first thing I did was set up the camera for the husband in the back. Right away you have to figure that you'll be shooting at the highest flash sync-speed possible all day, which for the Canon is 250/th of a sec. So, that's my starting point. Then I bring the exposure up until I am getting a decent exposure of the husband (in this case, f4).
Now, he's a little blown out, I know, but that's what I wanted. I wanted the wife to be perfect and him to be a little sun-blasted. Once I had the exposure dialed in for the husband I set my flash power to match. On a bright day, the flash will be at full power most of the time. I fine tune the settings by moving the light closer or farther from the subject. Notice that both husband and bride are being lit from the same side? That's the benefit of off-camera flash. It looks like they are both standing in the sun when in fact she is in shade and the flash is filling in for sunlight.