One of the things that makes Wedding Photography such a challenge is that you have to be able to wear so many hats.   When I shoot a portrait session I have to be able to light and shoot a portrait session with a model (following directions) and retouch the images.
When I shoot a wedding, I have to be able to do the same thing as a portrait shoot …  as well as shoot in low-light in the church and at the reception, shoot action in low-light, shoot as a photojournalist and capture events that tell a story, shoot products, retouch everything and design an album that showcases the day. It's a lot of hats.
What's funny to me is how much of a kick I get out of "product" shots at a wedding. Don't get me wrong, I love every element and get giddy as a schoolgirl when  I pull off an amazing shot, but I never thought I would enjoy the "product" shots as much as I do. "Product" shots are what I call the static shots of rings, flowers, tables, rooms, cakes, etc. that you have to take in order to capture everything about the day … the little details that people will be glad they have a picture of in years to come.
I can say with all sincerity that I would never want to be a catalog photographer. It would bore me to tears, I think. But I also think that I might understand the fellow photogs who do that work after seeing how excited I can get over a picture of a cake.
The trick is to approach the shot like it's the most important one of the day. That way you really get a kick out of nailing it.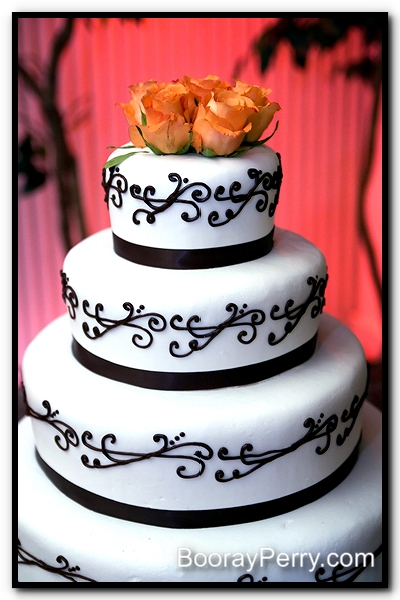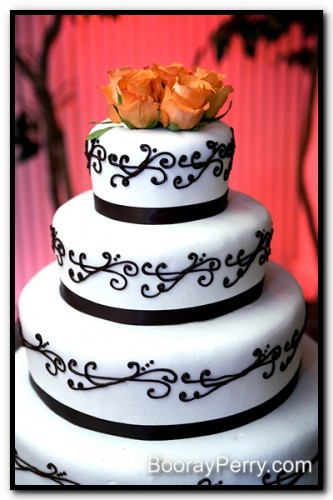 This particular cake was in a hall that was completely white. White ceiling, white walls, white, white, white. However, there was one spot in the whole place with color and it happened to be right behind the cake. There were also some fake trees back there.
I shot this handheld with on-camera flash pointed off to my left. It really didn't take much work at all but I just love it. I moved the trees a few times to see how I liked it but eventually ended up using the very first shot. Cake shots are probably the easiest of the "product" shots at a wedding.