One of the things that makes Wedding Photography such a challenge is that you have to be able to wear so many hats.   When I shoot a portrait session I have to be able to light and shoot a portrait session with a model (following directions) and retouch the images.
When I shoot a wedding, I have to be able to do the same thing as a portrait shoot …  as well as shoot in low-light in the church and at the reception, shoot action in low-light, shoot as a photojournalist and capture events that tell a story, shoot products, retouch everything and design an album that showcases the day. It's a lot of hats.
What's funny to me is how much of a kick I get out of "product" shots at a wedding. Don't get me wrong, I love every element and get giddy as a schoolgirl when  I pull off an amazing shot, but I never thought I would enjoy the "product" shots as much as I do. "Product" shots are what I call the static shots of rings, flowers, tables, rooms, cakes, etc. that you have to take in order to capture everything about the day … the little details that people will be glad they have a picture of in years to come.
I can say with all sincerity that I would never want to be a catalog photographer. It would bore me to tears, I think. But I also think that I might understand the fellow photogs who do that work after seeing how excited I can get over a picture of a cake.
The trick is to approach the shot like it's the most important one of the day. That way you really get a kick out of nailing it.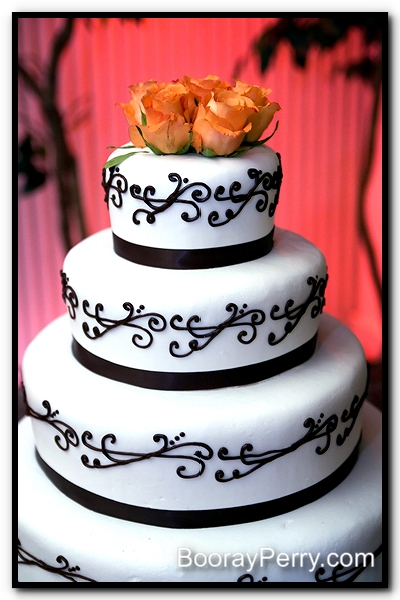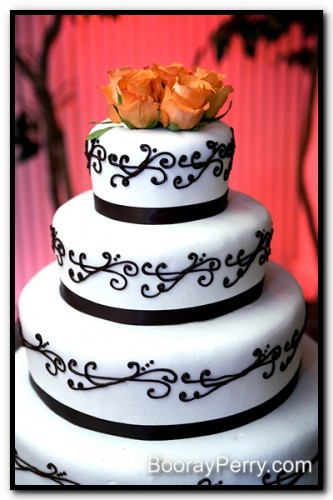 This particular cake was in a hall that was completely white. White ceiling, white walls, white, white, white. However, there was one spot in the whole place with color and it happened to be right behind the cake. There were also some fake trees back there.
I shot this handheld with on-camera flash pointed off to my left. It really didn't take much work at all but I just love it. I moved the trees a few times to see how I liked it but eventually ended up using the very first shot. Cake shots are probably the easiest of the "product" shots at a wedding.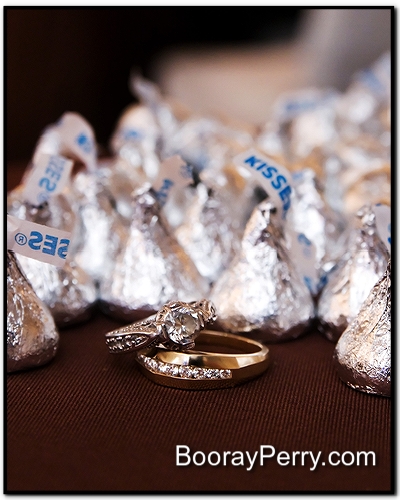 This is from the same wedding. I was sliding past the candy table looking for a little pick-me-up when I noticed a big jar of Hershey's kisses. "Hey," I thought, "Maybe I can use those for the ring shot!"
So, I grabbed an empty jar and a few handfuls of kisses and went to work. At first I tried putting the rings in the jar with the kisses but they were just getting lost.   Then I realized that the table cloth was chocolate colored so I just dumped the kisses on the table and positioned the rings.
My camera was on a tripod so that I could shoot very steady and long for better ambient light (these shots are sometimes the only time I use a tripod the entire day; but they are worth it, I think).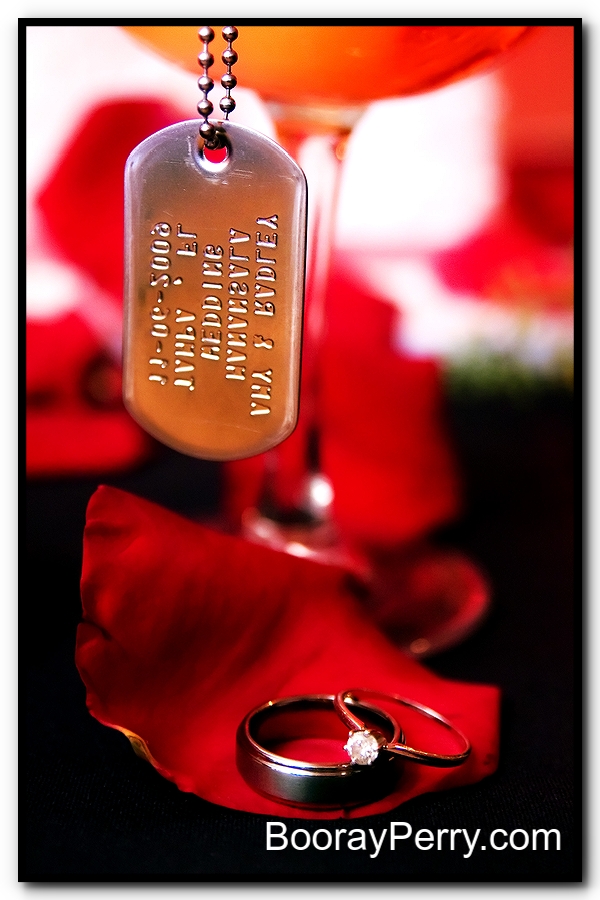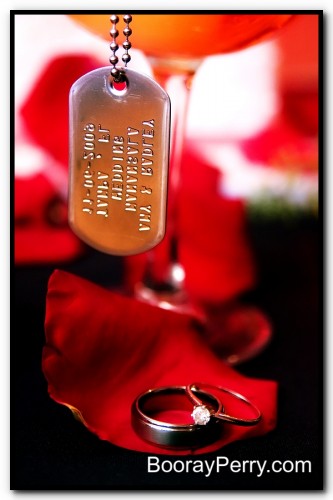 The wedding favor at this wedding was a dog tag with the wedding date stamped on it. I had the rings and was setting them up on the table where the cake was sitting and just couldn't find enough props to make the picture. (Typically, the cake table is a good place to start because the table is usually decorated with candles and flowers, etc that I can use for the shot.)   So, I started looking around and spotted the dog tags.
I placed the rings on a rose petal, positioned a glass with floating candle to give me some filler and held the dog tags in my hand. The room was very dark so I knew that the movement of the tags wouldn't be blurred because the flash would freeze the movement. The camera was on a tripod. The couple loves this picture, and I do too except for what is (to me) a huge mistake which I'm sure you have already spotted: You can't read the dog tags. My only defense is that it was so dark I couldn't read them when I was taking the shot!
This is a good example of how a product shot can end up being very special to the client. This particular client ordered a framed collage of five pictures and this is one of the five … chosen from the 700+ images that I took.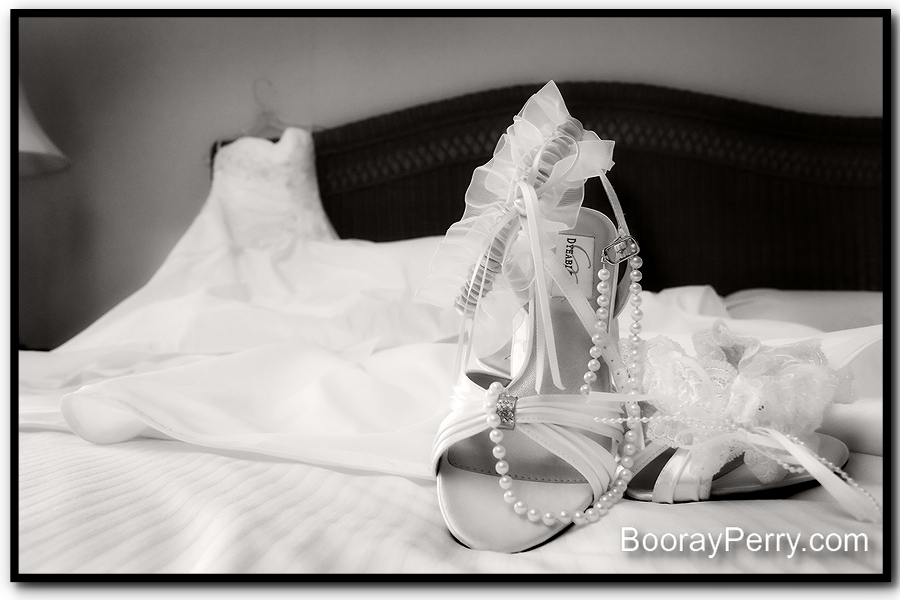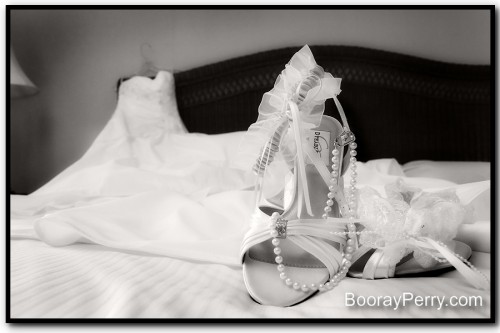 This may come as a surprise to you but WOMEN LOVE SHOES! What? You knew that? Oh, sorry.
The dress picture is often the hardest one I'll take all day. Sad but true. It's not always easy to find someplace beautiful to showcase a dress that is 200 feet long and weighs as much as a wild boar. When I find myself in a less than ideal place for the dress picture I will instead focus on something else and use the dress for background. You can't go wrong focusing on shoes and jewelry.
This shot was taken hand-held. I exposed for the dress using natural light from the door to my left.   Then I shot a few with my flash on at -2, bounced off the wall behind me as fill light. When I shoot something like this, I throw a dozen different settings at it. The great thing about inanimate objects is they don't care how many pictures you take, so take a lot. Try different settings and point your flash different directions. You might get something you weren't expecting. It wasn't until I was retouching this photo that I thought to convert it to black and white. I think the black and white gives it an old "Hollywood" feel but maybe that's just me.
The bottom line is this:   Every picture you take can be special if you but some thought into it. You know that picture that you always see of the wedding couple with their hands on the bouquet, showing off their rings? I have never taken that picture. There are plenty of shots at a wedding that are considered "must-have" and  I take my share. But when it comes to the rings, I think I can do something better, or at least more unique. You'll be surprised to discover that other people will love something if you love it too (and it shows in your work).