Being available to collect booking requests for your photography business is vital, but it can be time-consuming. Playing phone tag with customers can be annoying or inconvenient when you're in the middle of another task.
Fortunately, you can make life easier for you and your customers by collecting booking requests through your website. The right booking plugin can automate this process, leaving you to focus on other responsibilities. It can also make booking management easier with automatic reminders and calendar integration.
In this article, we'll look at the importance of online bookings and go over some practical schedule management tips. We'll then cover three ways you can collect bookings through your website. Let's get started!
The Benefits of Collecting Booking Requests Through Your WordPress Site
Booking requests are the lifeblood of many photography businesses. Making the process of collecting them as simple as possible can boost your revenue and streamline your management tasks.
Enabling clients to submit booking requests on your website is more convenient for you and them. Since it's automated, your customers won't be left waiting for you to return a call or email.
This can improve customer satisfaction while reducing the work you need to do. Online scheduling should also minimize the risk of double booking yourself and other mistakes that could cost you sales.
Tips for Successfully Collecting Booking Requests Through Your WordPress Site
As we stated, the primary purpose of collecting booking requests via your website is to make the process simpler for all parties. To that end, it's important to include features such as confirmation messages so customers know their requests have been submitted successfully.
Additionally, a reminder system for you and your customers can reduce your cancellation rate. You can automate these notifications with a plugin or a Customer Relationship Management (CRM) platform.
Finally, remember to consider the length of your sessions carefully when creating your booking system. Blocks that are too short may lead to overbooking and rushed appointments. Blocks that are too long might reduce your productivity. You should also account for travel and setup time.
How to Collect Booking Requests Through Your WordPress Site (3 Possible Methods)
Adding scheduling functionality to your website might sound complicated. Fortunately, there are several methods you can use to accomplish this goal. Below, we've covered three you can use, depending on your preferences.
1. Install a WordPress Booking Plugin
There are a lot of WordPress booking plugins you can use. However, some are better than others when it comes to photography businesses. Our recommendation is Amelia, which includes several handy scheduling features, such as:
Google calendar syncing to easily update your schedule and your clients'
Custom services scheduling so you can configure the length of your sessions
Support for multiple locations so you can manage shoots at all your venues
Client and payment databases to keep track of your contacts and invoices
Automated email and SMS notifications so you and your clients remember your appointments
Once you install the plugin on your WordPress site, you can navigate to Amelia > Settings to configure basic settings such as your default time slots, the time required before booking, and cancellation periods, and more: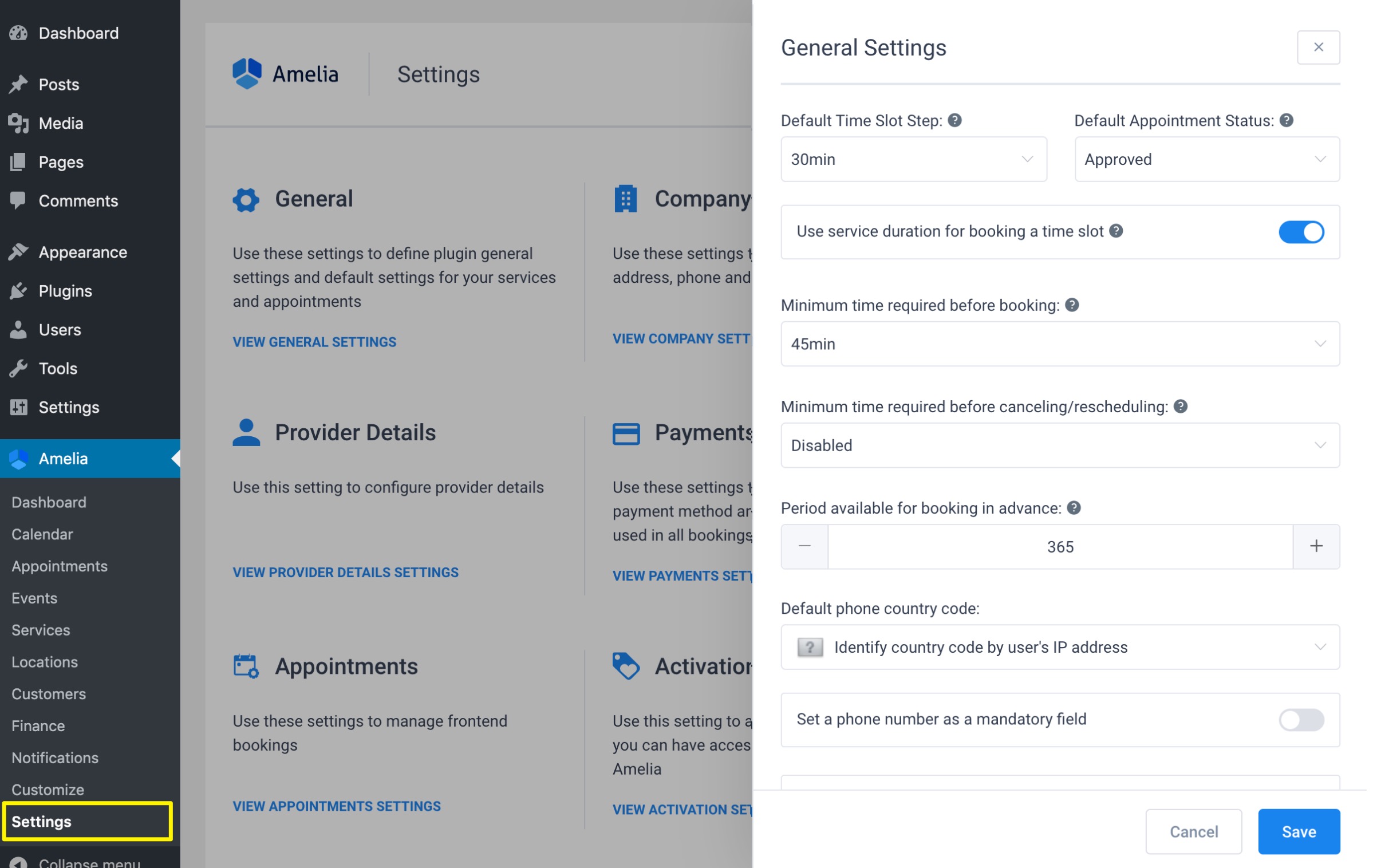 Amelia also enables you to create a services catalog. This is ideal if you have multiple photography packages on offer.
2. Add a Booking Request Form to Your Site
Your website might already have a contact form. With a few tweaks, you can adjust it to accept booking requests as well. Alternatively, you could create a dedicated booking request form instead.
This solution is generally a bit more time-consuming and requires more hands-on management than a booking plugin. Also, a lack of calendar integration could leave you with multiple requests for the same time slot, reducing customer satisfaction.
If you want to implement a booking request form, you can use a plugin to create it. Two of the most popular tools for this task are Gravity Forms, and WP Forms:

After installation, you can create your booking request form. There are certain fields you should include for best results, such as:
The customer's contact information
Preferred date and time of the shoot
The type of shoot (if you offer multiple packages)
The session's location
Space for clients to include any special information or requests
You can also use a template for your booking request form. This makes the process easier and ensures you don't forget any important fields.
3. Use a Customer Relationship Management (CRM) System
Reducing the number of tools your business uses can save you money and make life a little easier. A quality CRM platform creates a single channel for managing all communication with your customers.
While there are many CRM systems available, you should look for one that automates most of your processes. This will leave you with more time for shooting and keeping your customers happy. When choosing a platform, keep an eye out for features such as:
Online booking
Calendar management
E-commerce integration
Lead collection
Analytics reporting
You should also consider accounting software integration, referral tracking, and invoicing. However, these are additional features that aren't necessarily vital.
Some CRM systems, such as Táve, target photographers and offer all the features you need to collect booking requests. Once you've chosen your platform, you'll need to look into integrating it with your site via a designated plugin or a tool such as Zapier.
Conclusion
Taking booking requests through your website can streamline this often time-consuming process. Online scheduling is also more convenient for potential customers and can help prevent mistakes such as double booking.
In this post, we covered three methods you can use to collect booking requests through your WordPress photography site:
Install a WordPress booking plugin such as Amelia.
Add a booking request form to your site.
Use a CRM system such as Táve and integrate it with your site.
Do you have any questions about collecting bookings on your website? Share them with us in the comments below!