The World's Most Affordable Full-Frame DSLR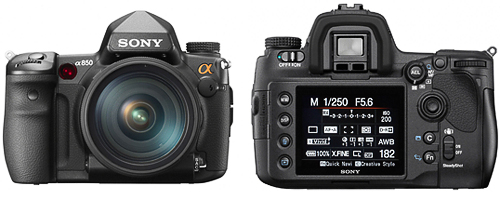 Boasting the highest resolution available in a 35mm size DSLR, the latest Sony camera is also the most affordable full-frame model on the market. Priced to sell at about $700 less than the Sony A900, the Nikon D700 and the Canon EOS 5D Mk II, the A850 is a downright bargain (from Amazon Sony Alpha DSLRA850 24.6MP Digital SLR Camera (Body Only); from B&H Photo).
In spite of the moderate price, it's identical to the A900 in most aspects, including the 24x36mm CMOS sensor with 24.6 million effective pixels. Each light-sensitive dot is quite large: 5.9 microns squared. In addition to excellent light gathering ability, analog-to-digital conversion and noise reduction processing- right on the sensor-combine to provide optimal image quality.