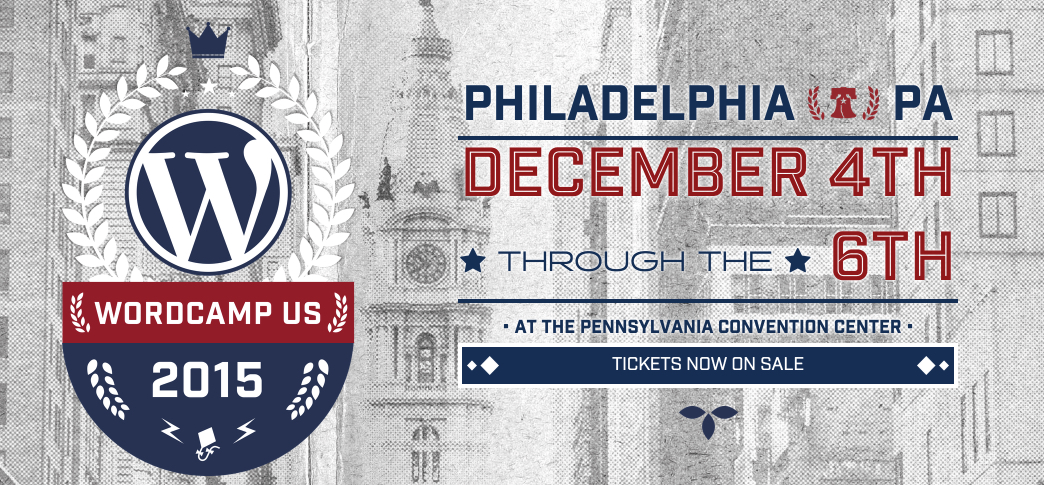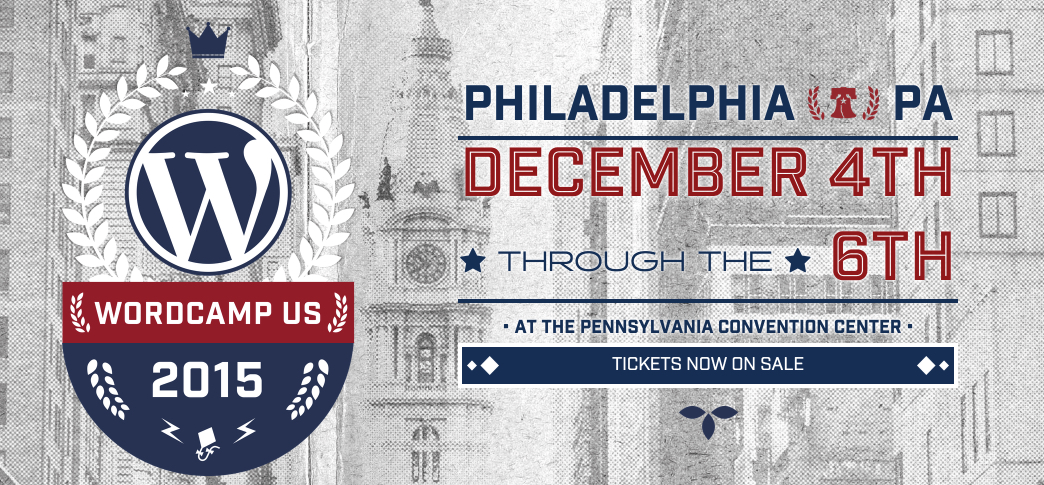 The first ever WordCamp US is coming up on December 4th through 6th. It will take place at Pennsylvania Convention Center in Center City Philadelphia
Although it's the first WordCamp US ever, it's actually born out of what WordCamp San Francisco used to be.  Basically the one of the largest WordCamps in the world, where Matt Mullenweg presents his annual State of the Word keynote.
At the time of writing this there are over 900 tickets already sold, but the venue is quite large so WordCamp US could see well over 2,000 people.  Tickets are $40 for the events with sponsorship and live streaming options as well.
A $40 General Admission ticket will get you:
Admission to the sessions at the event
Admission to the afterparty
Lunch & snacks
WordCamp US 2015 T-shirt
What's a WordCamp?
WordCamps are casual, locally-organized conferences covering everything related to WordPress, the free and open source personal publishing software that powers over 75 million sites on the web.
WordCamps come in all different flavors, based on the local communities that produce them, but in general, WordCamps include sessions on how to use WordPress more effectively, beginning plugin and theme development, advanced techniques, security, etc. To get an idea of the types of sessions typically seen at WordCamps, check out the WordCamp channel at WordPress.tv.
What about photographers?
While the speakers and sessions have yet to be announced, we have our fingers crossed for at least one photo specific talk.  Maybe even one from Scott? 🙂
Even if there is not a photo specific session, WordCamps offer so much education for beginner and advanced WordPress users. So we still recommend attending.
Is it worth it?
For sure! Read Scott's writeup on his first ever WordCamp experience. Our NextGEN Gallery support hero, Cais, is also on the WordCamp Toronto organization team.  That shows the love of WordCamps, how great they are for the WordPress community, and how much you can learn from them.
So head over to the WordCamp US 2015 site and buy your ticket today.