(Part one of this "introduction" can be found here.)
Heading North from Redwood National Park, Highway 101 passes through the town of Klamath and continues towards Del Norte Redwoods State Park. Del Norte primarily serves campers, but the challenging Damnation Creek Trail provides a beautiful 2.5 hike to a small beach cove.
Continuing north past Del Norte Redwoods you descend towards Crescent City, California, at the south end of town (and you'll want a map or directions) you can head east and connect with Howland Hill Road which will take you to Jedediah Smith State Park. Because Jed Smith isn't right on Highway 101, and because Howland Hill is unpaved, this area receives less traffic than the Redwood NP/Prairie Creek Redwoods SP area to the South, making for a more relaxing and meditative photographic experience, particularly in spring or fall.
Howland Hill Road is the primary scenic route through Jed Smith. This fairly well-maintained dirt road (passenger vehicles present no trouble here) twists and turns for 4-5 miles through the park, crossing and paralleling Mill Creek for a time, and eventually connecting with Highway 199 near the small hamlet of Hiouchi. Off of Highway 199 you'll find additional trails in and near the Reed-Simpson grove worth exploring, but I'm going to focus here on that main section of Howland Hill.
The headline destination along Howland Hill road is Smith's famous Stout Grove. A simple, one-mile loop trail takes you through enormous first-growth redwoods, a natural cathedral carpeted with emerald ferns, and connects up with trails that parallel the Smith River. Because there are hills to either side of the grove it's not hard to find compositions here that don't show any sky.
While Stout is the "big name" destination of Jedediah Smith, when I think of the park, I think of the grove as only one part of the entire length of Howland Hill. I rarely manage to travel more than a hundred yards along the road without seeing something — a group of trees, rhododendrons, fall color, a trillium bloom, a river scene, a mushroom, something that I want to photograph. I'll be there again in a few days, and I'm already buzzing with anticipation.
Seasons and Logistics
My favorite seasons for the park are spring and late fall. Summer brings crowds and often (at least inland) more sun, spring brings flowers (lupines earlier, rhododendrons later), and the first winter storms can bring cloud cover and color-popping wetness to the ferns and logs. In late October and early November you may also encounter some fall color (primarily paler yellow ground covers and bushes).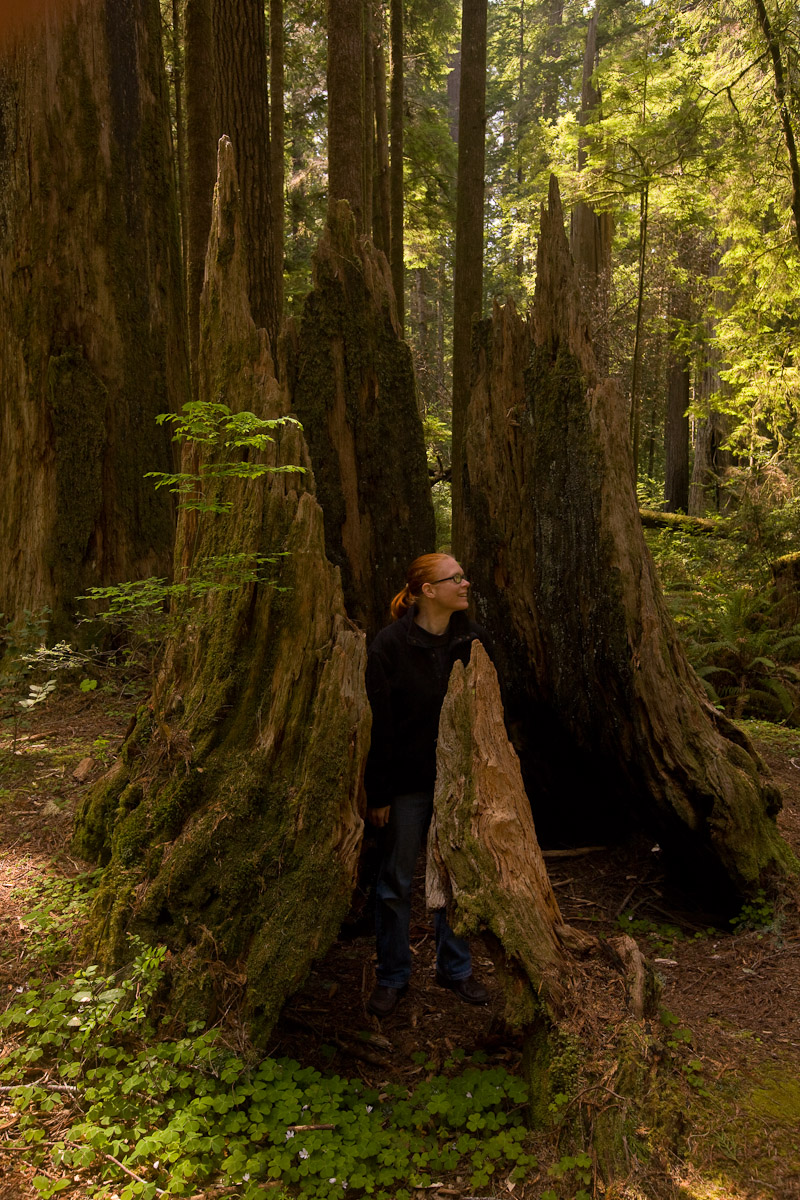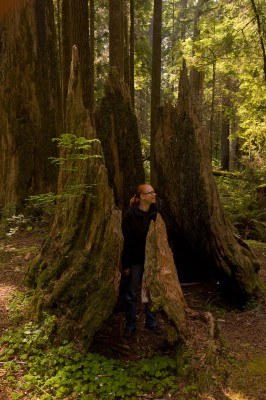 Crescent City is the only town of any size near any of the parks at over (7500 residents) and it makes a great base of operations for Del Norte and Jed Smith, but is a little too far North (perhaps an hour) to really be practical for doing a lot of photography in Redwood National Park. The small town of Klamath just north of Redwood National Park has fairly limited services in general, I based my last redwoods coast photographic workshop out of the Ravenwood Motel there (inexpensive, comfortable– but not large–rooms). For a trip where I didn't want to change between motels I'd likely stay in Klamath, if I were willing to move my base of operations once during a trip I'd probably work out of Klamath and Crescent City.
Even with two parts, this introduction has barely scratched the surface of an incredibly rich area, and one well-worth spending time in and photographing.
(PS: You may want to consider a quick trip to "get there while you can." While this is far from certain, in the wake of California's current budget crisis at least one current California budget proposal calls for the closure of all three state parks I've talked about, but the changes wouldn't effect Redwood NP.)