What's New with 3.0
We're excited to announce the release of Photocrati 3.0! The newest version includes a load of major improvements that makes this a dramatic leap forward. We'd just like to highlight a few of those features here. Some of the more notable improvements included in Photocrati 3.0 are:
PHOTOCRATI GALLERY with four gallery options. A brand new gallery management system for WordPress that's simple yet powerful.
New Theme Options Panel. Completely redesigned to be more intuitive.
iPhone and iPad Compatibility. Our themes are now full compatible with iPhones and iPads!
Copyright Protection. No right clicking, drag and drop, or viewing the source URLs of your Photocrati Gallery images.
Faster Loading Speeds. Dramatically improved loading speed for your site.
Ability to Save Customizations. Save your customizations so you can return to them anytime.
New and Improved Footer Widgets. Add elegant text to the bottom of your homepage and other pages.
*Upgrade for free! All of our themes come with free upgrades, so if you have previously purchased a Photocrati Theme, you can update your theme to 3.0 for free. If you are using an earlier version of the "Supertheme" (released in April), you can update with a click of a button. Just look for the new release notice when you log into your website.
More on Photocrati Gallery
The addition of a new gallery management system is, by far, the most important part of this new release. Photocrati Gallery is designed to be simple yet powerful way to upload, edit, manage, and display photo galleries. You can now choose from FOUR GALLERY STYLES:
Single Image Slideshow
Horizontal Filmstrip,

Thumbnail Gallery
Blog Style Gallery
Rather than tell you about it, we'll just show you. Here are just a few examples of what you can do with Photocrati Gallery. Click on the images to see the galleries live. For more live demos, see any of the demos on our "What's Inside" page.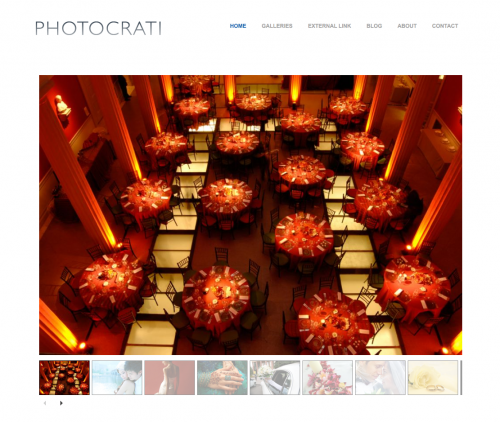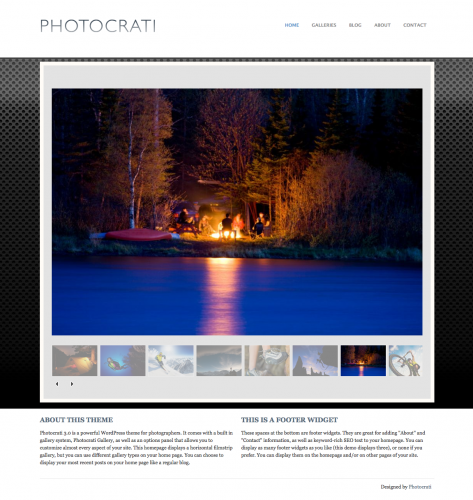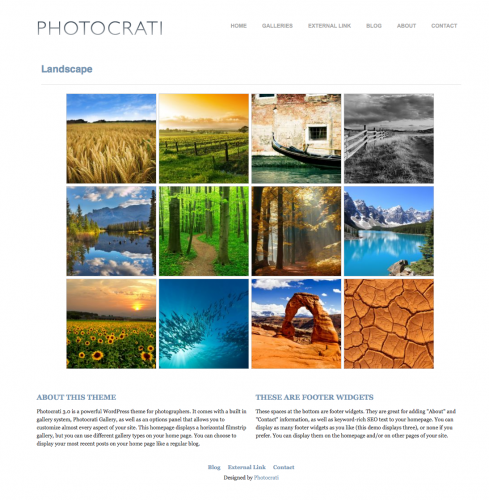 How does it work?
We've designed Photocrati Gallery to be as simple as possible, while still achieving the basic needs of gallery management. Here's how it works.
First, to add a new gallery, just open a post or page and click the green "New Photocrati Gallery" button at the top of the page: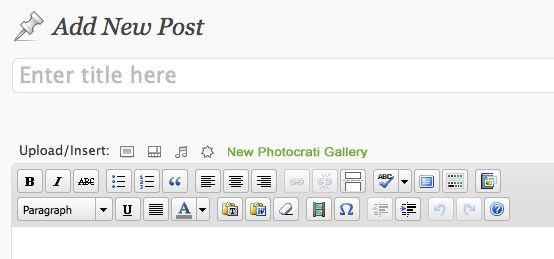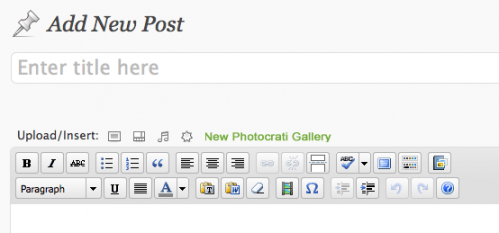 Second, to edit a gallery, just click the Edit Gallery button below your main page or post window: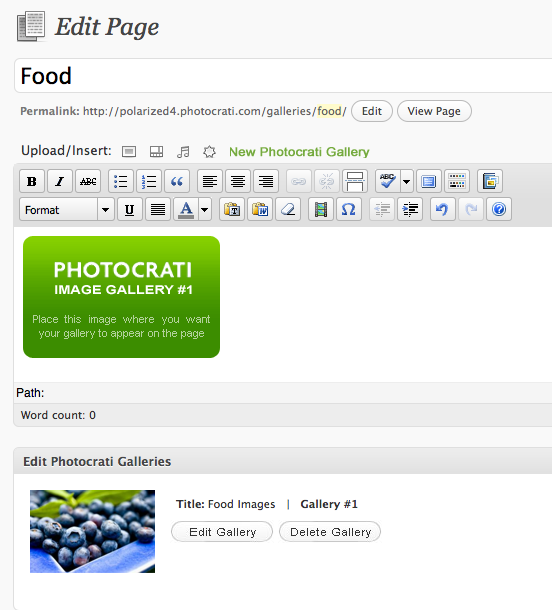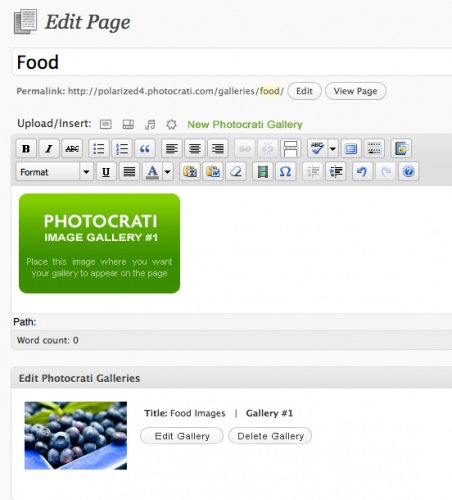 Third, from the Edit Gallery window, add, rearrange, and edit meta data of your images: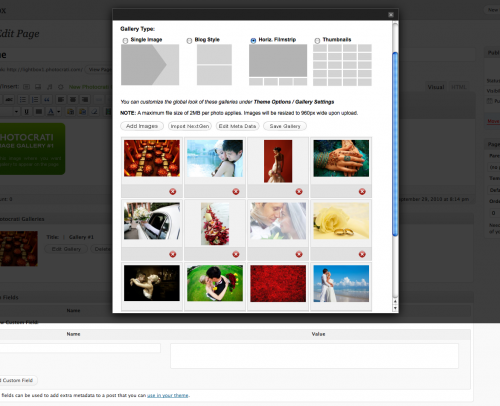 Finally, to change setting such as thumbnail, image, and gallery sizes, simply click on the Gallery Settings tab: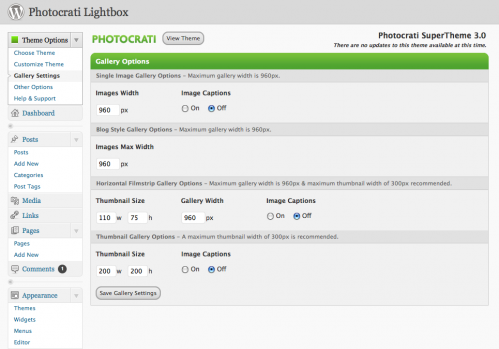 That's it! Despite it's simplicity, it offers tremendous functionality and beautiful display options. Photocrati Gallery is also designed to be "smart." For example, if you insert galleries in your blog posts, and then change the size of your sidebar, your galleries will will automatically adjust in size to fit the available content window. It's also iPad compatible, copyright protected, and fast.