Previously we shared how to optimize your Facebook and Google Plus posts for usability and reach. Today we want to talk about Twitter.
At Photocrati, we are always testing new ways to organize a tweet. Below is an Infographic that MarketingThink created to help guide for your proper Twitter etiquette.  After the Infographic, we will share some additional thoughts.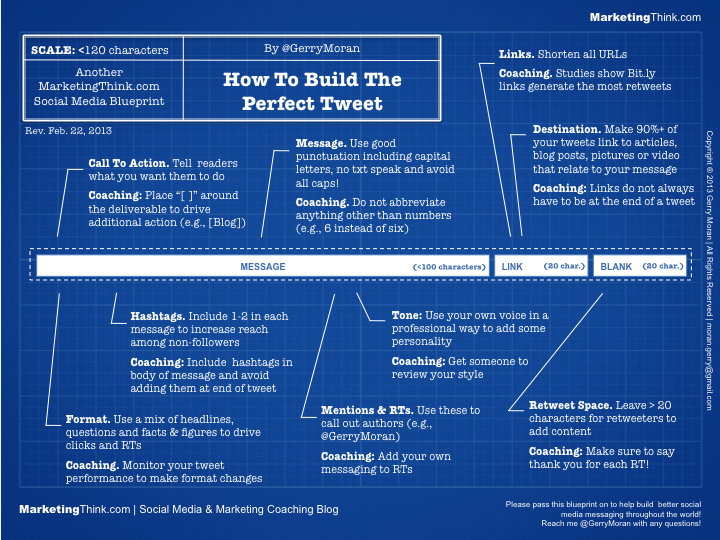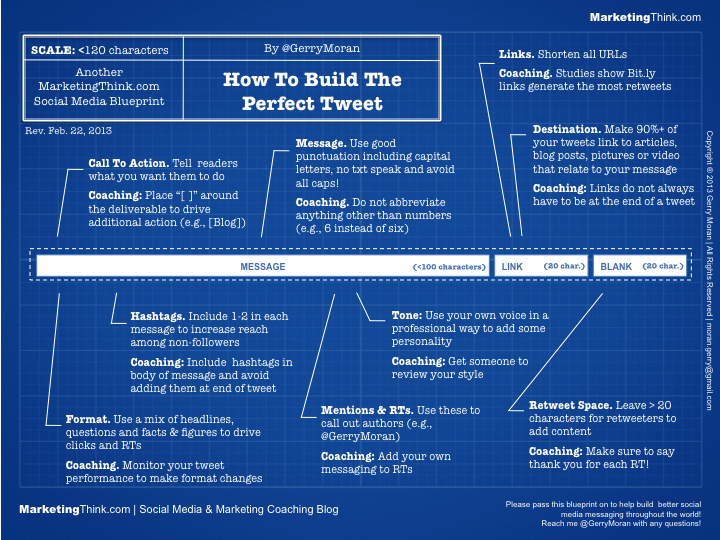 In summary:
Keep it within 120 characters
Include a call to action (catchy headline)
Include 1 hashtag
Include @mention when needed
Include RT when needed
Include a short link using bit.ly, goo.gl or t.co
As for retweet
Try to leave blank space at the end
Keeping your Tweets clean and with enough space for retweets should help improve its reach.
For example:


Targeting 1 hashtag is much better than stuffing many hashtags into a tweet. Think of it like SEO and including keywords. Too many is a turn off.  You are much better off creating multiple tweets (original) using different hashtags and sending through out at different days and times.
Write something catchy, add your personal touch to the tweet, and don't be afraid to ask for a retweet.
GOOD info here! : How To Help Prevent Your WordPress Site From Breaking & Being Hacked bit.ly/WpGM2M #wordpress Retweet pls!

— Photocrati (@Photocrati) February 26, 2013
…and don't forget to test. In fact, using Buffer App can help improve overall reach.
Thanks for reading,
Scott