A 13×19″ pigment-ink printer that is a dream come true.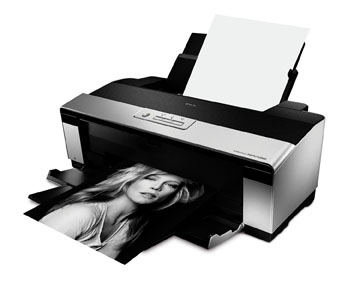 In the past, my purchase of printers was largely focused on dye-based inkjets. The dye-based (not to be confused with dye-sub) printer, you might say, is the consumer-friendly version: Dye-based ink technology is typically found in popular 8×10 and many snapshot printers. The technology is aimed at consumer-friendly papers, namely glossy, greeting cards, and the like.
Many snapshot printers employ dye-sublimation printing technology for longer-lasting prints, often on virtually indestructible paper-but with less punch and pizzazz than what we get off inkjet. Thermal ink technologies use preloaded cassettes loaded with a ribbon, and will deliver a number of prints matched to the number of sheets of paper provided in the package-in other words, when you buy a dye-sub pack, you're getting the complete package–nothing more to buy in consumables. Do the math-you'll see it's simplified.
With inkjet snapshot printers, the ink comes in a cassette, along with paper, but it's not an exact match-you may have a few sheets of paper left over when the ink runs out. And it's a dye-based ink.
That said, I still prefer my compact inkjet over a dye-sub for this kind of printing. In fact, I never print 4×6 on my larger printers–as they used to say on Saturday Night Live, "wouldn't be prudent." Specifically, I've got an Epson PictureMate Dash snapshot printer that I love–it makes postcard-size (4×6) prints that grab a person's attention, especially when printed on glossy stock. In fact, people comment that the prints look like postcards, although, frankly, I'm never sure if that's a good thing or not-but friends tell me it is. I also have an Epson Stylus Photo R260, your typical letter-size, dye-based inkjet printer. While this model may have been superseded by newer models, it doesn't grow old for me. I use this one mostly for printing documents, business cards, greeting cards, and photo prints that don't need to meet exacting standards. But there comes a time when bigger is better.
Enter 13×19
The letter-size (8 1/2x 11/8×10) printer is inexpensive and practical. But letter-size only goes so far. Sometimes you really want to show off your work on a printer designed to output with a wider color gamut and on larger paper. Enter 13×19 printers. Yes, they do have a considerably larger footprint, but they also have an air of sophistication and professionalism about them. They look darn impressive–and still fit on a desktop, albeit a larger one.
In the past I'd been quite happy with dye-based printers this size. But I couldn't use them with fine art papers–the stuff you really want to display. Fine art naturally costs more. Many fine art media are also acid-free and truly archival. But what my former dye-based printers did do was introduce me to a broader color palette, with more ink colors than normally available in an 8×10 printer (which usually tops out at 6). More ink colors, more subtle gradations and a smoother tonal range. Every company comes up with its own ink sets–the ink colors it feels cover the spectrum more fully.
I have to believe that Epson's got it right because pro photographers use Epson. And they use pigment printers to show prints to clients, and for display and exhibition. If they care about the image, they'll print on an Epson. The variations usually come in with regard to media choices. There are many fine art papers out there, and Epson has some of their own. Every paper used in inkjet printing, like those in silver-based photographic printing, has a feel and texture of its own, and, over time, we each develop favorites. But you'll have to experiment. I play around with lots of papers because I get samples of each.
Of course, I should add that many pros have also gone beyond 13×19-but that also enters the realm of printers costing in the thousands. The 13×19 printer is easily under $1,000–by several hundred dollars, and that includes pigment printers. The R2880 is under $800, even less if you catch the $100 rebate. (See Amazon for up-to-date prices: Epson R2880 Large Format Photo Printer (C11CA16201))
The R2880 is a beautiful machine. It has never given me trouble. Admittedly, years back, I was not too happy with Epson printers: They'd always clog and gave me all sorts of problems. Epson printers today, including my two current dye-based ink machines, have taken printing to a new level and have operated trouble-free and given me nothing but joy. And prints, on any paper or media, are gorgeous! So what contributes to such great print quality? Read on…
The Epson Ink Set
Like HP and Canon 13×19 pigment printers, Epson uses eight colors in eight individual tanks. Yes, there are even wider format printers that use even more colors, but they cost a lot more and are largely for roll paper applications.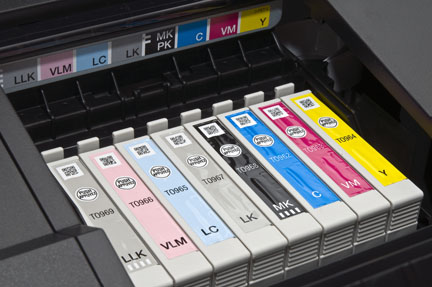 Specifically, the 2880 uses Epson's proprietary UltraChrome K3 pigment ink set with the new Vivid Magenta. The ink colors include three levels of black (black, light black, and light light black–don't ask me why they don't call it gray). Other colors are that vivid magenta, vivid light magenta, cyan, light cyan, and yellow. In addition, there are two blacks: matte and photo. Matte black is used for matte papers, which includes most fine art media, whereas photo black expresses its strengths with glossy, semi-gloss, and luster papers–and Epson Exhibition Fiber Paper (very important to remember so as to achieve optimum quality).
So, technically, you're buying 9 inks, but only using eight at any one time. You can safely swap out the blacks by keeping the open cartridge in a sealed plastic baggie. The entire ink set, including the two blacks, will only cost you $115 when purchased together, $13 individually (buy one complete set as a backup, then buy individual tanks as needed). These all go under Epson's Code 96 label emblazoned on the package-you can't miss it.
The R2880 uses what Epson calls "Radiance" Technology. According to Epson, it maximizes overall color gamut through efficient use of all ink colors; reduces grain through an optimization process; provides smoother color transitions; and improves color consistency under differing lighting conditions by minimizing color changes. Translation: expect this machine to do a darn good job.
Papers/Media and Disc Printing to Boot
There is practically no media that will stymie the R2880. The question is: how good will prints look on the various available media? Well, I obviously haven't tried them all–but I'm quite satisfied with what I have used. To improve matters, Epson has downloadable profiles for its papers and recommends you use these and not the ones that came with the driver software. Other manufacturers have profiles for their media as well, and you'd be advised to use them, unless you go to the trouble of generating your own printer profiles for each paper used.
As with my R260, the R2880 does direct CD/DVD printing. Obviously not intended for high volume users (there are dedicated machines for that), but this does come in handy when you want to impress someone from the moment you hand them the disc.
Running on Mac and PC
One of the beauties of the 2880 is that it comes with two USB 2.0 ports. That means I can connect it to my Intel iMac running under OS 10.4 Tiger (10.5 Leopard also supported) and on my Gateway laptop running Windows 64-bit Vista (other Windows versions also supported). However, I did encounter a problem under Vista 64: Epson's EasyPrint software failed to install, and I couldn't find the latest version of Print to CD on the Epson website. Turns out this utility is only on the disc that came with the printer, so don't lose it. By the way, the best way to find all the R2880 drivers, software, and documentation is to do a search for the printer on Epson's website. You'll save considerable time and will have all the links in one place. And be sure to download the document called "Managing Color." It assumes you're working with Adobe Photoshop and Lightroom.

For more information, visit: Epson 2880