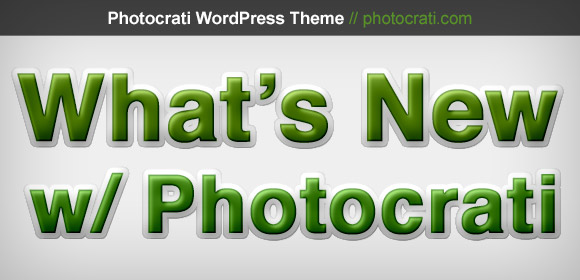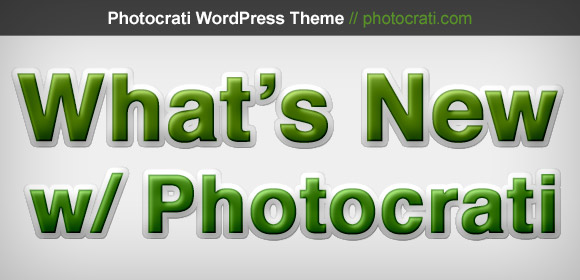 We're happy to announce that Photocrati 4.7.2 is now available via automatic update in your WordPress admin section!
Before Installing or Updating
Before installing or updating, we recommend backing up your existing files and database.  We also recommend saving your current customization features as a preset.
*Please note that even after updating, you may still see additional updates available. This is due to caching and will go away within a few hours. To verify that you are running version 4.7.2, visit the Appearance tab of your WordPress admin and the Photocrati theme should display the version number, 4.7.2.
As always, you can also download the newest version of the them from the Photocrati members area and update your theme manually.
What's New With Photocrati:
Changed: Rename .json to .crati for presets export/import

Changed: Updated Pope to 0.4

Changed: Sharing autoupdate modules across both Photocrati Theme and NextGEN Gallery 2.0.27+

Fixed: PHP warning emitted when trying to delete non-existing directories

Fixed: Compatibility issue with PHP 5.4.x (incorrect use of references)

Fixed: Loading indicator not showing for slideshows and filmstrips

Fixed: Minor style issues on home page

Fixed: Ability to upload images larger than 2MB

Fixed: "Settings failed" message appearing after successfully saving theme options

Fixed: Adjust IPN notifier to use http 1.1 as well as make it more secure.

Fixed: Paths generated for photocrati-gallery not working correctly for symlinks

Fixed: Ensure that generating the static stylesheet from the dynamic stylesheet is reliable

Fixed: Various issues when the theme was used as a parent of a child theme

Fixed: Problem with variable collisions, causing Photocrati_Cart object being stored in session

Fixed: Italics and uppercase options for logo title
Questions:
As always, don't hesitate to reach out to our support by visiting the members area.