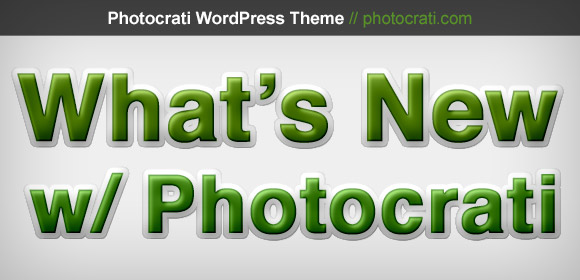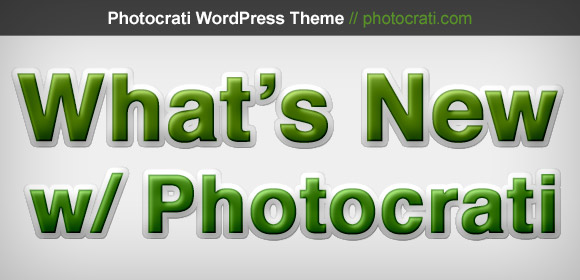 We're happy to announce that Photocrati 4.6 is now available via automatic update in your WordPress admin section!
This update is one that we have been super excited to get in your hands. As you might know, we have been working day in and out on NextGEN Gallery 2.0, and NextGEN Pro. This is important for Photocrati users because once NextGEN Pro is finished, it will included within the Photocrati theme. Until that goal is reached, we wanted to provide an update with highly requested features. In addition, we've included some unexpected surprises that we hope you enjoy.
Before Installing or Updating
Before installing or updating, we recommend backing up your existing files and database.  We also recommend saving your current customization features as a preset.
*Please note that even after updating, you may still see additional updates available. This is due to caching and will go away within a few hours. To verify that you are running version 4.6, visit the Appearance tab of your WordPress admin and the Photocrati theme should display the version number, 4.6.
As always, you can also download the newest version of the them from the Photocrati members area and update your theme manually.
What's New With Photocrati:
Added a new default preset called 10 Stop
Updated and improved styling of all existing presets
Import/export capability for presets
Unlimited e-commerce options
Added 100+ additional premium fonts
Unified font customization options across all theme elements
Improved appearance of search field, post meta data, and comments
Improved reliability of directory creation across different hosting environments
Added _blank target to Powered by Photocrati link
Fixed compatibility issues with WordPress 3.6 + JQuery 1.8+
Fixed mobile browser issues
Fixed some IE10 browser issues
Fixed issues with comments & password protected pages/posts
Fixed compatibility issues with NextGEN Gallery 2.0 Beta
Presets are now stored as WordPress Options
Questions:
As always, don't hesitate to reach out to our support by visiting the members area.