Starting a photography business is no easy task.  Fortunately Angela Pointon and Seshu Badrinath have teamed up to provide a webinar series with a swift kick.
Angela Pointon is visual artists and business coach to many photographers.  She uses Steel Toe Images to further educate her clients and readers around the world.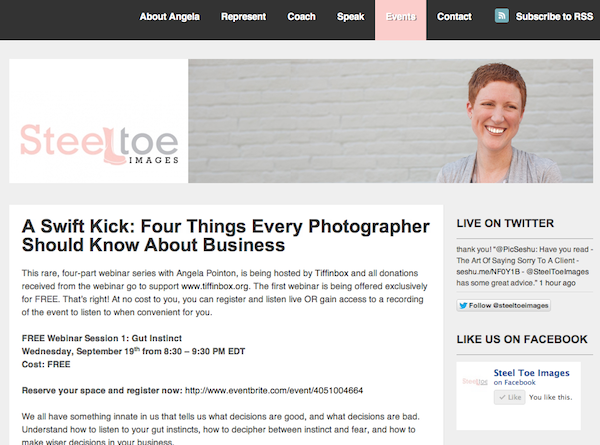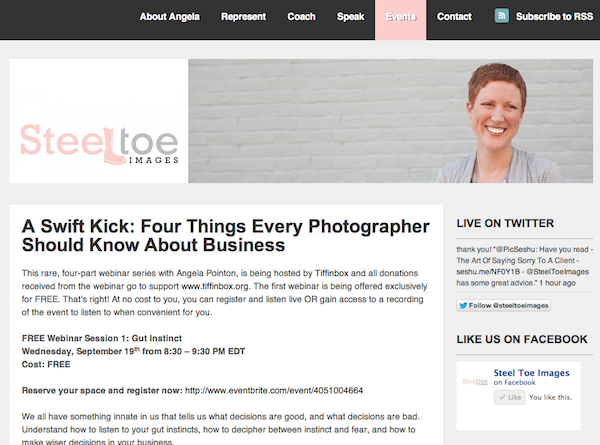 Seshu Badrinath is a portrait photographer out of Connecticut that has run a successful wedding photography business for many years.  Seshu also now runs Tiffinbox, where photographers go for education on a variety of photography topics.
Photography Business Webinar
Angela and Seshu partnered on a four-part webinar called, A Swift Kick.  The first webinar is free where they will discuss gut instinct.  To join all four webinars it will only cost $25, which is well worth it.  During these presentations, they will discuss discipline, branding and the right tools for the job.
Here are some of the things you will learn about during the webinar series:
How to dream big, after all it's what inspires all of us
The art of creating goals that align with that dream (and deleting goals that don't)
Insight into daily steps to get to your goals
What the heck is a brand anyway?
How to establish your brand
How to know if your brand is doing well, poorly or just somewhere in between
How to get people to know who you are with a shoestring marketing budget
Why your competitors should be treated more like friends
A list of free things you can do to get your business rockin'
Here is the schedule:
Webinar Session 1: Gut Instinct – Wednesday, September 19th from 8:30 – 9:30 PM EDT FREE
Webinar Session 2: Discipline – Wednesday, October 3rd from 8:30 – 9:30 PM EDT
Webinar Session 3: Branding – Wednesday, October 17th from 8:30 – 9:30 PM EDT
Webinar Session 4: The Right Tools – Wednesday, November 7th from 8:30 – 9:30 PM EDT
Now, you may be wondering why we are sharing this on our blog.
During the webinar you will have a chance to win a free copy of the Photocrati WordPress theme.   To win, you must attend all four webinars.  Angela and Seshu will then come up with a clever way to determine the four winners.
To learn more about A Swift Kick and to register, visit Steel Toe Images.
Thanks for reading and see you there,
Scott