Question
We're getting a lot of rain and wet snow this spring, so I'm wondering how that will affect my new ultra high-tech digital SLR. Would the camera be damaged by moisture? If so, what should I do if it rains every weekend? I really want to get outside and start experimenting. K.W.


Answer
Well, that depends on the camera – as well as the lens – that you're using. The vast majority of equipment does need protection from moisture, particularly rain. Some DSLRs and certain lenses are weather-resistant as discussed in the features chart for such products on the manufacturer's web site. These include Nikon and Canon's professional products, the high-end Pentax DSLRs and a few lenses of various brands. No flash unit (including a built-in flash) is weather resistant, however. Even the most hardy pro-equipment should not be used for extended periods in heavy rain, of course.
If you are primarily interested in experimenting with camera features, you might consider shooting from your car; open the window but make sure the camera/lens will not get wet. Dry off any dampness thoroughly with a clean, absorbent cotton cloth; for the lens use a large microfibre cloth. But if you'll be shooting outdoors, you'll need a rain cover accessory. Regardless of the one you buy, read the manufacturer's instructions re: correct installation (and any warnings) to get the most effective protection.
You can find inexpensive products – similar to clear plastic bags – such as the Op/Tech or Ewa Marine Rainsleeve (about $22 from Amazon; about $17 from B&H).
These may be OK in drizzle but for longer outings in rain you'll want at least a Kata Elements Cover such as the E-702 for a DSLR with short lens (about $60 from Amazon; about $60 from B&H).
Kata also makes accessories for protecting a longer lens and an external shoe-mounted flash unit. Visit B&H or Amazon for information on the Kata products.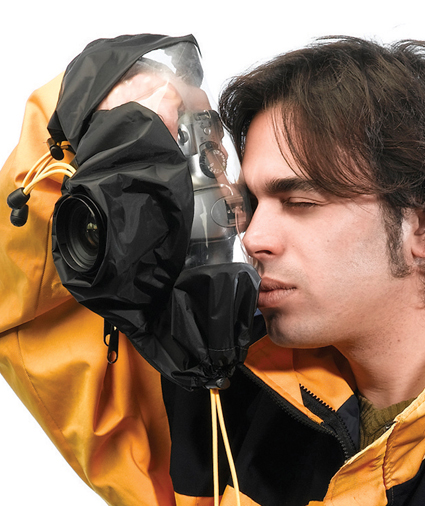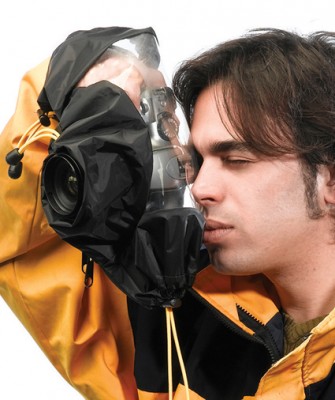 There are also two brands of high-grade rain covers that use a special eye-piece accessory available for many Nikon and Canon DSLRs. Even if the interior of the cover gets fogged up, you will be able to see through the viewfinder (a necessary extra cost option) (about $32 at Amazon; about $32 at B&H).
The Aqua Tech Sport Shield is available in five sizes to fit cameras with short and long lenses (starting at about $190) (at Amazon; at B&H). A clear waterproof Sport Shield can be added for protecting shoe-mounted electronic flash unit (about $65). For more information and user reviews, see B&H.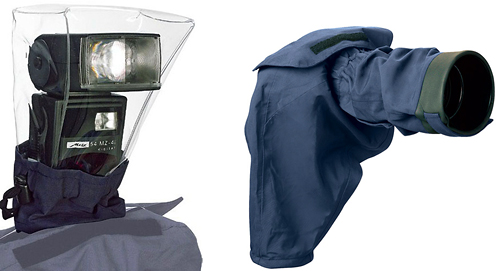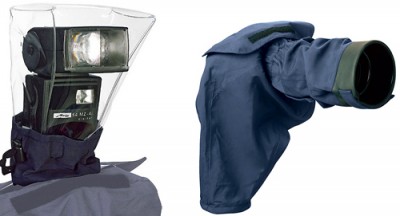 The two new products from Think Tank Photo – intended for DSLRs with a 70-200mm f/2.8 or a slightly smaller lens – are more affordable but also quite impressive. The Hydrophobia 70-200 (about $139 at Amazon) and the Flash 70-200 (about $145) models are identical but the latter is equipped with a clear protector for a hot-shoe mounted flash unit.
There's a larger model too, the Hydrophobia 300-600 (about $150 at Amazon) for much longer telephoto lenses.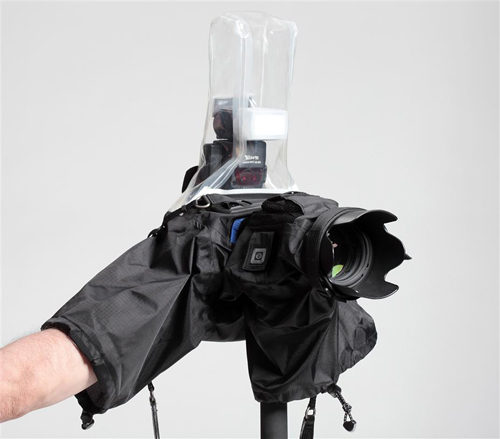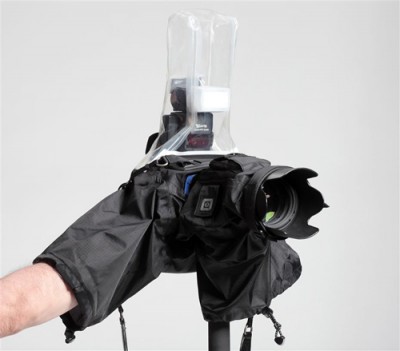 For specifics visit Think Tank Photo or view the illustrative video on Rob Galbraith's web site.
Note too, that the Hydrophobia covers include a built-in waterproof camera strap attachment so you don't need to cut holes to insert the strap. Although they're priced to attract serious photo enthusiasts, these covers were used in rain and snow by some of the pro's during the 2010 Olympic Winter Games.