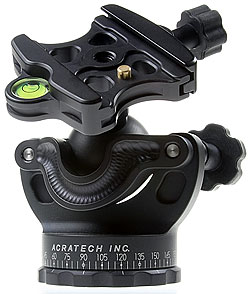 The Acratech GV2 Ballhead's quality build, light weight and attractive skeletal design convinced me to give it a try. Since most ballheads do not allow enough rotation for shooting in portrait/vertical camera orientation (without an L-plate or collared lens), a drop notch is generally provided. The ballhead is then oriented so the neck of the ball can be positioned into this slot – leaving the camera in position for the vertically-framed shot. Acratech took this design one step farther (at first glance at least). Large, collared lenses used on top of ballheads can become hard to control – their generally-heavy weight gives them a strong tendency to fall over. Gimbal-style heads (the Wimberley Tripod Head II is one) are designed so that the gravitation effect simply holds the lens balanced – a real plus when working with these lenses. The Acratech GV2 Ballhead functions as a gimbal head when the ballhead neck is lowered into the drop notch. A large lens can be easily positioned and used without locking the friction control knobs. Physically, the Acratech GV2 Ballhead has a lot going for it. Going into the field, the first thing I noticed was that my framing moves slightly to the right when I lock down the main friction control knob. I tried a wide range of minimum friction/tension settings with no change in this behavior. With a Sigma 120-400mm DG EX HSM Lens set to 400mm, my framing moves about 1″ (254mm) at 15′ (4.6m) when the GV2 is locked down. There is no elevation drop as is common with cheap heads, but the rightward movement is definitely the biggest negative attribute of this otherwise great ballhead. The GV2 has some slip-stick behavior when near tight, but I didn't find this to be hindering in the field. The Acratech GV2 Ballhead is a quality-construction, well designed tool. READ FULL REVIEW AT DigitalPicture.com
If you own or have used this tripod, let us know what you think! Leave your comments and thoughts below.
Get information and user reviews for this tripod from Amazon: Acratech GV2 Ballhead with Gimbal Feature, with all Rubber Knobs, Quick Release & Detent Pin, Supports 25 lbs.