I've just started experimenting with the new ::amazon("B002NEGTTW", "Canon EOS 7D")::, which is an interesting beast–an APS 1.6x crop camera with 18 megapixels. Many folks, some of whom don't appear to have used the camera, have criticized this camera as going too far along the megapixel path at the expense of ISO. To me, the "right" trade-off between those two features depends a lot on the specific job you're doing. One of the things that interests me about the 7D is that it can serve as a lightweight backup for shooting birds and for occasional wildlife work.
For that purpose, I want good high-ISO performance (but I may not need world-class). I also want a lot of cropably-delicious little pixels–for anything else I'll do with the camera, I'll have a tripod.
I don't think of the 7D (as some have suggested) as a "bad upgrade to the 5D Mark II", I think that misses the point of this camera entirely. I think of it sort of as a "1D lite" the way that the 5D Mark II is sort of a "1Ds lite". Of course, I have yet to discover if the 7D lives up to that standard, but I have a few good first impressions.
First, let me share with you a few badly-controlled handheld shots from my living room. Before you go look, let me apologize that the 1600 image isn't pin-sharp because of camera movement, you should be able to get a sense of the noise characteristics despite these flaws.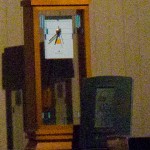 Images were converted using Adobe Photoshop Lightroom 3 Beta 1, with standard settings save for white balance. Those standard settings include some color noise correction but no luminance noise reduction, at least in terms of the settings provided. Whether these images are "good enough" for a particular purpose depends a lot on the specific purpose involved, but the ISO 12800 images compare favorably with the ISO 1250 results from the original Canon 1DS, which is still only about five years old.
Still, I can imagine using the black and white conversions of the ISO 12800 images for a number of artistic uses, and by the time we're at ISO 3200 I'm starting to think that with a little work I could make a good-quality, large-sized print from the results. Stop for just a moment and put aside the fact that folks are advertising cameras which can shoot at ISOs over 100,000, for many purposes this 7D is going to be more than sensitive enough and the 18 megapixel image leaves some room for cropping lower ISO images and still producing excellent results.
I have had less opportunity to really give the autofocus a workout, in part because a good deal of my own work doesn't stress autofocus. Still, Landing Approach demonstrates what the camera can do. The shot was taken at at ISO with the Canon EF 400/5.6L at f/5.6 and 1/1000s (there is a bit of subject blur apparent). The pano-shaped image is a full-width crop from the 7D frame (in other words, about 5100 pixels wide); at 100%, the eye is in clear focus.
Whether the 7D will appeal to you depends a lot on your needs (and your pocketbook), but you can count me as (at least so far) very impressed. Good job, Canon!
Update: There have been some reports of ghosting during continuous shooting with the 7D. While I did not observe them myself, I do note that Canon has just released a firmware update (1.1.0) to correct the issue.