A full-frame EOS DSLR gets even better-with 21.1 MP CMOS sensor and much more.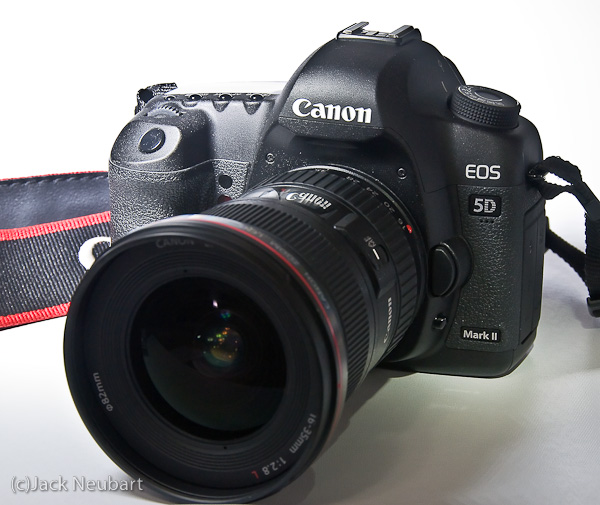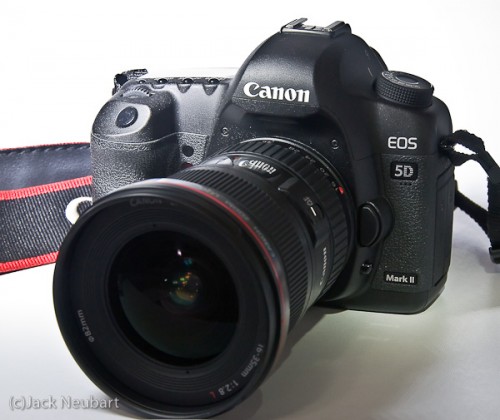 I remember when long intervals would go by before a new SLR was introduced, back when we were shooting film. Today, those intervals are growing remarkably shorter and shorter, although not short enough for some of us who eagerly await the next iteration. Technology, it seems, waits for no man or woman.
When the original, and very reasonably priced, EOS 5D came out, I bought it and chucked my APS-C Canons. I had heretofore resisted buying EF-S glass expecting to make this move one day. And while I'd considered the pricier 1Ds-series cameras, I felt that, for my needs, the 5D would do. In fact, for the same price as a 1Ds, I could buy the 5D and several lenses.
More to the point, I bought a Canon fisheye for starters, to take advantage of the full-frame sensor. So I felt like I had my cake and could eat it too. To top it off, all my Canon EF lenses would now be true to form. No more dealing with sensor factors. My wide-angles would be truly wide, although I did miss that extra boost my telephotos got with the 1.6X factor (applicable to Canon APS-C). But coming back to that fisheye, I now could take pleasure in that unique fisheye perspective. (Sadly, it wasn't till I bought the Tokina fisheye zoom-for an APS-C camera, no less, namely the D300-that I truly began to exploit the possibilities of fisheye optics.)
With continued use, I could sense that there were certain features lacking on my original 5D, but I wasn't really looking forward to upgrading too quickly. Besides, for me to take the plunge, a new 5D would have to be packing some serious new hardware-or software (technically, firmware).
Well, I've finally got my hands on the 5D Mark II. But is it all it's cracked up to be, enough so for me to upgrade? Having tested the 1Ds Mark III adds another twist to this story. That 1Ds is a marvelous piece of machinery, if pricey. Should I continue to play the waiting game? Well, the only way to find out is to put the new 5D through its paces and see how it compares. (Unless otherwise noted, all references to the 5D henceforward are to the Mark II, just as references to the 1Ds apply to the Mark III.)


1Ds MkIII vs 5D MkII
While both cameras boast a 21.1 megapixel CMOS sensor, the similarities pretty much end there. There are obvious differences between the two cameras in size and heft, with the 1Ds-series always being the more robust. But aside from some functions we have yet to deal with on the new 5D and which are lacking in the more professional 1Ds, that camera does leave the 5D in the dust when it comes to autofocusing.
The 5D is as easily distracted as a horny teenager when a group of cheerleaders walks by. The big brother to the 5D, on the other hand, refuses to be distracted by subjects moving into the frame (unless you want it to via a custom function). For anyone photographing sports or capturing faces in the street, such distractions can prove annoying. More to the point, it can lead to missed shots. Hence, advantage 1Ds.
To me, this is the key difference, and I just wanted to get it out there for anyone still mulling over these choices or asking why I bothered with a review of the 1Ds Mark III so late in the game.
But if that's not enough, the 1Ds's resilient battery is another excuse to own this camera. And, if I hadn't mentioned it, by comparison the hair trigger on the 1Ds gives it yet another advantage, no matter what you're shooting. The 5D's shutter button takes a little more effort to actualize an exposure. That hadn't been a problem on my original 5D, but now that I've experienced the 1Ds, it becomes noticeable.
Okay. Enough about the 1Ds. We've come to talk about the 5D Mark II, so let's commence.


Interface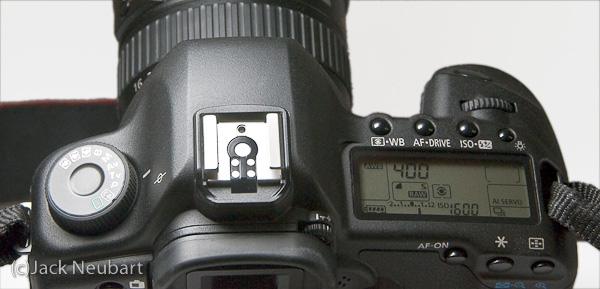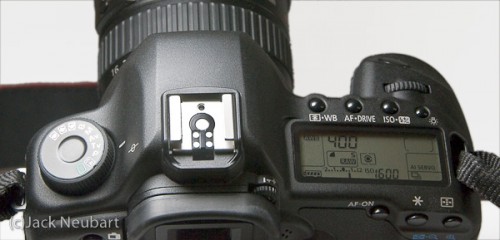 You'd be hard-pressed to immediately point out the differences between the 5D and 5D Mark II on the surface, aside from the obvious larger LCD on the new model. But look closer and you'll see new buttons and a slight reconfiguration of the button array.
But before I get into the function buttons, I have to remark on the shutter release. While this button doesn't appear any more responsive on the new camera than on the original 5D, it has been very slightly repositioned-but enough to make it a truly ergonomic fit. I don't feel as if my index finger is being twisted out of joint. It's nestled in there, perfectly at home-and that's as it should be.
In the move toward improved ergonomics, Canon also saw fit to move the LCD illumination button to the right, immediately behind the upper dial. But why they reconfigured the pairings of functions for the other buttons located next to it is beyond me. If you haven't worked with the 5D, then no matter. If you have, this may take a little getting used to.
One of the features I like in Canon DSLRs is the mode dial. This dial makes it easy to switch shooting modes on the fly, with your left hand. The new dial adds more custom settings-not that I've ever used the custom settings on my own 5D. I like the idea of having multiple custom mode settings-three on this camera, but I can never remember which one is which, so it seems moot, unless you use it regularly.
On the back are the multi-controller, the thumbwheel, and the set button-all with lots of functionality. And what you will find especially welcome is that by pressing the multi-controller, you bring up a screen with all key functions displayed on the large monitor, which saves you from having to look for the individual buttons-not that they're especially hard to find, but it is nice to have control centralized on this screen. Now it just becomes a matter of using the right combination of dials, controller, and set button to navigate and select them.
The Jump button on the back has been replaced with the Picture Style button. Picture style is a feature that I don't normally use, so it's wasted on me. And Canon has rearranged all the function buttons back here on the left, so that the delete button lines up with the rest (at the bottom). I actually preferred having it set off from the others, so it was easier to locate by touch. So without that Jump button, how do you jump from one menu screen to the next? Well, stay tuned…
A distinctly new AF-on button joins the two original buttons (governing sensor array and AE lock) at the top, behind the LCD panel. This button comes in handy in that it lets you separate AF from shutter operation, potentially speeding up the camera's response time.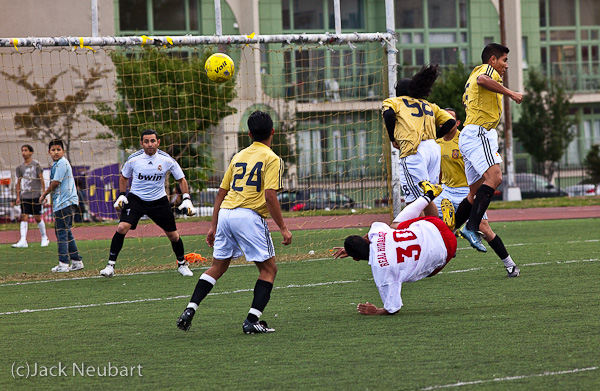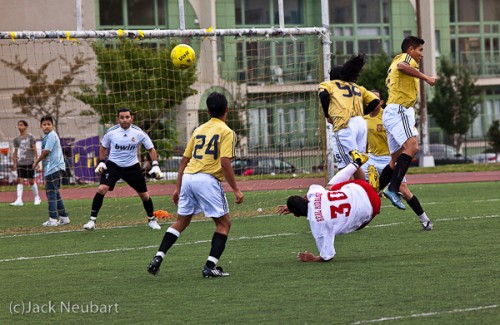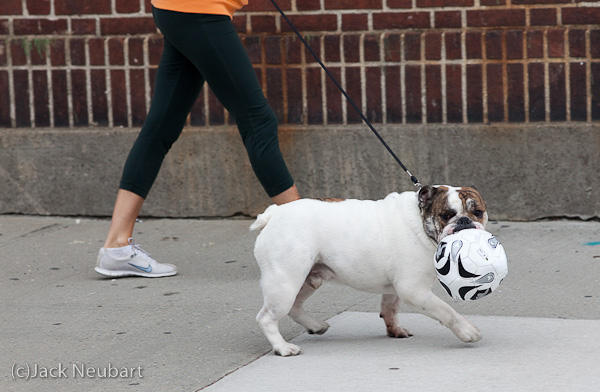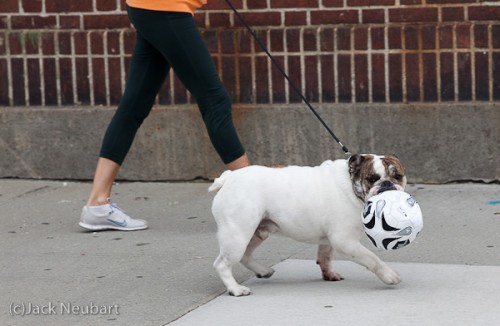 Menus & Color Monitor
The real startling difference makes itself apparent when you switch on the menu. Now, instead of having to scroll through the menu options, or using the aforementioned jump button, you jump from one screen to the next with the aid of the main dial behind the shutter button.
The thumbwheel on the back scrolls through the options on each screen without you first having to activate that screen, speeding up the process and making it more user-friendly. Beyond this point, you'll have to fall into a routine, since it seems that the multi-controller and set button can be used interchangeably. So make it a habit to use one or the other and avoid confusion.
But the real startling aspect of all this is the plethora of screens. Now, instead of simply three sub-menus, you have nine distinct sub-menu screens. The last one of these is My Menu, where you can go to quickly access your most frequently used menu options. So if it's starting to look as if they've redesigned the 5D to make it more user-friendly, you'd be on the mark-Mark II, that is.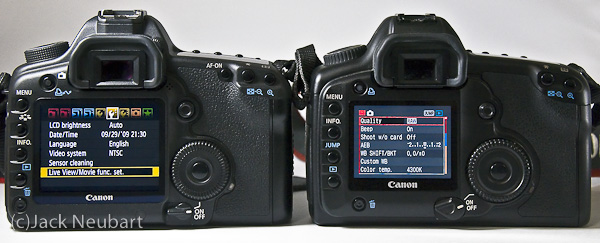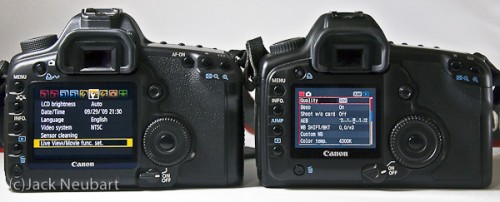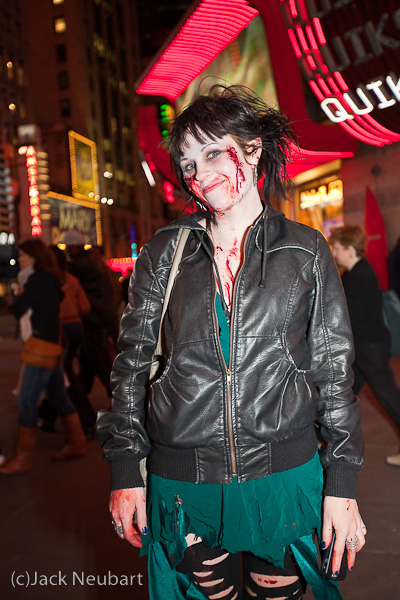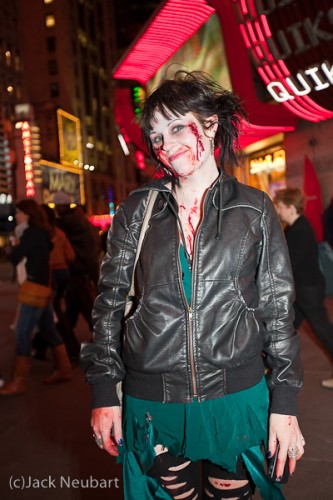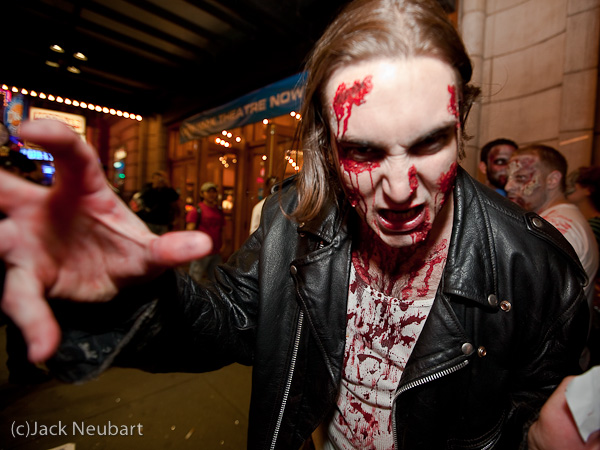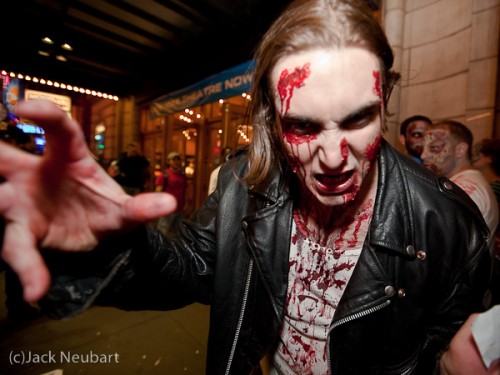 As for the larger color LCD on the 5D MkII, the increased real estate does help when reviewing captures. And if I were one to use live view regularly, I'm sure I'd be happy to have it. But I never found the smaller screen on my old 5D to be a detriment.


EF 16-35mm f/2.8L II USM Lens
While fast lenses have the advantage of speed, they come at a cost. When you add the price of this $1500 lens to a $2700 camera, it certainly begins to add up. On the other hand, the lens will stay with you for a very long time (and may lose little resale value), whereas you may be swapping out the camera in two or three years. So, in my book, a good lens is a better investment than a camera body.
The other price you have to pay is size and weight. At 4.4 in. and 22.6 oz., this lens is long and heavy in comparison to the 17-40 f/4 (3.8 in./17.6 oz.), not to mention twice the price of that other lens. But for me, the real difference, aside from the faster maximum aperture on this lens, is the 82mm filter diameter, since my filters top out at 77mm. And do you know what it means to buy a filter that size-and schlep it around along with those 77mm filters for my other lenses (okay, I could buy a stepper ring, but really-spend still more money?).
So, now it comes down to performance. Sadly, this lens is not rectilinear. Barrel distortion is readily apparent at the 16mm setting, and pincushion distortion can be seen at 35mm and even at 25mm. I found less distortion on the EF-S 10-22 than on this lens, albeit I can't use that lens here. But the point is, that APS-C lens is much less expensive, albeit much slower. Other than that, I had no complaints. Vignetting is well-controlled here. Sharpness may falter at that f/2.8 maximum aperture, but it's only noticeable when compared to a similar image produced with the lens stopped down. So all in all, I was very happy with the results.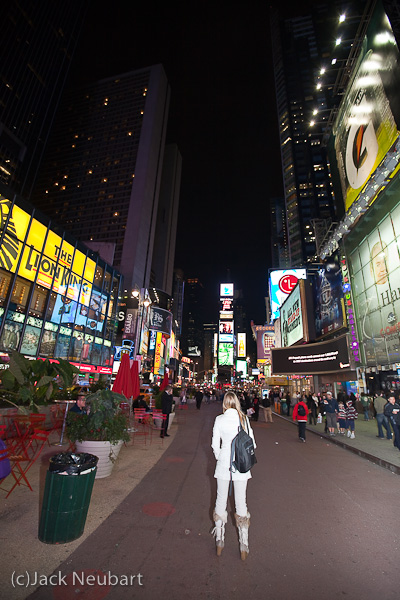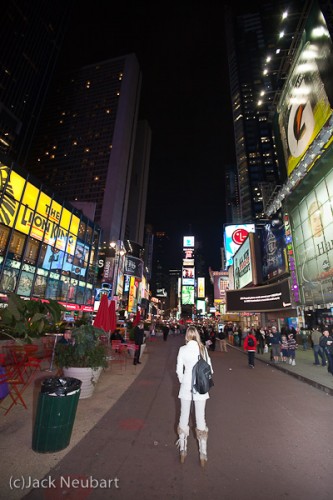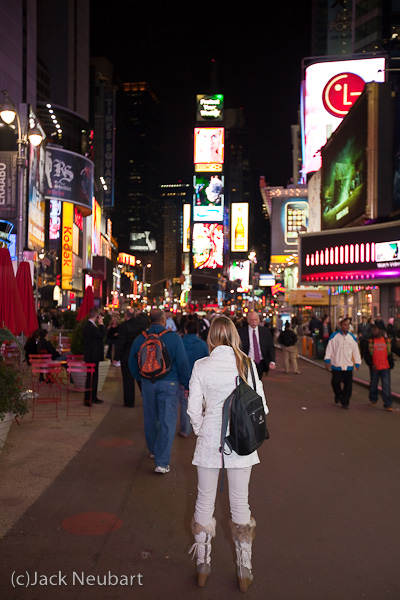 Other Stuff
The 5D MkII also features automated sensor cleaning, which we're beginning to take for granted in a 35mm-style DSLR these days-but it's still worth mentioning, since this feature was notably absent in the original 5D (to my chagrin). Battery life on the 5D MkII is longer than in the 5D (1800 mAh for the new battery vs. 1390 mAh for the old). The specs say you should get 50 more exposures.
More remarkable is control over digital noise-and that's without invoking in-camera noise reduction! Yes, you do see luminance and color noise at high ISO levels, namely 3200 and beyond, but not at disturbing levels. And if you apply a noise-reduction filter, then, as we say in my Brooklyn neighborhood, fageddaboudit! And did I mention you can climb the ISO ladder all the way up to 6400? And that's not interpolated. That's an actual stated value. The original 5D only went to ISO 1600.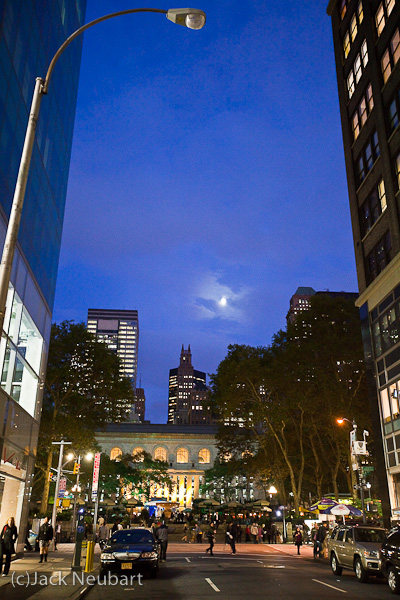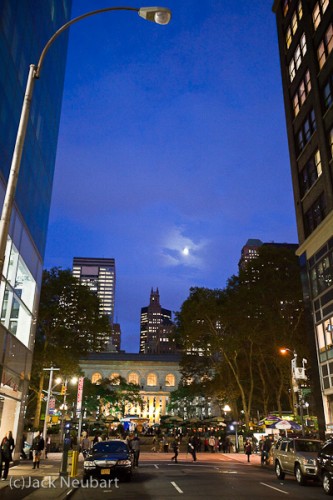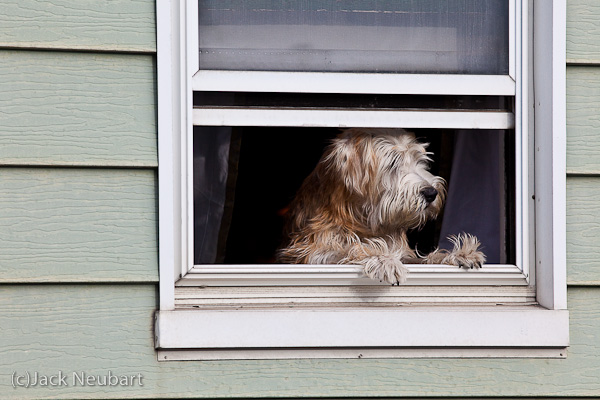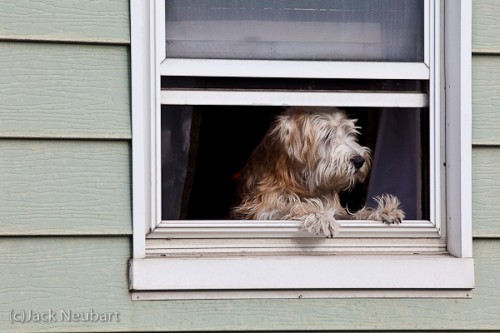 And I guess I have to talk about live view and movie recording. Some have made a big to-do about shooting movies with this camera and even considered buying it for this feature. For me, it's much ado about nothing. When I read (in the user manual) about all the caveats associated with live view and movie shooting-especially noise buildup with increased heat levels during prolonged use, I look back at my Sony Handycam and think: All I had to do there was look in the optical viewfinder (I had that option), select any of a myriad of effects, and press a button. Simple. Using a digital still camera for movies-with all those caveats, it seems so caveman! When you bring digital still movies out of the Stone Age, come and talk to me.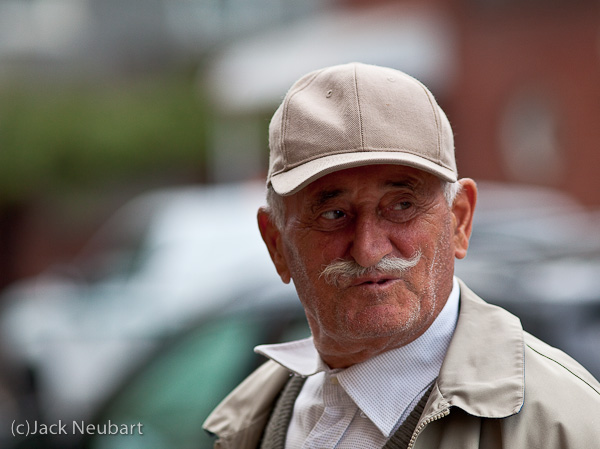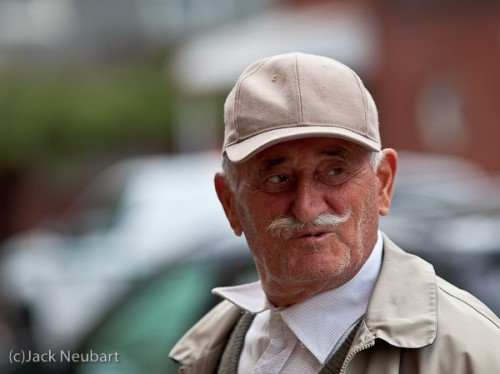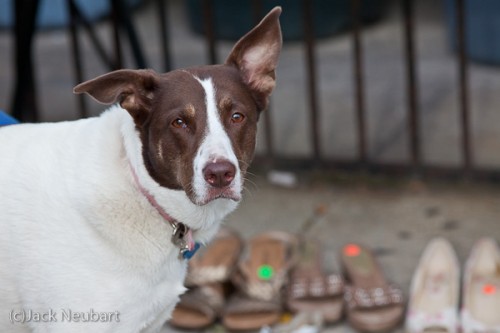 Verdict: Buy it. If you're upgrading from the original 5D, you'll find the enhancements well worth it. If you're new to full-frame DSLRs, this is certainly the right step to take. If you're already a Canon DSLR aficionado, the only proviso is this: no, if you've stocked up on EF-S lenses; yes, otherwise, or willing to start building your lens armory from scratch.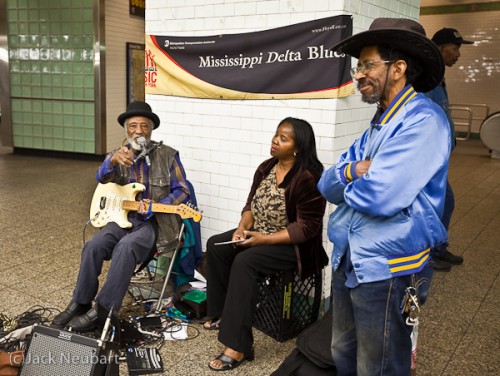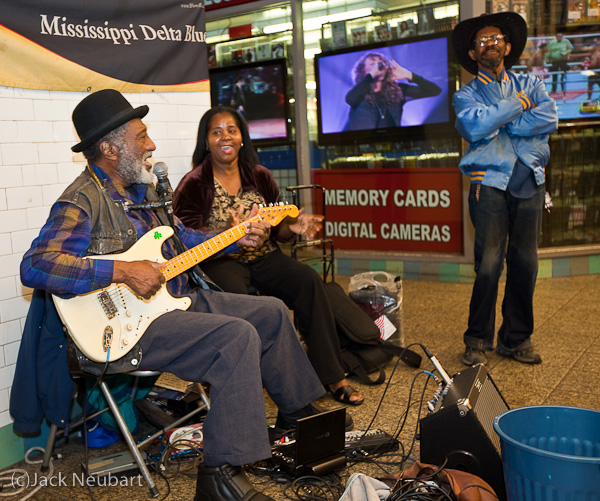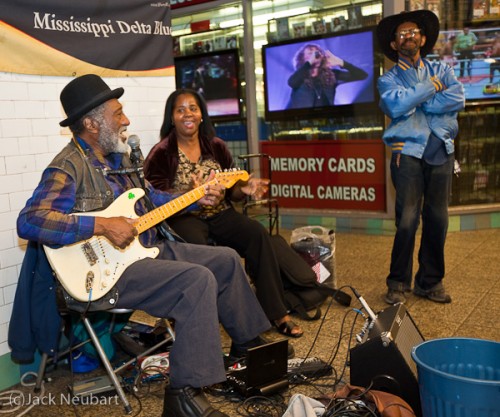 For more information on the Canon EOS 5D Mark II: Visit Canon USA
Tech specs/EF 16-35mm f/2.8L II USM: Visit Canon USA
For Prices and User Reviews: Visit B&H Photo (about $2699) and Amazon (about $2699) Canon EOS 5D Mark II 21.1MP Full Frame CMOS Digital SLR Camera (Body Only)