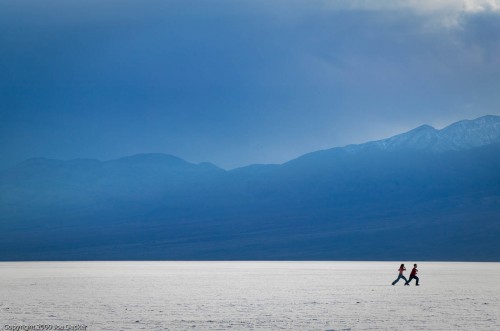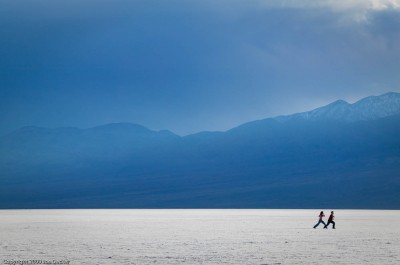 Death Valley is a land of extremes. In part one of this series, we talked about its vastness and extreme temperatures. But another way in which Death Valley really "takes geography to eleven" is in elevation. Death Valley's low point, Badwater, is nearly three hundred feet below sea level but is located almost directly between Dante's View (over a mile "up" on the near canyon wall) and Telescope Peak, just across the valley at over eleven thousand feet above sea level.
Both the highs and the lows have much to offer photographers.
Badwater is a great place to begin your exploration of Death Valley's extremes. Located South of Furnace Creek along Badwater Road at the far east edge of the valley, the small spring-fed pool there is accessible and is one of the only places in Death Valley where you will have an opportunity to see (thoroughly undrinkable) water. If the pool is of any size, this pond can make for nice sunrise reflections of alpenglow on Telescope peak and the rest of the Panamint range which forms the far west-side of the valley. Walking out from the parking lot at Badwater (often for 10-15 minutes or more) will get you onto cleaner and cleaner parts of Death Valley's salt pan, an area where a plane of hard white salt is divided by thin salt ridges into hexagons as far as the eye can see. Sunset brings the best contrast across these ridges.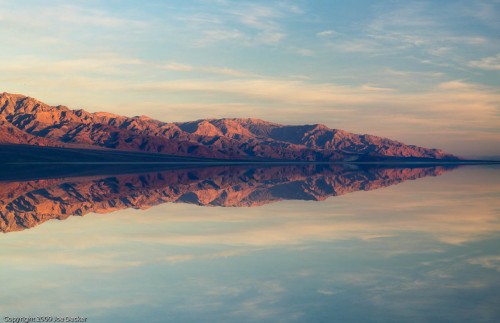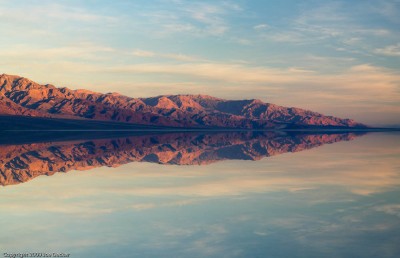 Further north along Badwater Road also visit Devil's Golf Course. Here different mixtures of salt and gravel and the processes of evaporation have created a much different–and much spookier–texture: strange hard lumps and broken bubbles of an almost rock-like sale-mud mixture. Similar patterns (but a different angle on the rest of the valley) can also be found a bit farther north by taking West Side Road from Badwater Road (the more northerly of the two places these roads meet) to the center of the valley. Near the center you'll find an area where the brown-and-white of most of this texture gives way to white. This white area marks the usually subterranean Amargosa River, which only rarely flows at the surface.
If you're looking to capture "the bigger picture" of Death Valley, then it's time to head up. and the easiest place to capture some of the scale of Death Valley is Dante's View. While Dante's is really only a bit more than a mile "up" from Badwater, it'll take you an hour to drive back there, but it's well-worth the trip. On a clear day you'll be able to see a good fraction of Death Valley in a single vista. Be sure to carefully explore the short trails from the parking area for the angles,and I'd recommend this more as a sunset than a sunrise opportunity particularly for color shooters.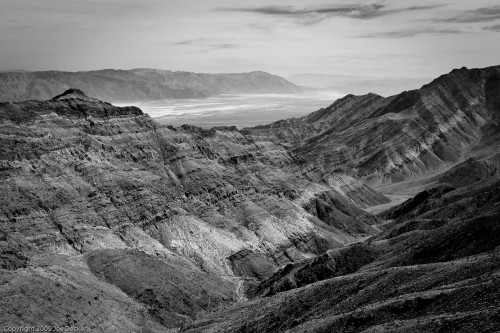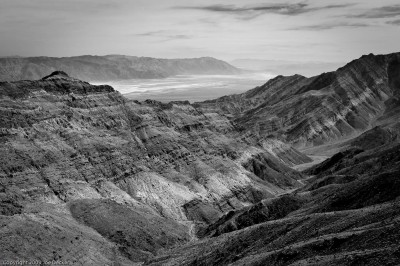 On the other side of the valley, Aguereberry Point is probably the best easily-accessible viewpoint, but it has a significantly more limited view of the length of Death Valley than Dante's. Sunrise would be my first recommendation here, allowing light both on the foreground and on the distant valley.
For any of these nearly aerial views of Death Valley, contrast is often an issue. Fifty miles of even the clearest air will rob a scene of contrast, something you may not notice (as your mind corrects for it) when you're there, but which instead may come as an unpleasant surprise when you edit your images for the first time. Be prepared to judiciously restore a little contrast there (or more than a little if you're working black and white) to really capture he grand scale of this amazing, extreme landscape.
There's a lot more to cover, so stay tuned for part three!