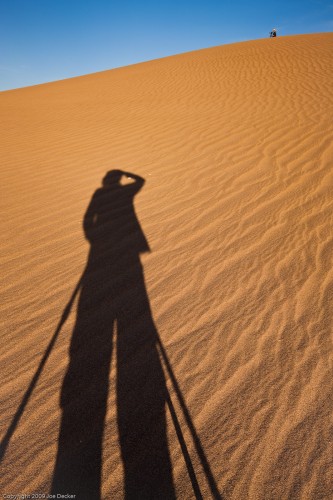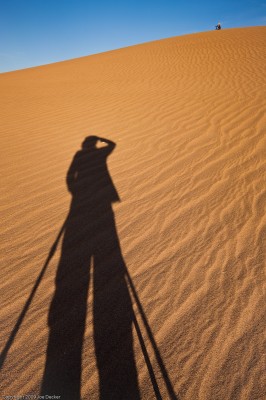 Death Valley National Park is both a famous and challenging place to photograph. A desert, Death Valley is one of the hottest locations in the world with recorded temperatures as high as 134 °F. It also usually features dessicatingly low humidity and a nearly universal lack of shade. The Valley is enormous, over one hundred miles and thirty miles long, often leaving you shooting a long distance from wherever you'll be sleeping.
And yet I keep going back. There's just too many great photographic opportunities there, and even this brief (two or three part) introduction will only give a short taste of what's available.
Let's start with sand dunes.
I've been finding myself mesmerized by their patterns the last year or two, a fascination which resulted in my recent show "Rhythms." Death Valley is nearly a playground for dunes photographers, offering three notable dunes fields: the Mesquite Flat Dunes, the Eureka Valley Dunes and the Panamint Valley Dunes. I'd recommend first-time visitors to Death Valley consider visiting at least the first two of these three dunes fields.
While I'll talk more about how to photograph dunes in a future installment, I will say "plan your dunes photography for dawn and dusk." Sunrise and sunset usually provide the best working conditions, not just for color but even more importantly for texture and contrast. The low light of sunrise and sunset rakes across the patterns of dune ripples, conjuring patterns that will often be nearly invisible an hour closer to midday.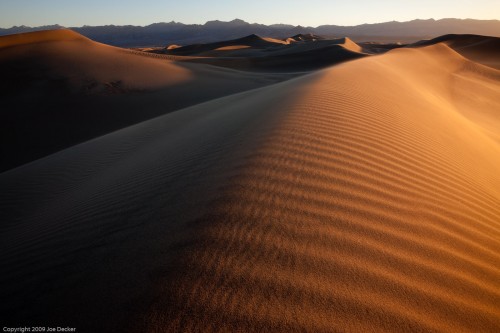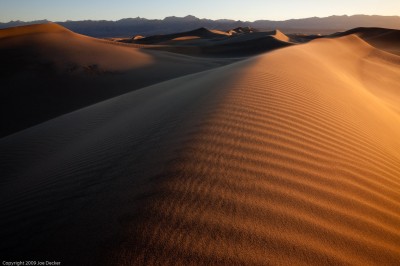 Mesquite Flat is the most popular and accessible of those dune fields, located quite near Stovepipe Wells (one of few locations with food and lodging in the valley) along Highway 190. These dunes often get both good sunrise and sunset light, and can be accessed both from a well-signed access along Highway 190, by walking in from the east a little farther along 190, and from an access road that turns back towards the dunes on the road that heads NW from 190 to Grapevine. No matter which approach you use, expect to spend at least twenty minutes travelling deep enough into the dune fields to manage footprint-free compositions. Still, ease of access makes them a great first place to practice dunes photography.
The Eureka Dunes are harder to get to, but as a result, they can provide more footprint-free photographic opportunities than Mesquite Flats. Their relative isolation makes the Eureka Dunes one of my favorite photographic locations anywhere. The tallest dunes in this field reach nearly 700 feet above their base, making Eureka the second tallest dunes in the United States, behind only the Great Sand Dunes National Park of Colorado.
Located in the very north end of the park, the easiest access to Eureka Dunes isn't from the center of the park at all (a road that does require 4WD), but instead from Highway 395 near Big Pine to the west. Sunrise and sunset both offer great opportunities here, some of my favorite moments come from looking south near sunset from the highest dunes at the north end of the dune field.
The star dunes of Panamint Valley are best saved for a later, experienced visit to the park, as they require a four-mile (one-way) hike with no trail or traffic, and because of Death Valley's treacherous conditions, should only be attempted with experience and careful preparation.
In part two of this introduction, I'll get to some of Death Valley's other scenic wonders, and start talking about where to stay and when to visit.