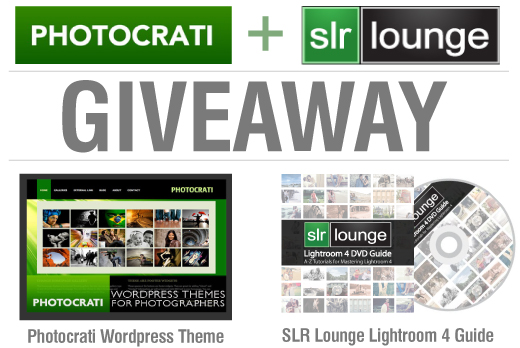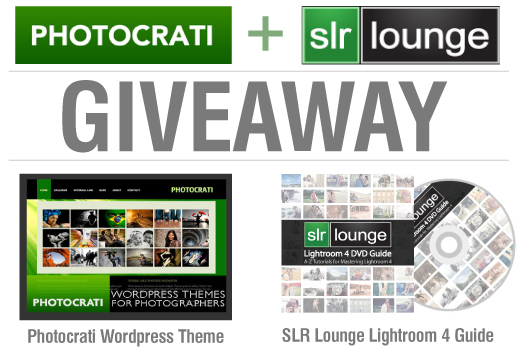 We're working with our friends at SLR Lounge to give away a free copy of the Photocrati theme. But that's not all! The winner will also receive a copy of the SLR Lounge SLR Lounge Lightroom 4 A-Z Guide, a comprehensive guide to Lightroom 4 retailing for $99.
Instructions
To enter, "like" both Photocrati and SLR Lounge on Facebook and hit "enter." Like previous SLR Lounge giveaways, you get 3 additional entries every time you refer a someone via your link; so be sure to share away!
If you are having issues entering the competition, please sign in to Facebook prior to entering
What is the SLR Lounge Lightroom 4 A-Z DVD Guide
Become a Lightroom expert! With nearly 14 hours of step-by-step video instruction, this in-depth DVD is designed to turn anyone at any experience level into a Lightroom 4 expert. From file management and organization to advanced artistic processing techniques, this comprehensive DVD has become the standard in Lightroom 4 training.
– 130 video tutorials and nearly 14 hours of content
– Step-by-step tutorials with a full menu system for easy navigation
– Over 6 hours of tutorials dedicated to developing techniques
– 1080p resolution tutorials, exercise files and final Lightroom 4 Catalog
Preview the SLR Lounge Lightroom 4 A-Z DVD Guide
Rules and Restrictions
Void Where prohibited. BOTH domestic and international contestants allowed. One entry per Facebook User using the form. Three additional entries granted when a referral using your link enters the contest.
How Do I Find Out If I Won?
The contest ends Thursday, 10.04.2012 and the winner will be announced on 10.05.2012. We will announce it on the SLR Lounge contest page and they will send an email to the winner.