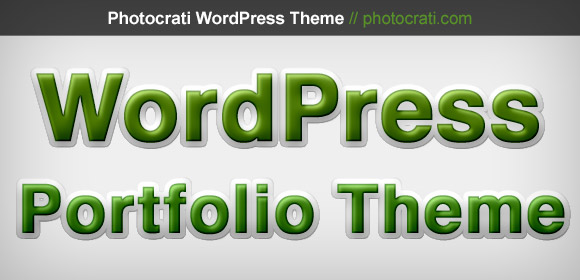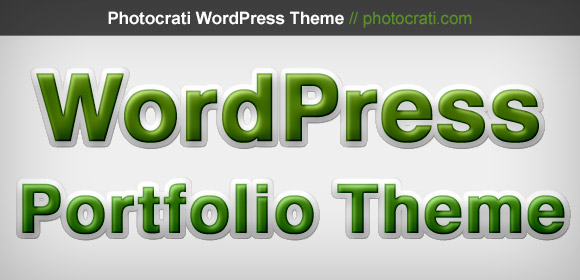 Not all the WordPress portfolio themes you see available are actually what you might think. Many of them utilize a slider style widget in order to randomly display a WordPress post's featured image. While this may work for many people, it's not really ideal for WordPress portfolio themes.
In this article, I am going to share with you why the Photocrati WordPress theme makes a great choice for those searching for WordPress portfolio themes.
I will detail each of the following areas:
Portfolio Management
Portfolio Display
Album Management
Album Display
eCommerce
Blog and more
WordPress Portfolio Themes For You
So let's get to it, shall we? Essentially, WordPress portfolio themes should have a portfolio management system, so I will start there.
Portfolio Management
In a perfect world, every WordPress portfolio theme will make it extremely simple for every user. Making portfolio management easy means designing an interface to handle the task. The Photocrati theme has a very distinct button visible while creating a new post or page. When clicked, it brings up a modal window where the user has the ability to upload graphics, add a title and description to the gallery and then insert into the post/page body.
This is what the portfolio management window looks like: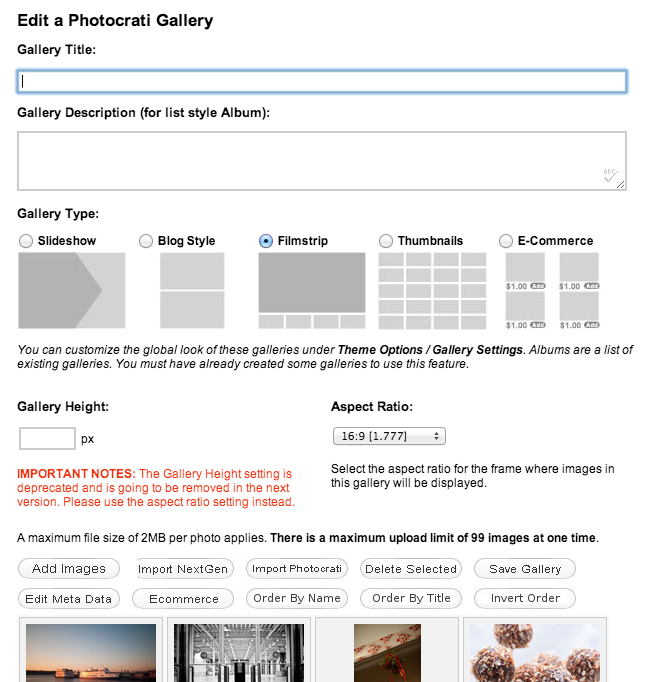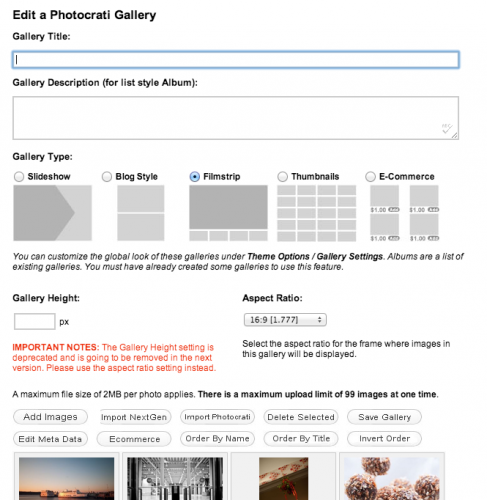 Here, not only can you upload your images, or import them from NextGEN Gallery, but also organize and edit meta data or eCommerce options.
Portfolio Display
Now this is where the fun really starts. If you look at the same screenshot above, you will see the section called Gallery Type. This is where you can choose between a few different portfolio display styles.
Slideshow
Blog Style (vertical list)
Filmstrip (galleria style)
Thumbnail grid (with Lightbox modal enlargements)
eCommerce grid
In addition to the styles, a user can pick between different aspect ratios to flow more with different designs. Here are examples of the portfolio displays.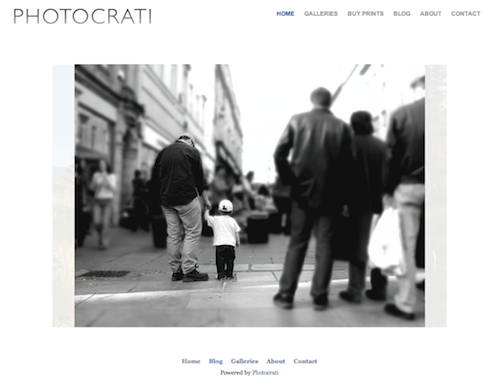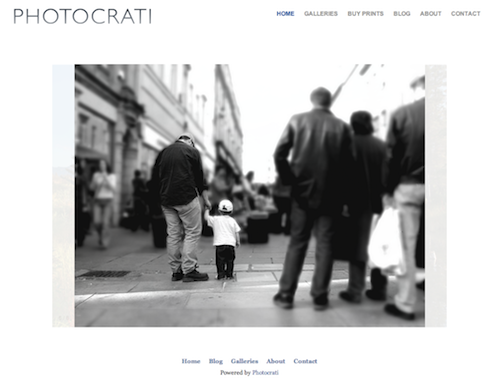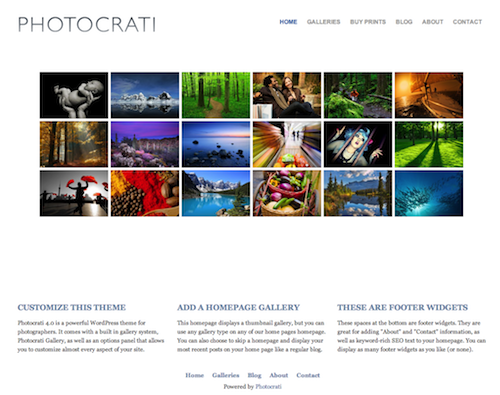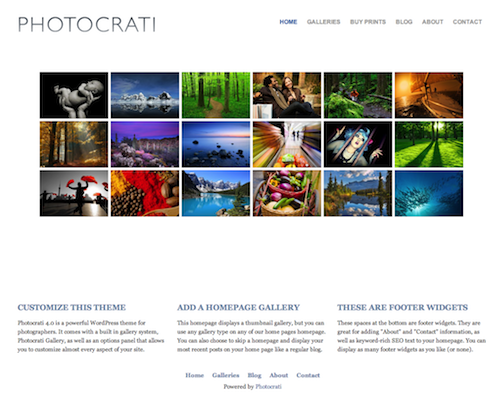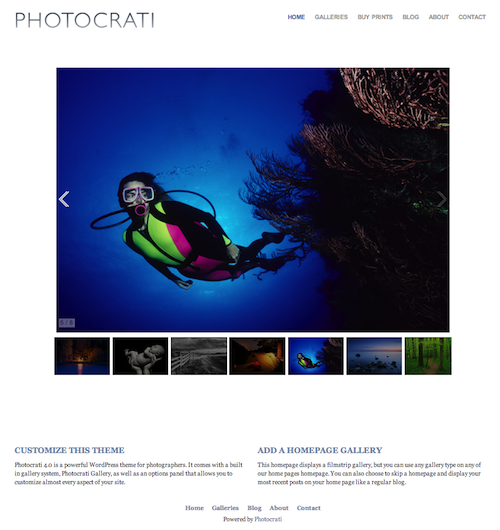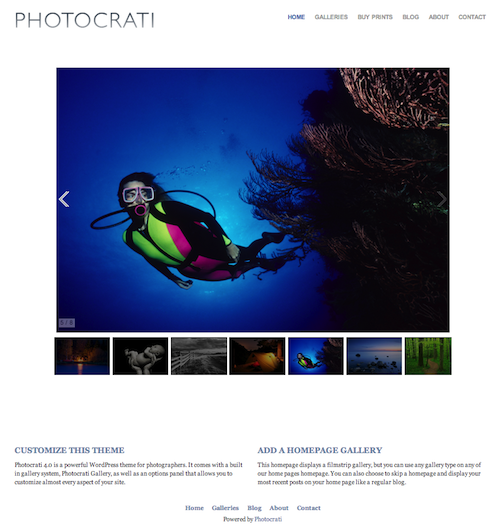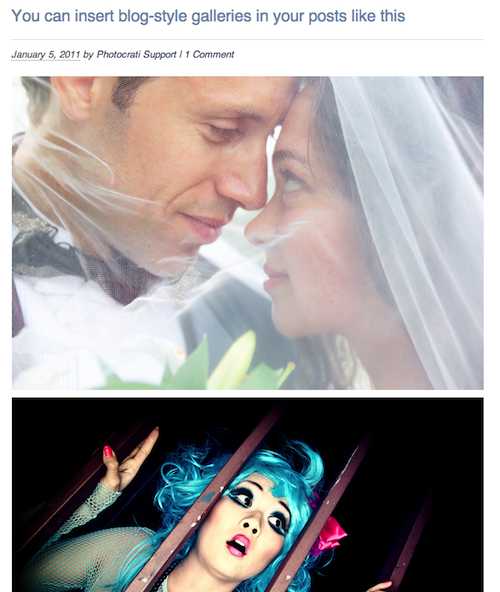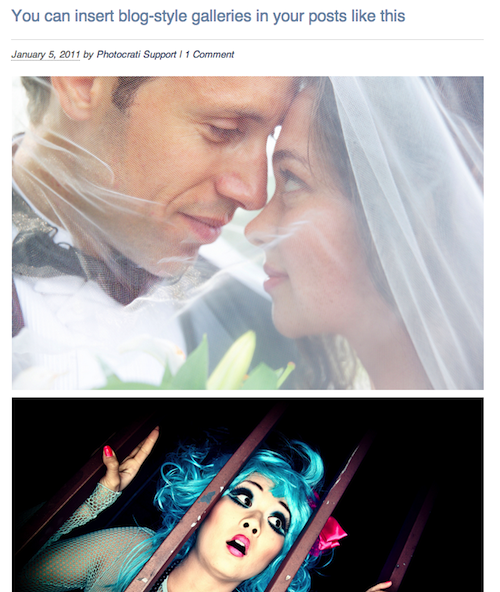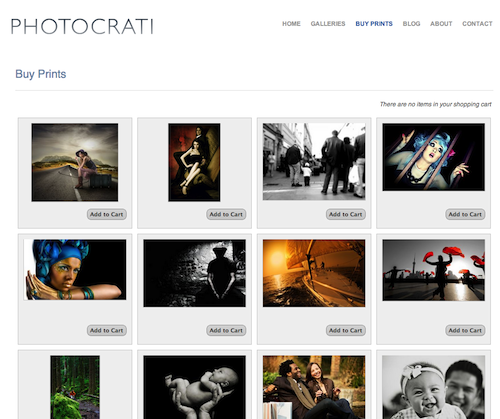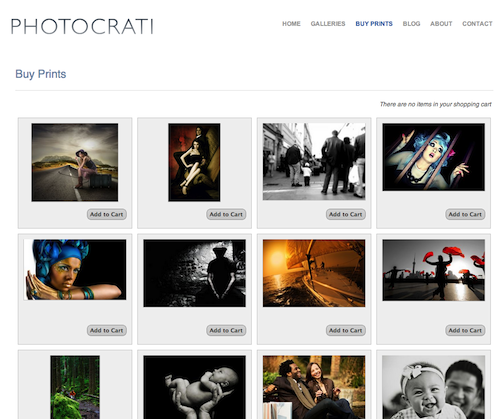 To see each of these style in action visit the Photocrati demos section.
Album Management
Moving on to albums now. These are similar to portfolio management system, except portfolios/galleries are made included within an album. Think about the album being your overall portfolio and the galleries being individual components of your portfolio.
For example:


Looking at the bubbles above, albums would be in yellow and galleries in green. Make sense?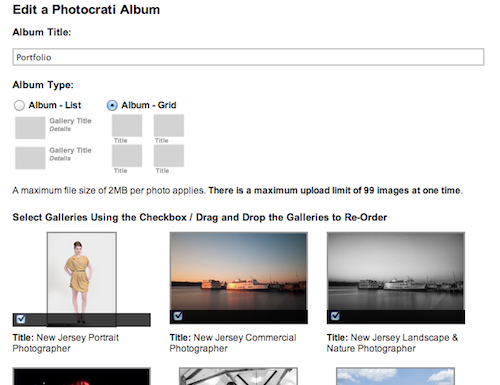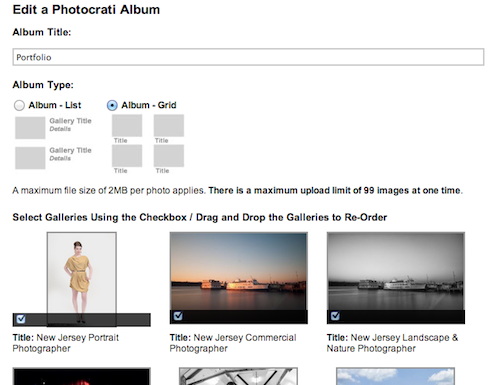 Looking at the Photocrati album management window above, you can see that you can name the album to your liking. There is then an option for the album display type. Following that you have the ability to pick which galleries are to be included in the album.
What this does, is make the gallery thumbnails within the album, link directly to the post/page that has the gallery included. It does this automatically.
Album Display
Like the galleries section, the Photocrati theme provides two styles of displaying albums.
This is what the album grid style looks like: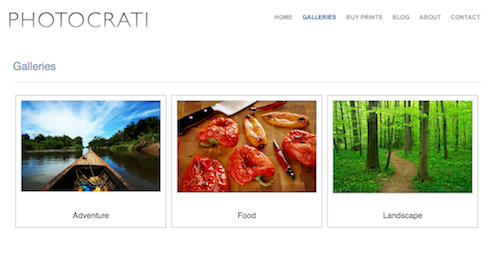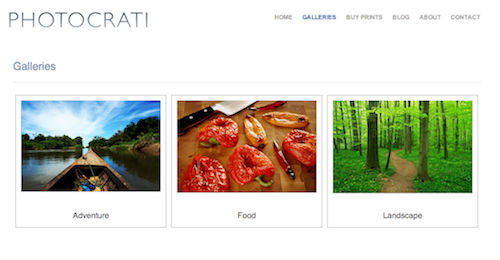 To see albums in action, be sure to check out the Photocrati showcase of customer websites.
eCommerce
Next up is eCommerce. Not all creatives need to sell their work, but even still this feature is built-in to the Photocrati theme. The eCommerce system is based on PayPal, which is a trusted processing company. There are currently pricing/product fields to use, but a more detailed eCommerce system is in the roadmap.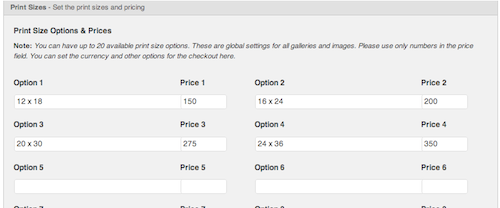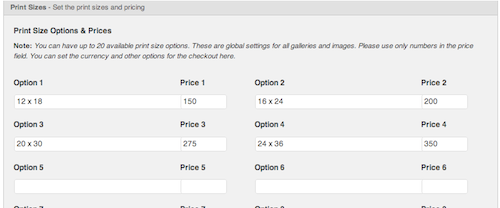 To see the eCommerce system in action, visit any of the Photocrati demos.
Blog & More
Having essential portfolio functionality built into a WordPress portfolio theme is extremely important, but more is needed. Having a well designed blog, compatibility with WordPress SEO plugins, flexible settings easy for all creative, etc.  I also want to note that while there are a lot of options within each modal window, there is also an entire backend settings panel for galleries, albums and eCommerce.  The Photocrati theme meets the criteria and is definitely a great choice for your WordPress portfolio.
Now I want to hear from you. What do you look for in a portfolio theme?
Thanks for reading,
Scott