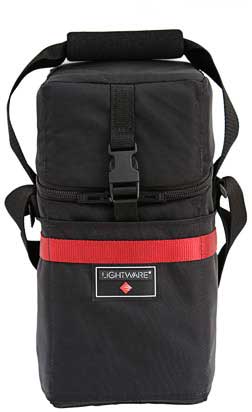 The Lightware z300 Case is very protective and attractive. The zippered and buckled top has a Velcro'd-in zippered pocket. I needed to remove this pocket to get my Canon 300mm f/2.8 Lens + pro body to fit. Even so, the fit is snug – exactly what I was looking for.
Quick release fastex buckle allows the lid to be closed without having to zip it up. Ballistics fabric is waterproof (case is water resistant). Comes with a permanent adjustable shoulder strap. Adjustable exterior straps for Monopod. Exterior pockets on 3 sides for press passes, pens & pencils and important papers, or detachable "Z" Pocket (patent pending). A shoulder strap and padded handle are provided for convenient transporting.
Overall construction quality is very good. The rectangular shape of the Lightware z300 Case allows it to pack well with other rectangular cases. READ FULL REVIEW AT DIGITAL PICTURE
If you own or have used this bag, let us know what you think! Leave your comments and thoughts below.
Get information and user reviews for this bag from Amazon:Lightware Long Lens Case f/300 2.8