Peter Burian reviews this workflow software with a vast range of advanced tools for enhancing RAW photos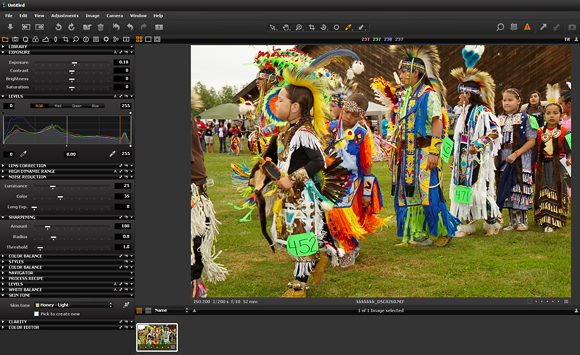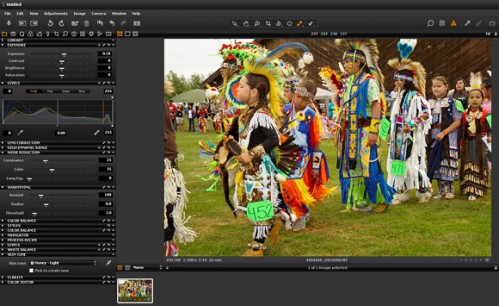 Better known for its medium format cameras and digital backs, Phase One -based in Copenhagen, Denmark with offices in New York – is also a software developer. The company's powerful Capture One program has been available for several years, and was recently upgraded to version 5 with additional tools for even greater versatility. Capture One is described as a workflow package since it offers a full suite of options: control over a tethered camera, image importing, editing and final output. Because it would be impossible to review all aspects in less than 5000 words, I decided to test my own favorite feature of Capture One Pro 5: its RAW file enhancing and conversion capabilities.
Primary Features
Do note that there are two versions of the Phase One 5, Standard and Pro. (For full specifics about the differences, see http://www.phaseone.com/comparison  .) Since 5 Pro offers far more editing tools – including some that are unique – I decided to try this more impressive program. Although I worked only on RAW files produced by an EOS 7D and Nikon D700, Capture One supports the RAW formats of all brands of cameras. Also, some of the software's editing tools can be applied to JPEG and TIFF files if desired, for making non-destructive adjustments. (In the latter respect, Capture One is similar to software such as Lightroom and Aperture.)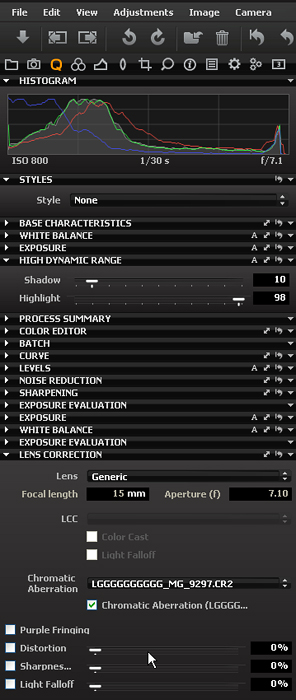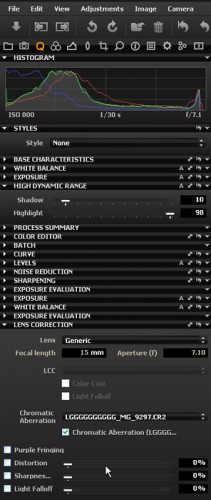 Without re-hashing the entire list of specifications for 5 Pro (available at Phase One) let's take a look at the features that serious photographers will particularly appreciate. These include multiple monitor support, a customizable workspace and the following editing items that I found to be most useful.
* The new Skin Tone Enhancer is ideal for people pictures, particularly portraits.
* Levels and Curves are available with many programs, but 5 Pro allows for adjusting individual color channels; serious photographers will love this feature.
* An enhanced feature, Lens Correction allows for correcting optical and linear distortion, light falloff, vignetting and chromatic aberration.
* Entirely new, the Focus Tool and Focus Mask are ideal for checking sharpness.
* The Mask highlights areas of an image that are in sharpest focus with a green overlay, a very effective method for evaluation.
* The advanced Color Editor includes many useful items including Smart Saturation; it can also be used to tweak ICC color profiles. Granted, this tool is not simple to use.
* Like the camera makers' software, Capture One 5 Pro offers a wide range of creative style modes for quickly achieving a wide range of entirely different effects. Afterward, any of the numerous overrides can be applied to tweak the image. Custom Styles can also be created.
* Pros will appreciate the ability to add a watermark with a logo or other information to every photo.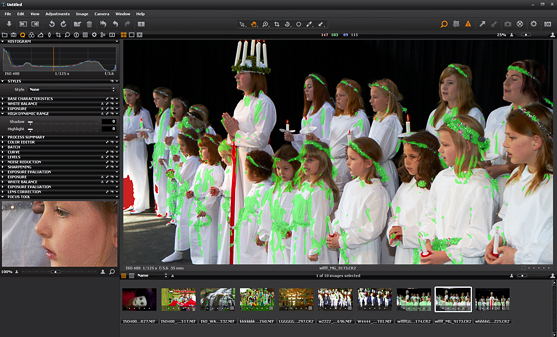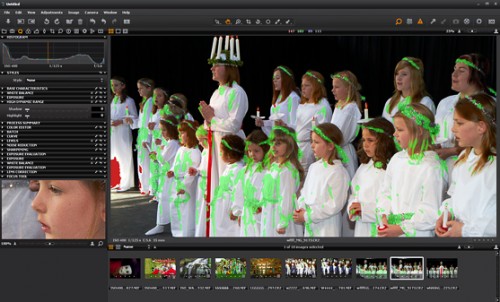 Some of the tools provide default settings, useful as a starting point when experimenting with Capture One 5 Pro. As with other imaging software however, few photographers will find the defaults to be ideal, particularly for Sharpening and Noise Reduction. Naturally, it's simple to tweak any feature to get just the right level for any image to satisfy personal preferences.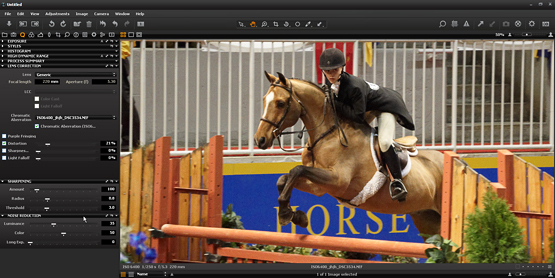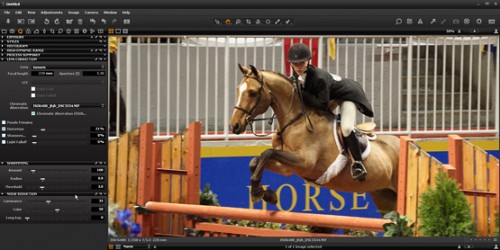 After a RAW photo looks perfect, it's easy to apply the same settings to numerous other photos using the Local Copy feature. This can minimize editing time when a set of images were taken under similar conditions, during a wedding ceremony, for example. And finally, the modified RAW captures can be batch processed as TIFF or JPEG files, with the desired options for compression, bit depth, color space and size/resolution.
Capture One Pro in Use
In order to determine the benefits of 5 Pro with entirely different cameras, I used the new software on NEF files from a Nikon D700 and CR2 files from an EOS 7D. This report is not intended as a comparison test, but I also tried Adobe Camera Raw (version 5.6 beta in CS4), Canon's Digital Photo Pro and Nikon's two offerings, View NX and Capture NX. Initially, I used Capture One Pro 5 at default settings, and later I made whatever adjustments were necessary to produce the very best possible results.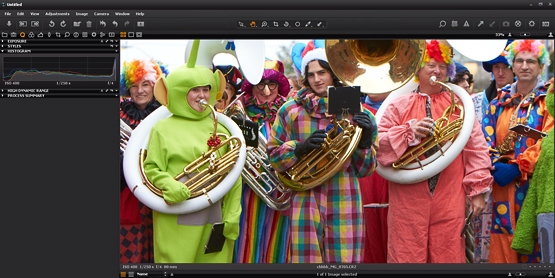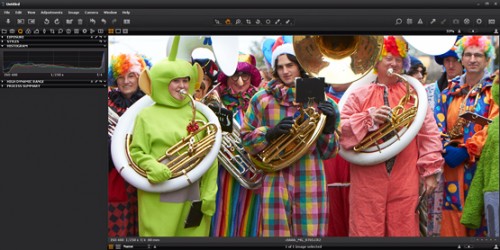 Note: While Phase One suggests that Capture One is intuitive, it won't seem particularly simple to use for anyone who is making the transition from Photoshop and its Adobe Camera Raw utility. That's true of Nikon's optional Capture NX too, a program which also includes a vast range of tools that are entirely different than those provided by Adobe. Frankly, I have found all of the camera makers' bundled RAW converters to be far more intuitive though not as versatile. In order to jump-start the Capture One Pro 5 learning experience, check out the useful tutorial on Phase One's website .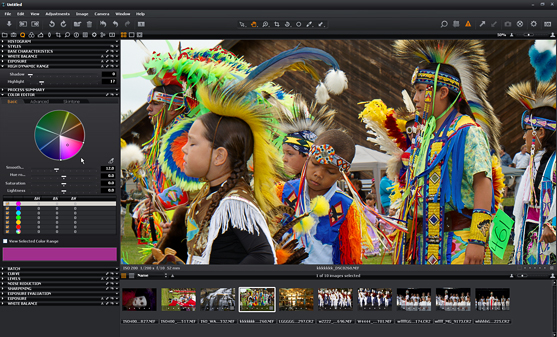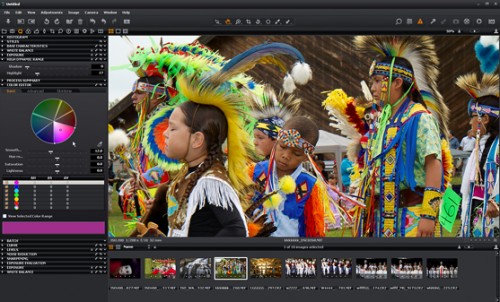 Nikon NEF Files: As expected, Capture One produced excellent results with the beautifully clean/smooth RAW captures produced by the D700. At default however, the Phase One program provided excessive sharpening. The results were much better after I reduced this aspect by at least a third. Photoshop experts who prefer to sharpen just before making prints – as suitable for the output size – will want to set Capture One's sharpening at a much lower level.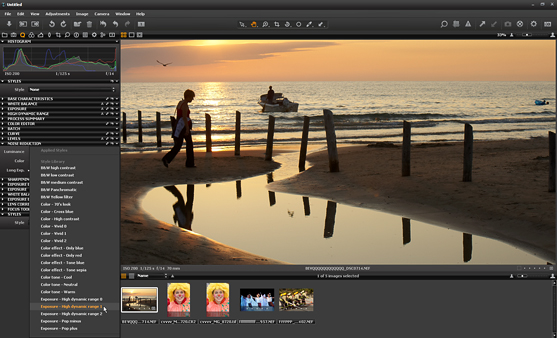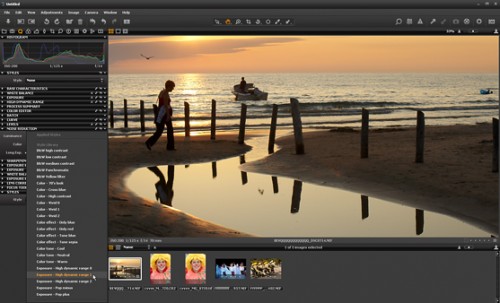 With well exposed photos up to ISO 1600, there was no need for the aggressive level provided by the Noise Reduction tool; reducing the amount by about 50% from the default provided more natural-looking results. After tweaking with other tools, my converted images look great, with just the right color balance, skin tones and highlight/shadow detail. The photos are remarkably smooth but retain maximum detail. After I became proficient with some of the unique tools available in Capture One Pro 5, this program produced the best results overall with some of my well exposed test shots.
I also worked on some NEF files made at ISO 3200, and one ISO 400 shot that was underexposed by a full stop. After tweaking the Sharpening and Noise Reduction, the converted images look great. Only a faint noise pattern is visible in mid-tones and in shadow areas that were lightened. Overall these images are excellent; the results are cleaner than I was able to achieve with the other brands of software.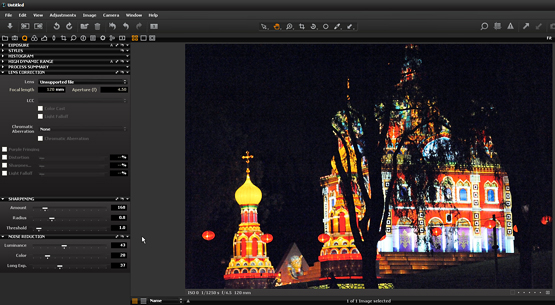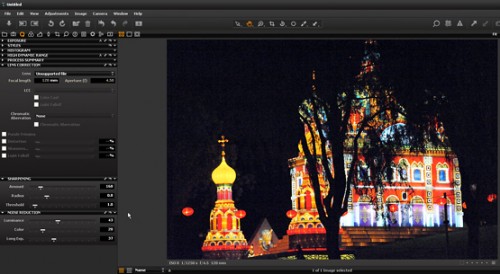 Canon CR2 Files: The RAW captures produced by this small-sensor 18 megapixel EOS 7D are not as clean as those generated by the full-frame 12 MP Nikon D700. Hence, I did not find a need to reduce the Noise Reduction amount by a great extent; a 25% reduction from default was fine for ISO 100 to ISO 400 captures. On the other hand, my earlier comments — about using a lower than default  sharpening —  apply for this camera as well. Surprisingly, some artifacts are visible in certain photos after conversion. Other captures look just about perfect, however: crisp, very smooth sharp and richly detailed.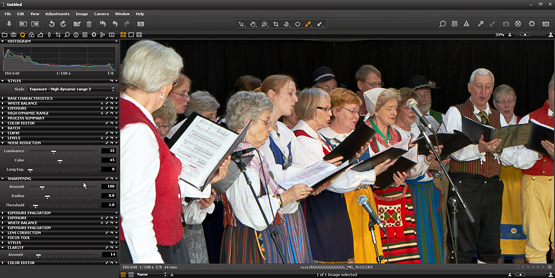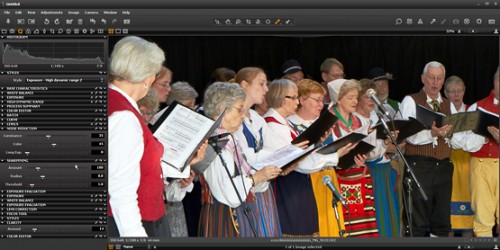 When working with RAW captures at ISO 800 and above, a different tactic was required for the best results with the CR2 files. I increased the NR amount from the default for smoother images and reduced Sharpening by 50% from default to avoid emphasizing the grain pattern or speckles. Subsequent application of Unsharp Mask in Photoshop allowed me to make very good 12×18″ prints.
Processing Speed
Although Adobe Camera Raw in Photoshop CS4 is faster, Phase One Capture One Pro 5 is no slouch compared to some other programs.  Changes to settings with any of its many tools are made almost instantly and the preview image is updated accordingly. (That's certainly not typical with the camera makers' bundled RAW converters). The final processing/conversion speed depends on several factors: the image size, the number of features applied to a photo, as well as the computer's processor and available memory.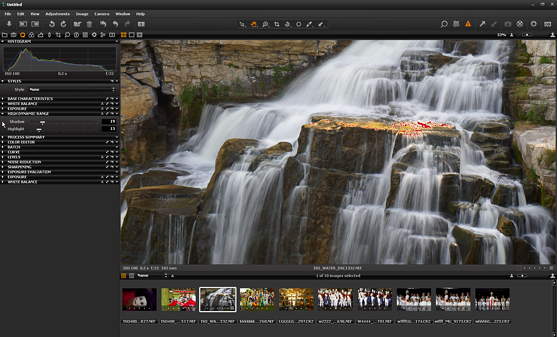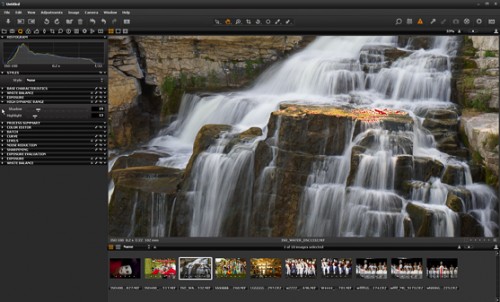 For the tests, I used my desktop PC with Windows XP 64-bit, Intel Core 2 Quad Q6600 2.4GHz Processor, 8GB of DDR II 800MHz memory and 74GB SATA 10,000 RPM Hard Drive. On average, Capture One Pro 5 processed a single EOS 7D RAW capture in nine seconds. Batch processing ten of the CR2 files consumed 100 seconds. Because I was able to continue working on other photos during the processing, the "delay" was not an issue at all.
Pro 5 vs. Lightroom 2.6 vs. DPP
While I was preparing this review, a controversy arose about the RAW file quality produced by the EOS 7D. This started with the evaluation in a camera review by Darwin Wiggett on his blog and continued on the Pro Photo Home website operated by Drew Strickland. Subsequent comments by both are particularly revealing. Here is an excerpt from Strickland's long report.
"Capture One Pro 5 really shines with both cameras [EOS XSi and EOS 7D]. The default settings for this raw conversion tool outshine both of the other major players [Canon's Digital Photo Pro and Lightroom 2.6]. … Capture One will provide the most pleasing files "out of the box." Lightroom works pretty well and comes in a close second (except for color issues). DPP is a distant third, as usual. … Obviously, Phase One still has the edge in their camera color profiles and "out of the box" image quality with these two cameras. … Keep in mind there are many, many variables involved with processing raw files. If you want the best results from raw I would suggest a quick purchase of Capture One, or Lightroom 2.6. Canon DPP just doesn't cut it, at least not for these cameras."
Darwin Wiggett also provides a meaningful conclusion on his photography blog. Here's a brief excerpt.
"To me Drew's tests show the importance of using the best RAW converter possible. … If you use either the 7D or the Rebel, Lightroom's Camera Raw makes nicer images than Canon's DPP when both are at the default settings. … What is enlightening is that Capture One Pro 5 is the best of the three RAW converters presented. Anyone getting a 7D will need to invest in Capture One if they want the best files possible."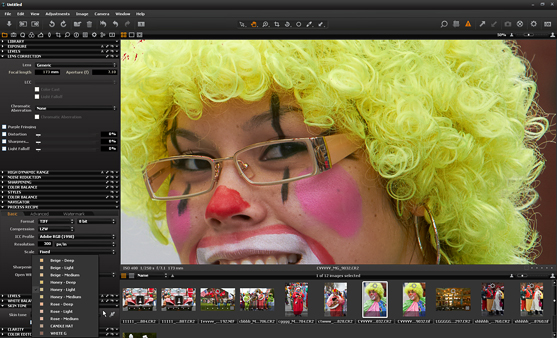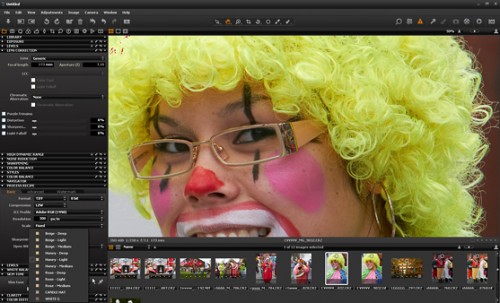 Note: Both Strickland and Wiggett tested converter software only on files produced by the EOS XSi and EOS 7D for their current reports. Their specific findings are unlikely to apply to every camera. However, it's probably fair to make this general statement. The best RAW quality is always provided when using the most suitable converter software. Naturally, the best program may differ depending on the camera and there are many other fine RAW converter programs.
The Bottom Line
Capture One 5 Pro is absolutely loaded with pro-oriented features that provide maximum versatility in editing RAW captures; some of these can also be used on JPEG or TIFF photos. Become proficient with the tools and you can get outstanding quality even with RAW photos that were underexposed or made at very high ISO levels.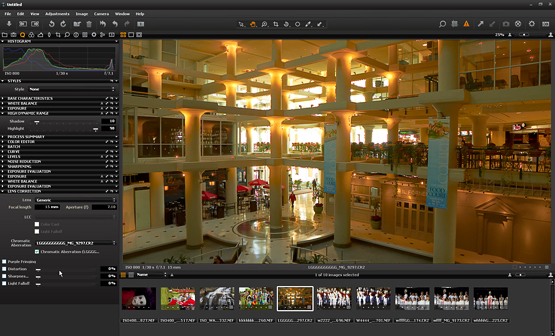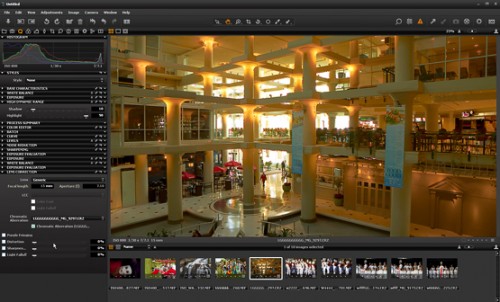 While Drew Strickland praises the results produced by the Phase One software "out of the box" (for the EOS XSi and 7D), I strongly recommend making your own settings instead of accepting the defaults. When adjusted to just the right level, Capture One's Noise Reduction algorithms are particularly impressive in terms of effectiveness with high ISO photos. You may find no need to use Noise Reduction software after RAW file conversion.
The exact settings for Noise Reduction and Sharpening will depend on the camera that you own, the ISO used for a particular photo and your personal preferences as to the "look" of the converted images. Be sure to view the photos at 100% magnification on a high quality computer monitor while experimenting with both tools. (If you intend to make prints, tone down the sharpening as discussed earlier.) Although it's a complex program with many advanced features, Capture One 5 Pro is certainly not complicated in terms of its primary tools. After a few minutes of tweaking Sharpness and Noise Reduction, you'll find the levels that produce the effects that you personally consider to be ideal.
Price and Specifications
Capture One 5 Standard and Pro are not yet available from retailers such as B&H Photo and Amazon.com but can be purchased from Phase One's on-line store. Try the free trial before you buy with a download from Phase One.
Capture One 5 Pro sells for $399; if you already own version 4 Pro, the upgrade costs $99. The Standard 5 version is far more affordable at $129, or $99 for an upgrade from Standard 4. It produces the same quality as 5 Pro, but omits many of the really desirable features.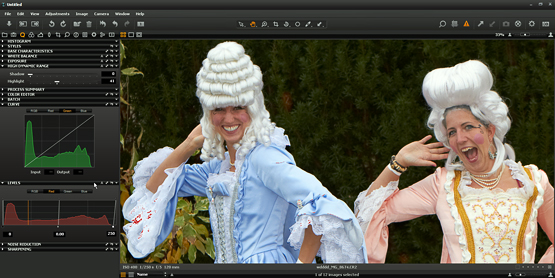 My brief review has really only scratched the surface of the many possibilities of the full-featured 5 Pro application. If you're considering an upgrade to an unusually versatile image editor, check out Phase One's list of new and enhanced features with sample images.
For the full list of amenities visit the Phase One website.