Jack Neubart gets a taste of a sweet compact 12.4 MP CMOS APS-C DSLR with a suite of features.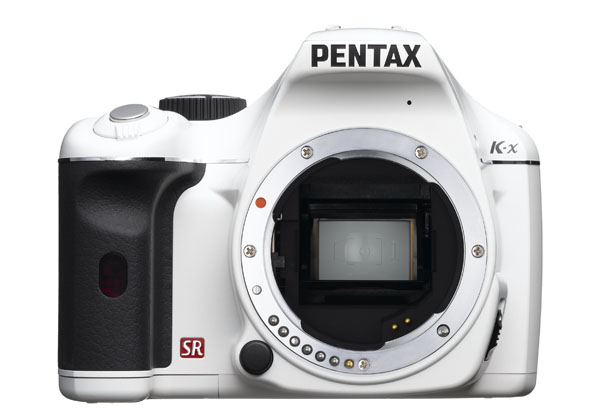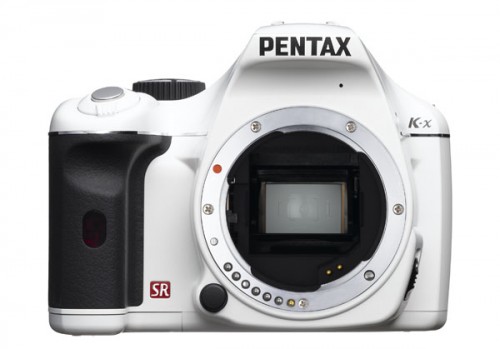 I approach each new camera with a degree of skepticism. Unlike many out there, I'm not as easily swayed by all the media hype and promotional gobbledygook. I'm from Brooklyn and we need to see that something actually works. So when the Pentax K-x arrived, I looked at it, pleased that they sent me the "white" version, only because it reminded me of the Imperial Storm Troopers from Star Wars (would have been a great fit). I unpacked everything, mated the lens to the K-x body, installed the lithium batteries that came in the box, then added my own SDHC card-none included (also takes standard SD-but why hamper the machine out of the gate!). And I started to play with it.
Hmm, not bad, I thought. But let's see how it performs in the real world. So, intrepid explorer that I am, I ventured outside. It may not be a tropical rain forest, but it is an urban jungle out there rife with photographic opportunities. I was ready for bear (good luck finding one of those in Brooklyn, but you get my drift) and I headed straight for my favorite city park.
Here Kit-ty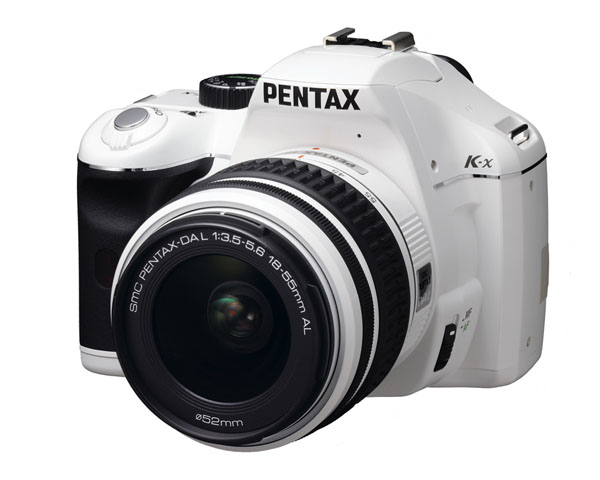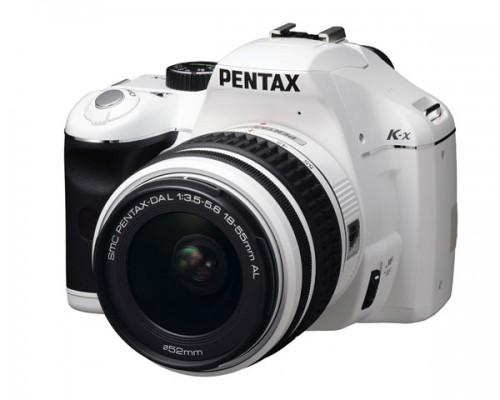 By the way, not only is the camera white (with contrasting black touches), but so is the matching SMC Pentax DAL f/3.5-5.6 18-55mm AL kit lens. The camera also comes in red or blue. (Not sure how I would have felt about it in red or blue, but I know I'm happier with this one.) And for the traditionalist, there's always the standard black version. Other lenses from Pentax are the traditional black tone.
The basic one-lens kit is priced very reasonably (under $650 street), but if you're willing to spend a bit more, you can up the ante and add a 50-200 or 55-300 zoom to the deal ($750 and $850, respectively)-and still get a great bargain. That means you'll be ready to shoot landscapes, portraits, and, with the longer lenses, wildlife (such as that bear we alluded to earlier). (Don't forget to multiply focal length by the APS-C sensor factor: 1.5X, to arrive at the effective focal length. That's especially important when determining a usable range of values under low lighting conditions, with the camera's in-body image stabilizer.)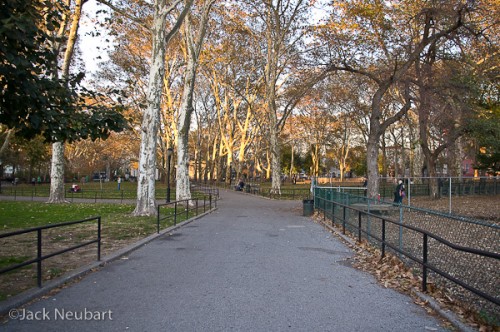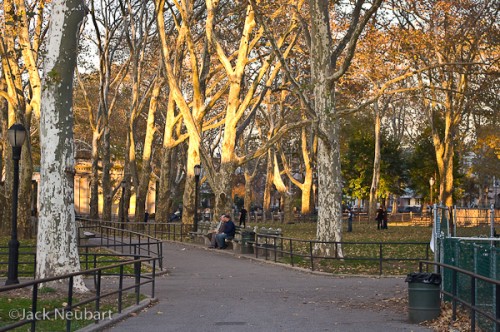 What's even more amazing about this camera, at this price, is that you don't have to settle for a smaller sensor, such as Micro/Four Thirds. OK, granted, perhaps it is not as small as some of the latest Micro Four Thirds sub-compacts now out there (the built-in optical viewfinder and reflex housing/mirror account for that), but it is small and light enough to wear around your neck without complaint on a hot, humid day while hiking around St. John USVI.
On the Surface
The K-x has a nicely contoured, textured grip, although the back, particularly under the thumb rest, is on the smooth side. Not having used the camera in a humid clime, hard to say if that would affect anything, but I doubt it.
All the camera controls on the K-x are neatly arrayed, with all but one-the flash popper-upper/delete button-situated conveniently on the right side, including the lens release. Granted, I'm more used to having a lens release on the left, because otherwise your fingers tend to get tangled, but you get used to it. What I found a bit disconcerting was combining the flash and delete buttons in one. But this too, is something you get used to before long.
Well, there is one other function located separately. As expected, the diopter correction is situated adjacent to the optical finder-actually rides atop it. And it's a slider that lacks the fine-tuning you may be used to on more robust DSLRs. Still, this did not prove to be a problem.
So, when do I start griping and grumbling and tell you what I really think? Well, I hate to disappoint, but you won't find too much of that here. This little camera truly surprised me. Okay, there are some things I wasn't overly thrilled with, and we'll get to them in due time. Be patient.
The Interface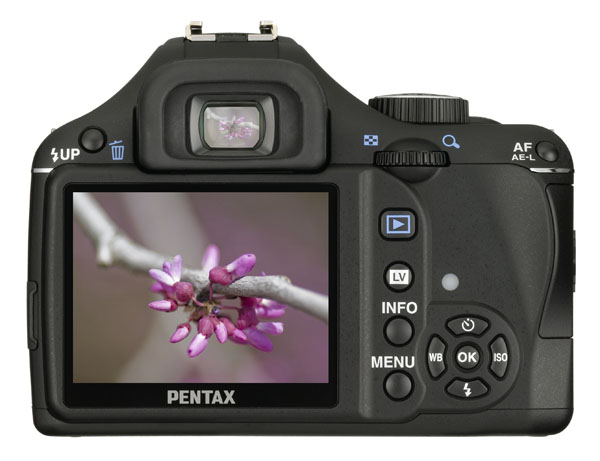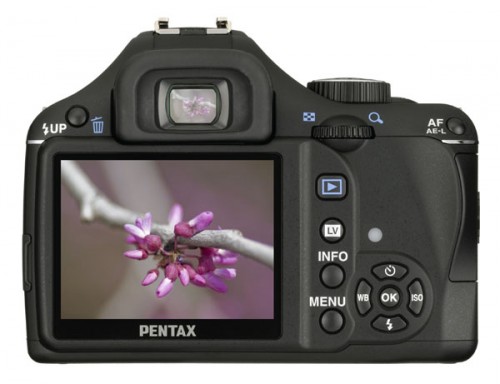 Camera manufacturers are beginning to understand that we, at any level of expertise, and especially eyeglass wearers like myself (who hate putting on glasses just to read an LCD panel), like having the information up front-or in back, to be precise, on that large color monitor-and in large type, with maybe some graphics thrown in. The K-x entirely bypasses a top-panel vanilla data panel in favor of the rear and fairly sizable color monitor, which is bright and fairly easy to see even outdoors, except under direct sunlight (so you duck under the shade-no biggie). As soon as you turn the camera on, you see the operating/shooting mode boldly emblazoned on the LCD, which is also true when switching from one to the next. Need the date and time? It's there also-and very readable.
Practically every button serves a key function. There's no confusing array back here-just the meat and potatoes that you need to capture that image.
The thumbwheel is where it should be, falling directly beneath your thumb. And there is only one such wheel, which leads to less confusion. What's more, it's sensitive to the shooting mode when in shutter-priority, aperture-priority, and sensitivity-priority modes. Yes, folks, this is a camera that has had sensitivity training-about time! Well, not really, since I don't know anyone who would choose this option when there's a chance of getting grainy images as a result. But stay tuned, there's more ground to cover before we discuss the fineness of our coffee grounds.
Getting back on track, in manual mode, you have to hit the AV (+/-) button on top to shift between shutter speed and aperture settings. Next to that button is a button with a green dot that you define. Unfortunately, I have no idea what I set it for (Ain't that always the way it is with custom functions?).
Two buttons to the immediate right of the LCD (next to the cursor buttons) are Info and Menu. If the camera settings are not displayed, hit the Info button once to show them, twice to get to a screen with a broader spectrum of parameters. Between this screen and the dedicated buttons can be found all the essential control settings you'll need. You may note a few parameters grayed out/off. These apply only to JPEG captures. If the camera is set for RAW or RAW+JPEG capture, these functions become unavailable. So how do you get around this? Set the green button to switch from one to the other. Hey, now I remember what I'm using that button for! (Just remember to hold it down for a second.) And so that I don't leave you in a lurch, let's turn to some of the more interesting functions you get with the K-x.
Picture and Scene Modes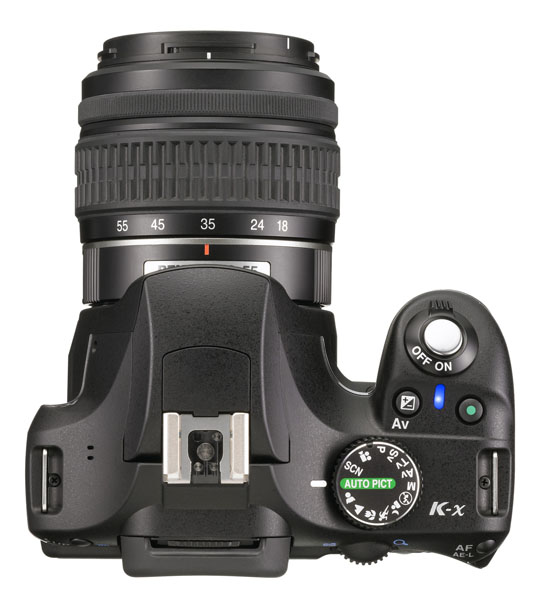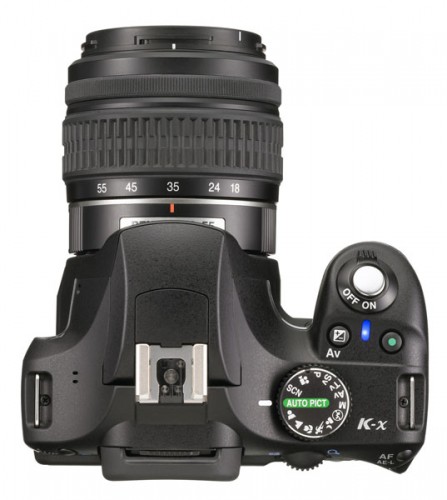 The Pentax K-x has a dedicated Auto Pict setting on the mode dial. You wanted some gripes? Here it comes. This mode makes absolutely no sense to me at all. I point it around my office/studio and it gives me readings ranging from face detection (pointed at a chair) to a runner to a scenic view. The flash doesn't automatically pop up unless set to Auto; user overrides, however, remain in place. So what is it doing? I haven't a clue.
Now, let's skip past this auto setting and move to the specifically defined picture modes, which are supposedly "auto" with a purpose. Here, by hitting the Info button, we can see which parameters have been tweaked, although, again, all subject to user overrides such as exposure compensation, ISO, and flash. And there appears to be no rhyme or reason for the settings the camera uses. It doesn't set a faster shutter speed for action or a shallower depth of field for a portrait; in fact, these settings are identical, when you point the camera at the same subject. So what gives!
Even at the macro setting, the aperture hovers at the same setting (all other variables aside, namely ISO and extreme brightness). Although each picture mode will set AF to single-shot or continuous on its own-that's at least something. But to be practical, I say just skip these picture modes altogether. There's still a lot of camera to explore, and you're still getting a good bang for your buck.
The scene (SCN) modes, on the other hand, do appear to take more control over the camera. To access this function, hit the Info button, scroll to the scene mode (the first icon), and hit the OK button. Then you'll see an explanation of what the setting does. Unfortunately, the information is sparse and not really anything of practical value, so your best bet is to just play around with each of the choices.
The museum setting prevents you from inadvertently using the flash by deactivating the flash button. It also deactivates the flash cursor button, with a reminder when you attempt to use it. The same applies to other scene settings, such as candlelight and sunset-although, I would like to use fill flash here, but can't. (Picture mode also has a flash verboten setting that you can use if you have a bad habit of popping the flash where and when you shouldn't.) The flash is otherwise accessible in most modes, but does not pop up automatically-unless set on Auto. When set for kids or pets, the camera goes into continuous AF (no doubt with face detection for kids), and burst mode.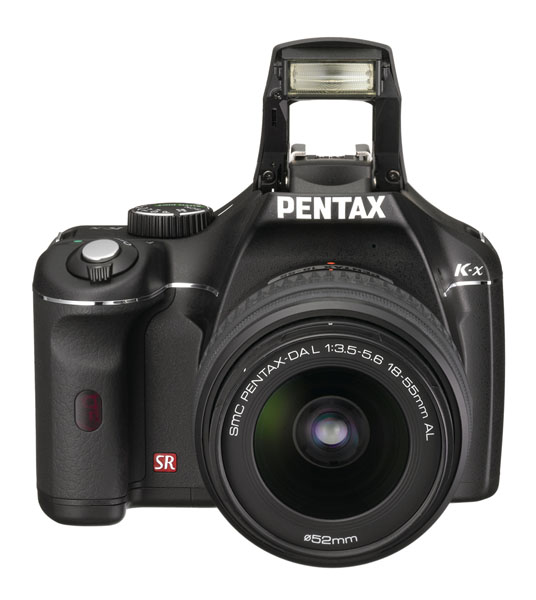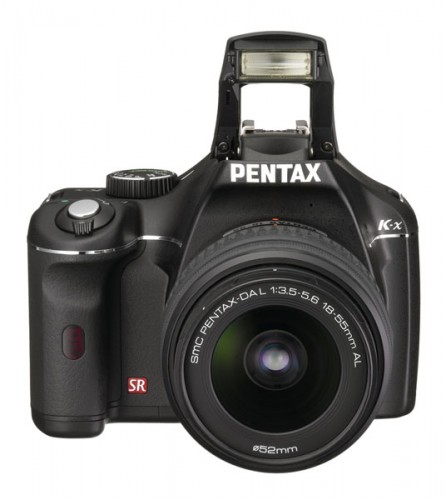 Movies, Live View, and AF
To manually activate face detection, the camera must be used in Live View. There is also a dedicated movie mode setting, which kick-starts Live View mode. Since the camera lacks an articulating monitor, you can't hold it the way you normally would a video camera, although I personally prefer to use the optical finder on my vid-cams.
As with other cameras that employ Live View for movies, temperature build-up can have deleterious effects on quality (translation: increased noise) and the camera may shut down, essentially following Isaac Asimov's Third Law of Robotics mandating that a robot must protect itself. And what is a sophisticated, microprocessor-governed camera if not a form of robot? But don't be scared. The Three Laws of Robotics also dictate that no harm should come to humans, no matter how badly some people treat their cameras. (For a different perspective, read R.U.R. – Rossum's Universal Robots, a play by Karel Capek-so perhaps you should be more attentive to the needs of your camera.)
Movies are recorded in 1280 x 720p/16:9 or 640x416p/3:2–at 24 fps, captured in AVI format (Motion JPEG compression). Still capture maxes out at 4288 x 2848. Color depth is 8 bits/channel JPEG and 12 bits/channel RAW.
The dedicated Live View (LV) button is on the back of the camera. Live View can lead to really tardy autofocusing when face detection or contrast detection are selected, operating off the image sensor. I'd recommend the wide array (phase detection utilizing the AF sensor) setting instead, although this does black out the viewfinder momentarily in this operating mode. In Live View, focusing only occurs when you press the shutter button part way.
On the other hand, standard AF operation, with however many focusing points you select, is surprisingly fast. Except under very low lighting, which has been the bane of many AF systems.
The one annoying aspect to autofocusing is in continuous AF. The camera beeps each time it locks onto its target. There's no off switch for this mode alone.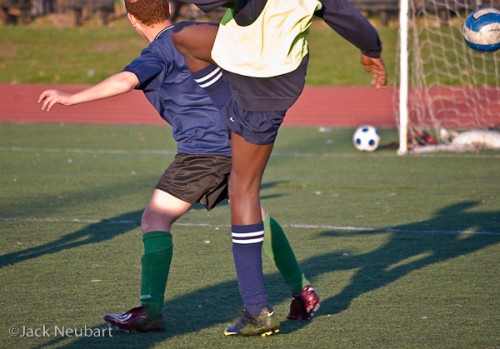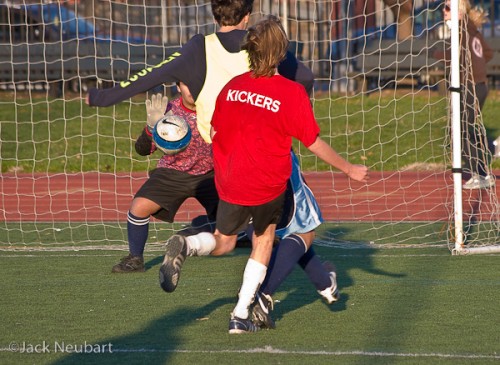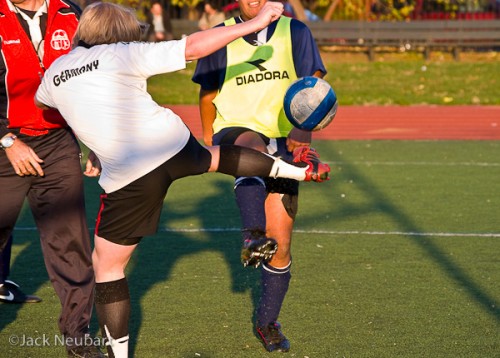 Nifty In-Camera Effects and Other Features
The K-x boasts some neat in-camera effects, largely applicable to JPEG capture. But the camera gives RAW shooters a workaround so that you can still exploit this machine's "digital filters." Namely, with the card in the camera, apply the effects to the stored image with post processing. This way you have your RAW cake and eat it too (okay, doesn't sound so tempting when I put it that way). You can even create your own custom filter.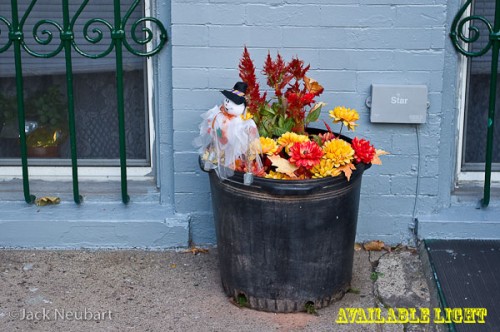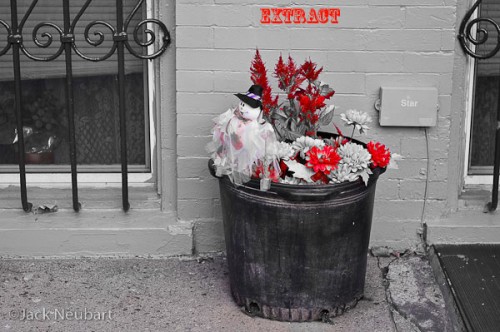 Included in post-processing is HDR. Using the effect in post is pretty much a wasted effort. Well, perhaps I shouldn't quite say that: the HDR conversion in post does do a little to improve the image, but not nearly as much as you'd want or expect.
HDR, in capture mode, is an effect that involves a bracketed burst of three exposures (normal, under and over), which the camera blends in order to squeeze out all available tonalities. The camera should be on a tripod with the entire world perfectly stationary (any movement will produce ghosting artifacts or prevent perfect registration of the composite images). There are two HDR settings. HDR 2 tends to go overboard and evens out all the tonalities. The HDR 1 setting preserves more of the contrast, and it definitely is an improvement over the non-HDR version in recapturing lost tonal detail. Unfortunately, you can't use it with RAW captures, which means you're losing considerable image information out of the starting gate.
Not available to the camera in post are the cross-process effect and lens corrections, namely for distortion and color fringing (lateral chromatic aberration, to be specific).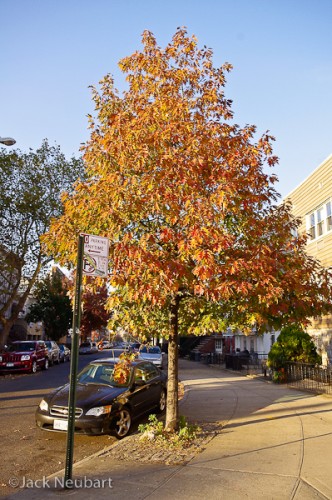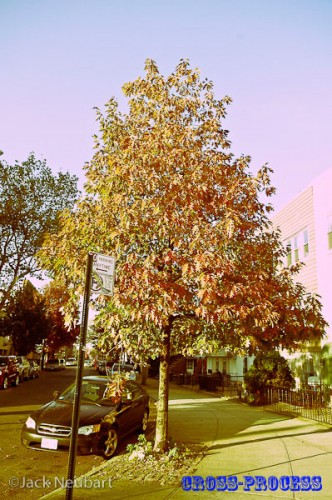 Normally, I'd pooh-pooh digital camera effects. But I have to admit, I like many of those offered here. To be blunt, they're fun, and I believe that's the raison d'etre behind this camera in the first place: Make picture-taking fun.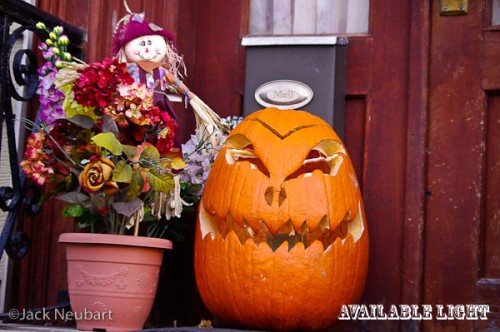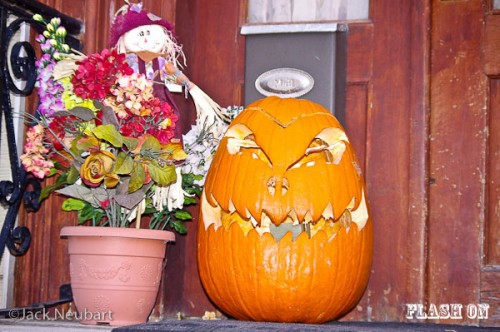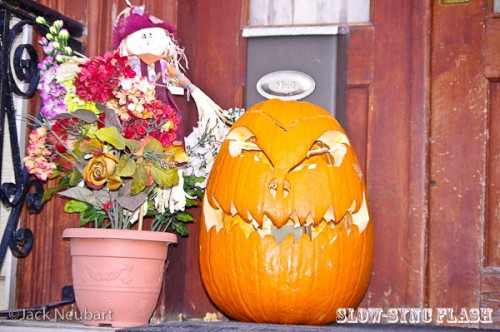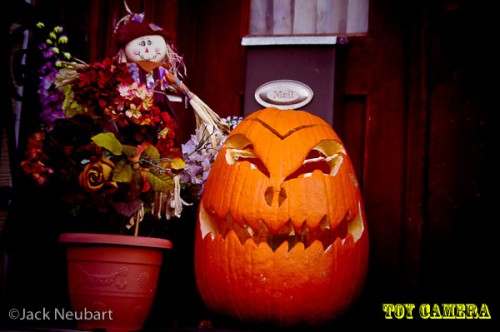 Other features include in-camera shake reduction. Here the options are limited to on or off-no in-between settings, which may make it less confusing for some, rather than trying to fathom what the different image stabilization functions mean and when to use them.
And there's the obligatory dust reduction system, with an interesting twist. The camera lets you get a visual of the sensor and its resident dust in a memory capture that's revealed on screen. See dust? Manually activate the in-camera dust-shaker-offer. It took a few tries, but the sensor was finally dust free. The only bothersome aspect to all this is that this is a noisy system, with a noticeable kick when activated.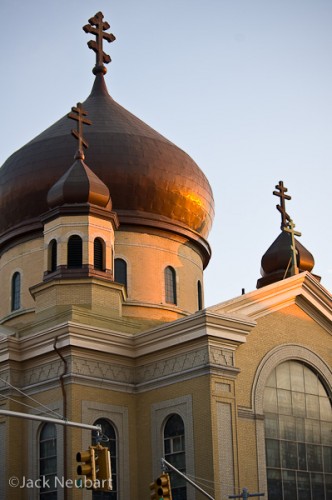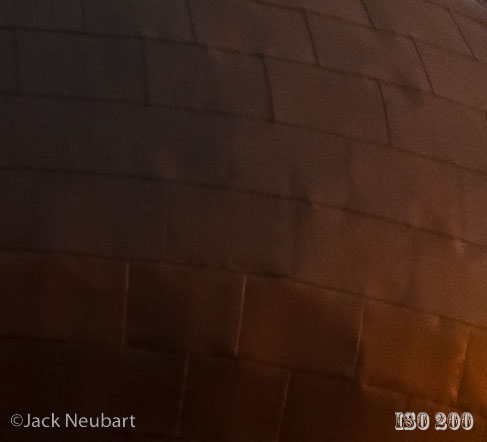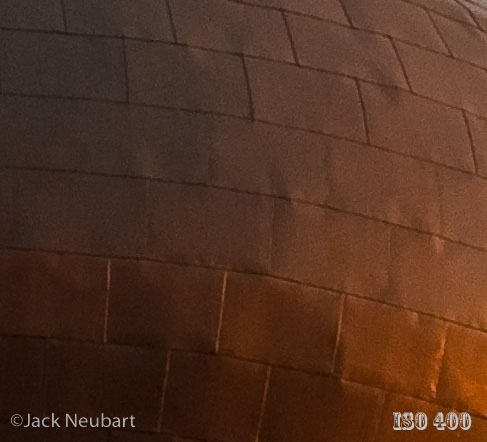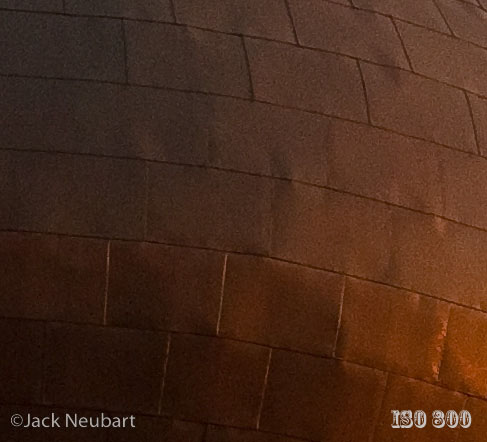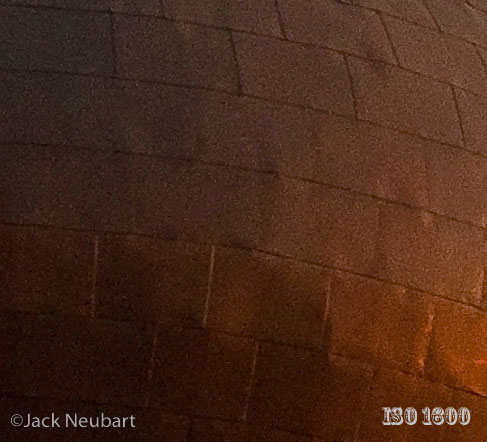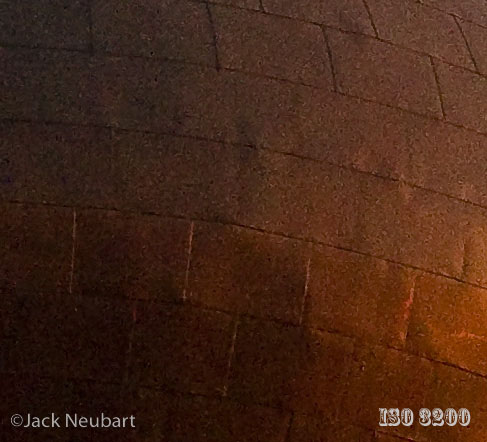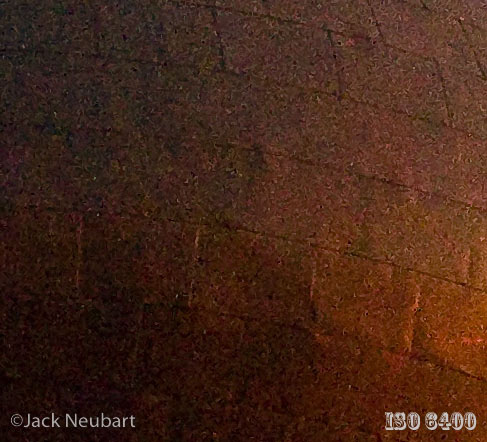 In Conclusion
The manual that comes with the Pentax K-x is 300+ pages long. So you can see that there is a lot of functionality built in.
No, not every feature was to my liking-especially the part about requiring four AA cells, since the camera does not come with a rechargeable Li-Ion battery pack. Granted, the single-use lithiums that came with the camera do last a long time, but these batteries are costly to replace. Alkalines have a short life in this camera. And rechargeable NiMH (Nickel metal hydride) batteries proved quirky.
I'm told by Pentax that these rechargeables should be rated over 2000 mAh, preferably 2450 mAh, which meant that most of my rechargeables were unsuitable. I didn't fare any better with freshly charged 2100 mAh cells either, so I'm not sure how much of a difference 2450 would make. It could be that you not only need freshly charged but new and freshly charged NiMH cells for this camera. And the brand of NiMH batteries could be the issue-too many variables. Pentax also mentioned that when switching batteries, allow at least a minute before turning the camera back on. So, to be safe, let's just stick with disposable lithiums (but dispose of properly). When shooting with Live View, expect a greater drain on power.
Well, I did say that all was not perfect with the K-x. Image quality was very good, if not remarkable. And the AF system was largely on track, especially when it came to action photography. The lenses were easy to work with, if noisy during AF operation. Noteworthy was manual focusing on these lenses-with positive detents at either end of the focusing spectrum preventing you from rotating the ring too far. That was a refreshing contrast to many higher-priced lenses on other cameras. So, when I reflect back on the experience, I have to admit that I was quite pleased. Quite pleased indeed.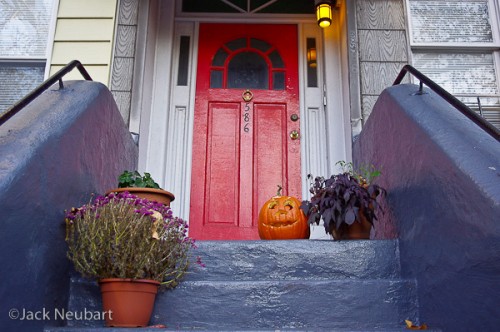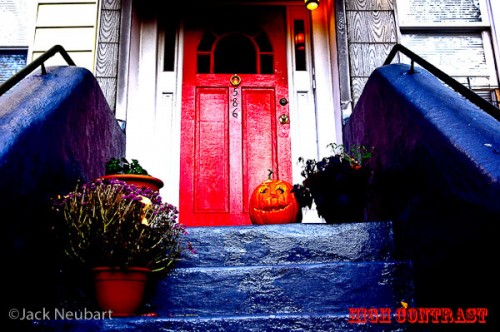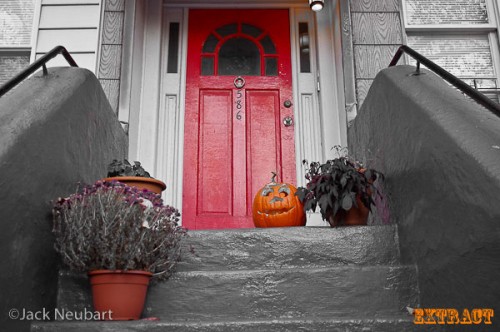 Verdict. Buy it. The Pentax K-x is fun and easy to use. And it's a bargain! If you're worried about the batteries, you'll probably do okay just carrying around a spare set of lithiums.


For more information: Visit the Pentax K-x page
For technical specifications: Visit Pentax
See current prices and user reviews: (about $650 with kit lens) at Amazon, at B&H