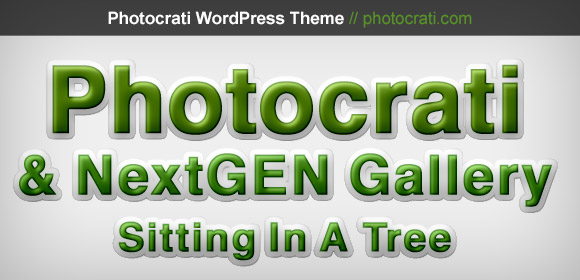 We're thrilled to announce to the Photocrati community some big news that has been in the works for nearly six months: Photocrati has acquired the NextGEN Gallery WordPress plugin!
As most of you know, NextGEN Gallery is the single most popular gallery management plugin for WordPress with over 5 million downloads. The acquisition is part of our effort to consolidate the best WordPress solutions for photographers under one roof.
WHAT DOES THIS MEAN FOR PHOTOCRATI USERS?
Needless to say, the acquisition has big implications for the community of Photocrati users.
Best of Both Worlds. Our ultimate goal is to bring you the best of NextGEN and Photocrati, plus lots of improvements on both, all as a seamless part of the Photocrati theme. We are currently working on Photocrati 5.0. This major update will replace the existing Photocrati Gallery systems with a new system that merges both NextGEN and Photocrati.
NextGEN Gallery Management. NextGEN will act as the underlying engine for gallery management in the theme. That means Photocrati users will automatically have access to lots of new functionality, including centralized gallery management, the ability to custom crop thumbnails, and the ability to apply watermarks to images, all of which have been popular feature requests within our community. In addition, you will be able to display images using NextGEN-style galleries.
Photocrati Displays & Functionality. We'll be layering Photocrati-style functionality on top of NextGEN. That means you will still be able to display galleries using Photocrati slideshow, thumbnail, filmstrip, blog-style, and ecommerce style displays.
New and Improved Ecommerce. As part of this project, we'll also be introducing a more powerful and elegant ecommerce solution with options like the ability to enable ecommerce across all gallery types and to buy and download digital images.
BIG PLANS FOR NEXTGEN TOO!
We'll also be making some major improvements to NextGEN Gallery itself. For more on our plans with NextGEN, see our announcement on the NextGEN blog here: Plans for NextGEN.
IS THERE A TIME FRAME FOR ALL OF THIS?
The integration of NextGEN and Photocrati represents a huge project. Our software engineering team has already been working on this for months, and we plan to move into testing phase in mid-summer. We're refraining from committing to any dates for a final launch since we just don't know how long certain components of the project will take.
We know you'll be looking forward to the update, and we will keep you posted on the progress via our blog and email updates.
To ensure that we get through this project as quickly as possible, we also want to let the community know that we'll be avoiding, if possible, intermediate updates between now and the launch of Photocrati 5.0.
WE'RE HIRING AND LOOKING FOR BETA TESTERS
As part of this expansion, we're hiring for a range of positions over the coming six months, including software engineers, happiness engineers, a systems administrator and a webmaster. If you are interested, please check out our jobs page.
We also plan to introduce a beta testing program. If you are interested in being a beta tester, please contact us.
We'll have more news soon. If you are not already, please stay informed by joining us on Twitter, Facebook or Google+.