We are proud to recognize Andrew "Harry" Harrington as a Photographer for Good.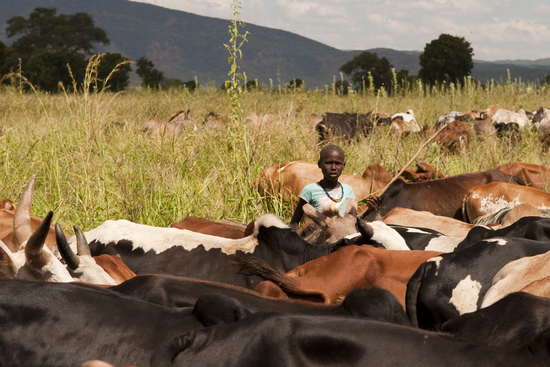 How did you get interested in being behind the lens?
I've been taking pictures since I was 8 years old, when I took a picture of a tree that I thought was really good. Basically I've been chasing that feeling ever since. I've only ever been interested in wildlife and conservation issues. We, as westerners, are very lucky to be alive right now, but what we do now will decide how the world turns out. I try to tell stories that inform people about what their options are.
Why focus on the conflict between people and lions in Tanzania?
Lions in Africa are in trouble — numbers have fallen from 450,000 in the 1940's to around 20,000 today. However, there is still a good chance that if something clever is done to enable lions and people to live together that lions can have a future. If the conflict can't be mitigated, in around 30 or 40 years time, lions will only exist in the very big national parks, which will cause all sorts of problems with inbreeding. The project I am taking pictures of is trying to find ways to allow people and lions to live together with less conflict and to increase the benefits of lions to local people. The project is based in Tanzania's Ruaha landscape (an area that is globally important for large carnivores) and focuses on the lions in the area (the Ruaha landscape is thought to support nearly 10% of sub-Saharan Africa's remaining lions). There are going to be 9 billion people in the world soon and if the world's going to be worth living in we need to learn to live with wildlife. Lions are the ultimate 'problem animal' so focusing on them will hopefully point towards ways of living with other animals. Also I really, really like lions.
Can you describe what's happening for folks who might not know anything about the issue?
There has always been conflict between cattle herders and lions but as the population of Tanzania soars, the lions have less human-free space and encounter cattle more often. Often children of around ten will be left in charge of the cattle for the day, which means the lions have little to fear. The lions also occasionally kill people. The Masai and Barabaig love their cattle (its more than just a cow, it's status: a Ferrari and a Rolex and a big house) and when a cow is killed, the owners will often poison the carcass, killing not only lions but hyenas and vultures along with anything else that eats the carcass. Sometimes they will hunt a lion with spears. As much as I like lions you can appreciate that when your livelihood is affected, and your family in danger, you want some sort of recompense.
What were you hoping to achieve with your photo essays of people and lions in Tanzania?
It's very hard to cut through the noise of people's lives nowadays but ideally I hope that a few very rich people would look at this and be interested in funding this project in the long term. If anyone out there would like to help please visit the Ruaha Carnivore Project. The project runs a lot of video nights for the local population, trying to make friends and explain some better husbandry methods. A lot of my pictures and videos will be used for this. This autumn I'll be in the park taking pictures of lions. The lion's whisker spots can be used for identification, which will help the project follow the lions inside and outside the park.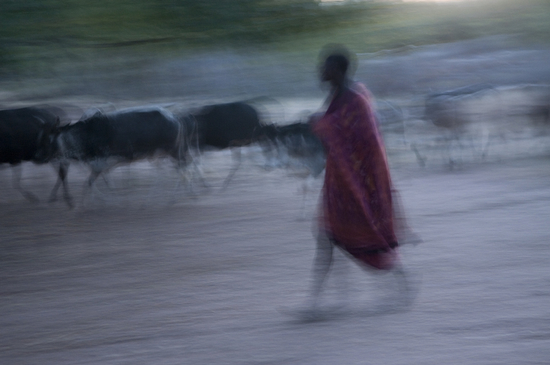 Any special challenges that you encountered?
I love working in Africa. This project is a little different for me being outside a national park so the wildlife is less visible and I'm on foot a lot more which can be a little twitchy sometimes. I've been jogging to get ready for this but since my first trip out there it seems that sprinting and climbing trees is what I should be doing. Neither of which are things I'm very good at.
What's in your bag?
I've always used Nikon gear, and for this project I'm trying to travel as light as possible. My main camera for the people pictures is a D300s with a 17-55mm, though I will get a 35mm 1.8 for when I'm running. Most of the time I'm also using a flash. I have a 200-400mm lens for the wildlife. My bag also holds my Mac and a few hard drives, a mic and recorder.
Do you have a favorite image from your series?
So far I've made one trip to Ruaha, just getting to know people and looking around. I have spent some time out herding, which has been such fun. I imagine that little has changed — people have done this over the last 1000 years, although nearly everyone has a mobile phone nowadays. One of the people I spent time with was Esta, a Barabaig girl dressed in copper bracelets and necklace, who was lovely and for a while was holding a friend's spear.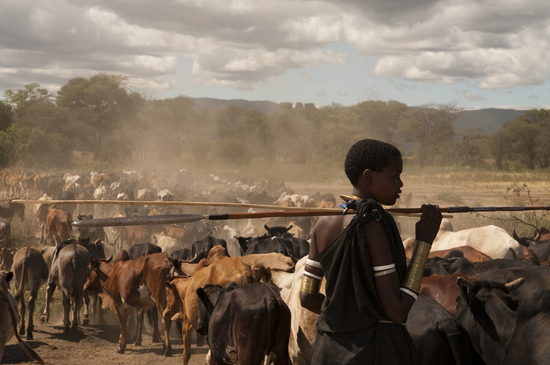 What are you working on now?
I am currently working on planning the next two trips out to Tanzania. If anyone is interested in commissioning these trips please get in touch. In the UK, I'm working on fox hunting and oak trees.