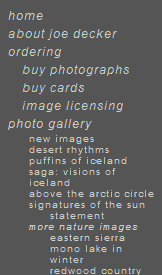 Last week I covered some of the basic strategic questions you need to answer for yourself before putting together a web site. This week, I'll talk about making your web site usable. If you have a large web site, it's very likely that most folks who come to it will never see more than a couple of pages. It's essential that your customers find the information they need.
To start, take out a piece of paper and jot down a list of what information you'd like to include on your site. Minimally, you need some of your images, and contact information, but depending on your business and how you hope to use your web site as part of your business (as we described last week), you may want to include: news, reviews, perhaps a blog or links to other social networking sites, and/or a biography that explains who you are, what you do and why. Don't include an item on this list until you have a clear understanding of how it fits into your business. For example:   "If a customer wants to place an order, they'll need to contact me, so I'll give them contact information."
A few specifics:
Bio ("About") pages allow you to not only establish credentials (hey, look, I was in the Smithsonian) but also to communicate a sense of who you are. The two portraits on the page I linked to at my own bio help customers feel like they know who they're doing business with.
News, blogging, social information and the like are all good ways of keeping your customers coming back to a site. But IF you decide to put time-sensitive information on a site realize that it's critically important that you keep it up to date. In writing this article I came across a photographer's web site with an exhibition list in which the most recent show was in early 2006. Customers who come to that web site are going to assume that that photographer is out of business. It would have been better to leave that page out entirely.
Links to offsite reviews of your work, articles you have published, and so on, are also great information to have on your site– but they come with a risk, a risk that your customers will leave your site and forget to come back! I've seen two basic approaches to dealing with this risk. The first is to get republishing rights from the place you got published, the other is to have external links create a new window to show in. Either works well.
How will your customers get to all those pages? Most web sites today make use of a navigation bar. This is essentially an outline of your site that's visible and usable from any part of your web site to get you to any other. Navigation bars are usually found either along the left hand side or top of a site. Either can work fine, but I tend to recommend left-side navigation bars for anything but the simplest sites simply because it's easier to make a long list work vertically than it is horizontally.
One final note: many tools for generating photo galleries (such as the Flash web generators in Lightroom) will not let you include your own navigation bar on the generated pages. Don't use those, no matter how pretty they are. If a gallery page is going to trap your customers away from your navigation bar, you're better off without it.
We'll talk more about photo galleries and aesthetics in the next installment in this series.
–
From the Editor: See Also
Photocrati's Photography WordPress Themes
DSLRBlog's Review of Photography Website Templates