Even in this world of online meetings, websites and blogs we need a printed portfolio book to show prospects. I'm in the process of re-doing my books so I've been researching this pretty heavily.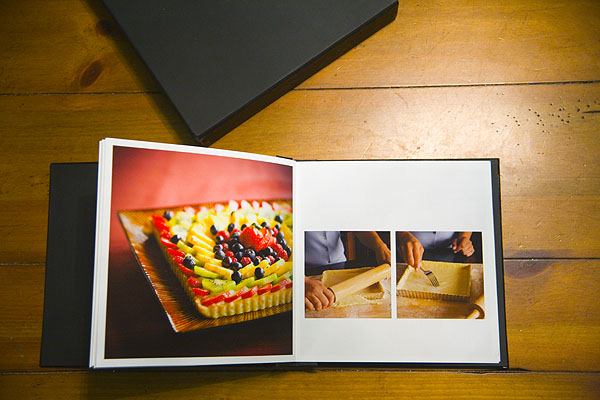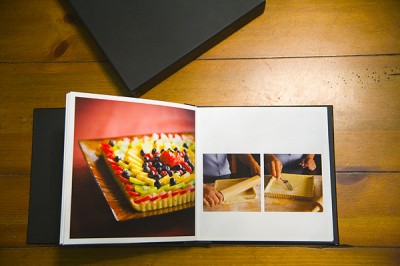 The format and styling of your book will depend greatly on who you're marketing to as well as your own personal style. A wedding book is not going to be anything like a commercial book which won't necessarily look like a pj book. In general here are a few nuggets of wisdom I've been able to scrounge in my research.
1. Size Between 8×10 and 11×14. Any smaller and they can't get a good idea of your work. Any larger and it's just too big to work with. Remember your target audience and where they are going to be viewing it. Imagine trying to lift, lug and flip through a book that's 13×17 (which opens to 26×17) inside a cubicle.
2. Number of images This will depend greatly on your genre and type of work you do. Generally, between 40-75 images is a good range. Again, depending on the type of work you do, this will vary. Also, 35 blow-their-socks-off images are far better than 35 "blow-their-socks-off" images and 25 "meh" images.
3. Layout Digital printing and inkjet printers have made interesting layouts possible for portfolios. We're no longer limited to one image per page. If you want to do that, fine, but don't feel restricted. Think multiple images per page, two page spreads, and negative space. Note: Use a professional graphic designer!!
4. Printing Simply put, the best you can find. You may be able to print top-notch images on your inkjet printer, if so, great. But don't skimp here. Many of the online photo book producers use 133- or 150-line halftone printing. That's fine for a magazine, but this is your baby. Do it right. If the printing is off, the only thing your viewer will remember is "Something was wrong with that book."
5. Sleeves are evil Really evil, like Dick Cheney (or Nancy Pelosi) evil. They glare, they get creased and scratched and they smell funny. They get in the way of your images.
6. Interchangeability is good If possible, use a system that allows for interchangeable pages (aside from sleeves). Show your book enough times and one of the pages will get messed up. Someone will spill coffee on it; or it will get penned, or creased. It would sure be nice to be able to pull one or two bad pages rather than replacing the entire book.
7. How many? Probably two or three. Again, depending on your market and the type of work you do, you will need at least one to keep handy at all times, and probably one or more to send out. If you have an agent, sales rep or marketing help, you'll need more copies.
8. Customize Put your name on and in the book. It seems like a no-brainer,   but you'd be surprised at how many times art buyers see a great book and then have to hunt for whose work it is. On my old drop portfolio I even put my FedEx number on the back. (Of course, it still took forever to come back!)
There are several great companies that produce materials and books for photographers' portfolios. Some links below…
This list is by no means comprehensive, if you know of more please leave comments. Thanks!