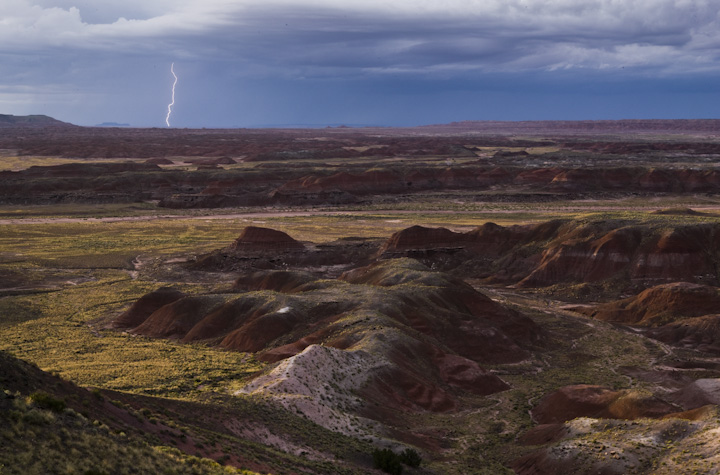 In my last installment, I discussed some of the joys and challenges of photographing lightning. One of the tools I use to capture images of lightning is Stepping Stone Products' Lightning Trigger which is particularly valuable for daylight lightning captures.
The way the Trigger works is simple. Attach the device to the camera hot shoe (for stability, the Trigger is powered by battery, not from the camera itself) and connect it to your camera's electronic cable release terminal. When switched on, a forward-pointing sensor will keep an electronic eye out for quick flashes of light, when it detects one, it'll trigger the camera. Assuming the lightning substrokes persist long enough (strokes of about a tenth of a second may occur as much as a half-second after the first visual sign of lightning), your camera should be able to capture the action.
Stepping Stone creates the connecting cables by modifying standard manufacturer cable releases, separating each into two pieces with a jack. Both are provided, so you can use the cables either with the Trigger or as a manual cable release.
I found the Trigger easy to use and remarkably sensitive. Because it does not know the field of view of your camera (focal length, sensor size, etc.) it may trigger at times where there's no lightning "in the frame", but I rarely, if ever, had the Trigger fail to fire when there was lightning in frame.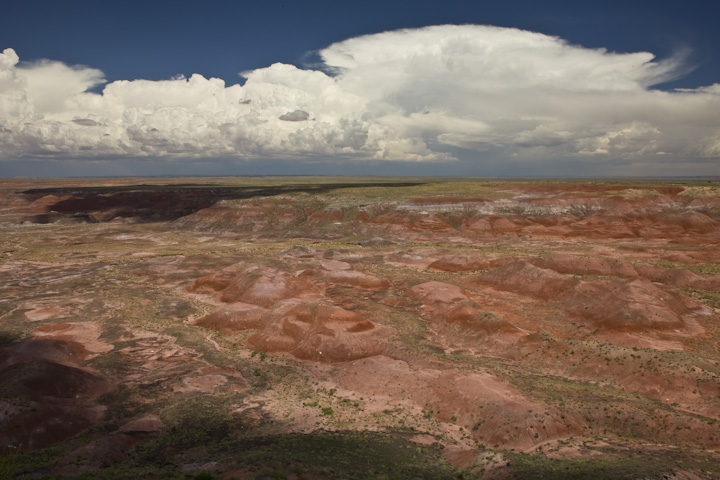 This wide-angle image of an entire thunderhead over the Painted Desert in Petrified Forest National Park is an extreme example. Don't look too closely, you won't see the lightning stroke below the thunderhead here, it's about 3% of the frame height, and well over ten miles from the camera, showing up with only moderate contrast even at 100% pixels on the original 21MP image. But the Lightning Trigger caught it, in full daylight. Very impressive.
The Trigger comes with complete instructions and suggestions for use, and those instructions are important. To capture lightning, your camera will have to respond very quickly once the Trigger tells it to shoot, you'll want to configure your camera (manual exposure and focus, for example) to reduce this shutter lag to a minimum. The manual also contains an excellent set of safety warnings, I recommend investing the time to read these in detail. No photograph is worth risking your life for.
At a handful of ounces of weight (even including battery, cable and carrying case) it's light enough to include in your pack when lightning is even a possibility. It's powered by a single 9-volt battery, and sells for $329, plus another $55-$75 for the (required) cable release. While not an impulse buy, the Trigger is, for me, an essential tool for capturing lightning across the landscape.
Highly recommended.