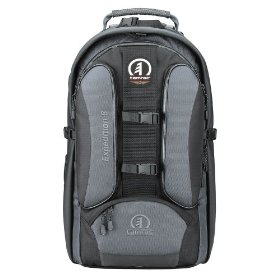 Tamrac's largest backpack, this new model can easily hold multiple D-SLRs, each with its own accessories, plus a 400mm f/2.8 supertele and a bunch of smaller lenses, with filters, gadgets, and cables. Dual "wing pockets" on either side of its QuickClip tripod harness allow fast access to small but important things like spare CF cards and batteries. The wings incorporate Tamrac's easy-to-understand Memory & Battery Management System flags, which show what's fresh and what's spent (or full). A five-way adjustment harness system customizes the fit for any size photographer. READ FULL REVIEW AT POPPHOTO
If you own or have used this Bag, let us know what you think! Leave your comments and thoughts below.
Get information and user reviews for this bag from Amazon: Tamrac #5278 Expedition 8, Expedition-Sized, Multi-Format Photographic Backpack, Black.