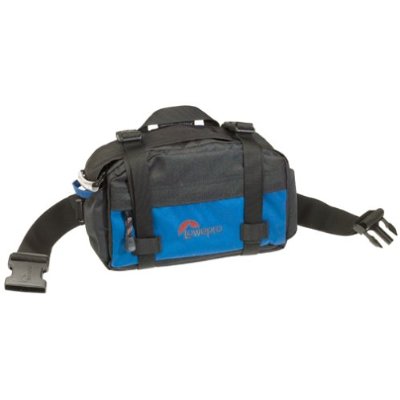 Lowepro Photo Runner Camera Bag: ideal for one DSLR body and a zoom or prime attached, plus one additional small prime lens. The Photo Runner is applicable for photojournalism, traveling, hiking, cycling, where only a small kit is needed.
I tested this bag in some of the most extreme dusty conditions. I spent a week in Nevada in the dusty desert, filling the Photo Runner bag with a Canon EOS 30D with a 24-70/2.8L lens attached, and a Sigma 30mm/1.4. The bag held up well. Although dusty on the outside, the zippers and durable ripstop fabric sealed the camera from dust and the elements while inside the bag. I was also able to quickly put the camera back in the waistpack. As an extra precaution, I also used a plastic ziplock bag to further protect the camera from dust when in use. …
For small photojournalism projects/assignments, this bag allows discreet and comfortable transport, although when traveling, you may be mistaken for a tourist with a fanny pack. I can also access my camera more easily than if I were to use a backpack or shoulder bag. … READ FULL REVIEW AT PHOTO.NET
If you own or have used this bag, let us know what you think! Leave your comments and thoughts below.
Get information and user reviews for this bag from Amazon: Lowepro Photo Runner Camera Bag (Black)