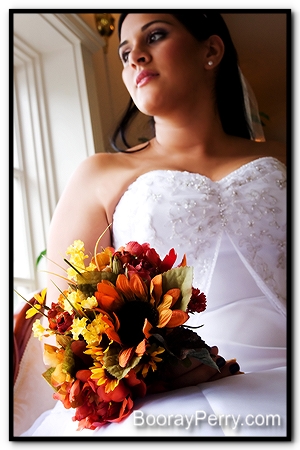 There are so many issues that wedding photographers can argue about:   light, composition, equipment, price, style and so on. I think it's a hoot that the one issue that always seems to get the most varied and heated opinions has nothing to do with the actual art of wedding photography (I'm a wedding photographer in Tampa, FL).
I'm talking about "Uncle Bob."
If you're a wedding photographer  then you know exactly who I'm talking about. For those of you who don't know, "Uncle Bob" is the guest at the wedding with an expensive camera who has decided to become an un-official wedding photographer for the day. Every time you pose someone for a shot, Uncle Bob is right there snapping away. If someone steps in front of you at an important moment during the reception, it's Uncle Bob. Uncle Bob means well, but he's oblivious to the fact that you're doing a job and he's interfering (I once had Uncle Bob get mad at me because I wouldn't "wait my turn" to take a picture of the Bride and Groom during an emotional moment at the reception.)
The Uncle Bob "issue" gets a lot of debate among wedding photographers. I have seen my fellow photogs rain down their wrath upon me with unholy vengeance for voicing my own opinion on the subject and so, with that memory still fresh in my mind, I'm going to do it again.   Call me crazy…
(BTW, if you aren't a wedding photographer, welcome to our world…)
I've been pondering how to write about Uncle Bob without getting flamed and I really don't think it's possible. So, I think what I want to do is simply define Uncle Bob, break him down so-to-speak, to his essence. His Bob-ness.
Uncle Bob exists sometimes as a person who is shooting just for himself and constantly getting in the way, but those "Bobs" can be forgiven. They know not what they do. They are caught up in their own world of "trying to get the shot"… a world we pro's are all too familiar with. They don't realize they are in the way because they don't even register that  we exist. These "Bobs" are annoying but unavoidable. It's just a part of the job and the best thing to do is laugh about it and try to get the shot. It's a wedding, not a model shoot. Try to be accommodating and friendly with everyone. If you are this sort of Uncle Bob then I don't have a problem with you. In fact, I don't even consider you an Uncle Bob. You're just a typical guest with a passion for photography.
Then there's the other Uncle Bob. The real Uncle Bob. This Uncle Bob can be defined by many factors but there is one clear and concise characteristic:   He takes pictures of people he doesn't personally know.
And so, with that in mind, I want to talk to you, Uncle Bob.
If you are bringing pro level gear to a wedding for the express purpose of taking pictures that will then be gifted to the Bride and Groom then you are a pure Uncle Bob and you are wrong to do so.
There, I said it.
First, there's the obvious reason that it's hard for me to sell pictures if someone else is giving them away for free. Yes, it's true that anyone can take pictures at a wedding (and everyone does) but that's not what you're doing and you know it. If you want to bring a flask to the wedding so you can avoid tipping the bartender, that's your decision. But, if you want to set up a bar at the reception and give away drinks for free, that's rude.
But it's not really about the money. It doesn't matter if the photographer is providing the images on CD or doesn't sell prints after the fact. Even if you can justify that you aren't cutting into the photographer's profit you still shouldn't do it. It's annoying enough to the guests that I appear while they are slow dancing and ask them to smile for a quick picture without Uncle Bob coming right behind me and asking them to do it again. And, since Uncle Bob is taking pictures of people who don't know him, they probably think he works for me (why else would a stranger be taking their picture?).
Let me be perfectly clear: If I look over and you are gathering your family together for a big group shot, you are not Uncle Bob. If you give that image to the Bride and Groom you are not Uncle Bob. In fact, I will probably hustle over and shoot that same group after you finish so the Bride and Groom will have the shot (and thank you for it).
If you are on the dance floor taking pictures of people who you don't personally know, you are Uncle Bob. If, during a special moment at the reception (first dance, garter toss, etc) you are on the floor taking pictures and you notice that it's just you, me, and the videographer out there, you are Uncle Bob. (This is a good example of how you can cross-over to Bob-ville even when photographing the Bride and Groom.)
I can't do anything about the people who stick their arms out into the aisle during the processional so they can get a picture with their camera phone. I can't get mad at the girl who wants to take a picture of the bridesmaids after I have posed them. These people are just caught up in the day and it's important to remember that it's a joyful occasion and just because I'm working doesn't mean I get to treat it like a workplace. But, if you have spent the money necessary to buy good photography equipment and invested the time necessary to learn how to use it then you are too knowledgeable about the craft to pretend that you are ignorant of the wedding photographer's job.
The first response I usually get when I bring up Uncle Bob is something along the lines of, "If Uncle Bob is capable of taking pictures that rival yours then you aren't much of a photographer to begin with."
That's a valid point.
I'm not worried that Uncle Bob will take better pictures. I don't see him as competition. What annoys me about Uncle Bob is that he is in my way when he should know better. I'm not bothered by someone making my job a little harder, I'm bothered when someone knows they are making my job harder and then does it anyway.
Don't be Uncle Bob.
Let the flaming commence….