Last week I got a call from a company called Naneu
They make camera bags (they make quite a few camera bags in fact) and   they asked me if I would field test one of them and give them some feedback. Well, there's no way that I'm going to turn down a free bag so I jumped at the chance.
I've actually been thinking about switching to a new bag for a little while now. I currently have a small bag that I use when I just want to carry one body and a couple of lenses. But when I'm working a wedding or event I bring the "big boy." The "big boy" is actually a rolling toolbox. I bought the box for about $80, stuffed it with ugly green foam and have been using it for about a year now. The great thing about the "big boy" is that it carries everything you could possibly want it to carry, and when opened its about 3 feet tall and freestanding (I'm not a big fan of having to get down on my knees every time I want to access a camera or a piece of equipment during a wedding reception). The bad thing about my homemade case is that it's big. It's very big.   Plus, it's not the sort of thing you could really travel with because it doesn't hold your gear that securely. When I originally built the thing, it was my intention to use the big open bottom to hold a couple of studio strobes but I only really need that now a couple of times a year. Also, try as I might, I have never come up with a really effective way to strap a tripod to the giant case so I end up carrying tripods in-hand despite rolling a giant  refrigerator behind me.
With this in mind I asked Naneu to send me the biggest rolling case they had that could still be easily carried. They sent me the Urban Gear U 220.
The biggest problem I have when it comes to purchasing a camera bag is that no one really makes a bag that is designed to do exactly what I want it to do. Browsing through the websites of the big name bag manufacturers it seems like every bag that is big enough to hold my gear (and has wheels) also includes backpack straps. I don't need backpack straps. If I can't roll it there, I ain't going there. There are other features that I always notice when I'm looking at bags that don't really apply to me. So typically, it's a case of trying to fit my wedding and event photography lifestyle into a bag that is designed for travel and portability when what I really need is quick access and convenience.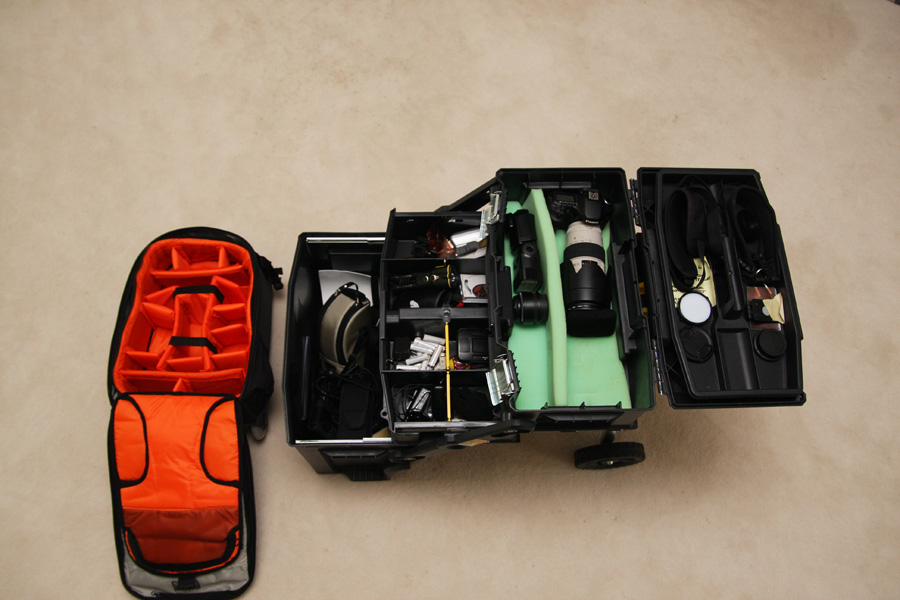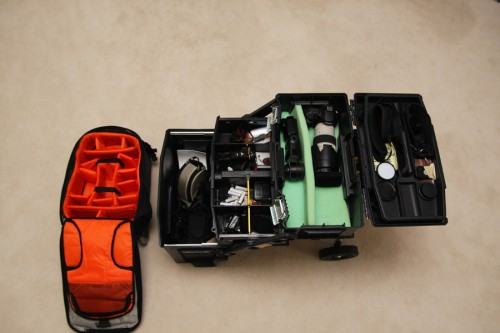 The first thing I noticed about the bag is that the inner lining is orange. A bright orange. This actually is a good thing because all of my camera equipment is black and I'm typically using my bag in a dark reception hall. It's much easier to find a black lens cap at the bottom of an orange bag.
The inner lining of the case is removable. I guess the idea is that once you get to wherever it is you are going you can just remove the inner portion and carry your equipment with you leaving the case and the wheels and the handle behind. It's a good idea in theory but I can't imagine a situation where I would actually take the inner case out of the bigger case. The inner case doesn't have a carrying strap, it's not as sturdy as the outer case, you would lose access to all of the pockets that are in the outer case, and (this is a big one) it doesn't have any wheels. One thing I did find interesting about the inner case is that it's very flexible, and when you start putting the Velcro dividers into the case the walls will really hug in. It makes the inside of the case look a little loose but in fact it's very snug. Also, you can easily slide something in between the inner and outer walls of the case (I stuck my straps there). Despite this "loose" appearance, the case does not seem to shift inside the outer shell at all.
There's a pocket on the outside that will hold a tripod. I had no problem securing my big Manfroto. The best part is that the tripod holder is on the side of the case and doesn't interfere with the opening of the case at all. I would never carry a case that required me to detach the tripod in order to access my gear. I could only get one tripod in the little "pouch" at the bottom but I think I could sling two if I just stuck one leg in. Unfortunately, my second tripod folds in such a way that it's flat on the bottom (it's a lighting tripod)  so no catching one leg in the pouch for that thing. I was able to get my Manfroto tripod and monopod attached, though, and I will be on the lookout for a second tripod that fits.
As I mentioned before, this case comes with built-in backpack straps. They are permanently attached to the case so there is no getting rid of the bulge that they create on the bottom. This means that the case will not lay flat without wobbling. However, once I re-packed the straps and removed the built-in rain hood (that has its own compartment on the back,) I was able to make the bag much more stable. The rain hood, by the way, is a nice feature and I simply relocated it to the front of the bag. (I also put on the backpack. I carried the case around my living room a few times and didn't notice anything rubbing or banging or whatever. Then, I built a campfire on the loveseat and cooked a rabbit.) It would be great if I could detach the straps completly and save the weight but I imagine that might make for a less rugged design.
If you carry a laptop (I don't) then you're in luck because there is a laptop case included with the bag and the case fit's securely into the flap (16×11.5). I pulled out the laptop case and tossed it into the closet with all my other cases. This left plenty of room for the rain hood and my Lumiquest Softbox III.
The inner shell case has its own flap which zippers closed. If you don't want to zip it, it has two quick release Velcro straps. I can see myself zipping it closed if I was taking a trip or hiking but I can't imagine that I will ever zip it closed in regular usage. I don't want to unzip one flap only to discover I have to unzip another flap before I can get to my camera.   Oh, by the way, the inner flap has two zippered "quick access" flaps built into it so you can get to a lens or two without opening the whole flap.   I imagine that would be handy in the rain or a stampede or whatever.
The outside of the big flap contains three zippered compartments. The small one at the bottom I loaded with all of my batteries, the big one at the top I used for extra accessories and the medium one will be used to hold personal effects when I'm on the job.
Now we get to the fun part of trying out a new bag: figuring out how you are going to put all of your gear inside it.
It seems like whenever I see a picture of one of these bags it's always configured in the same basic way. There's always a big camera with a big lens right in the middle of the pack surrounded by other lenses and maybe a spare body. The problem with this configuration is that I like to keep a lens on both of my bodies at all times. This makes it a little bit tougher to configure the inside of a bag because I want quick access to both my cameras with their lenses attached as well as both my flashes, all my lenses, battery packs, my radio remotes, and a flashlight so that I can find everything in the dark. It took me about an hour but I finally came up with a configuration that would hold everything. It may not be pretty but I think it will work for me.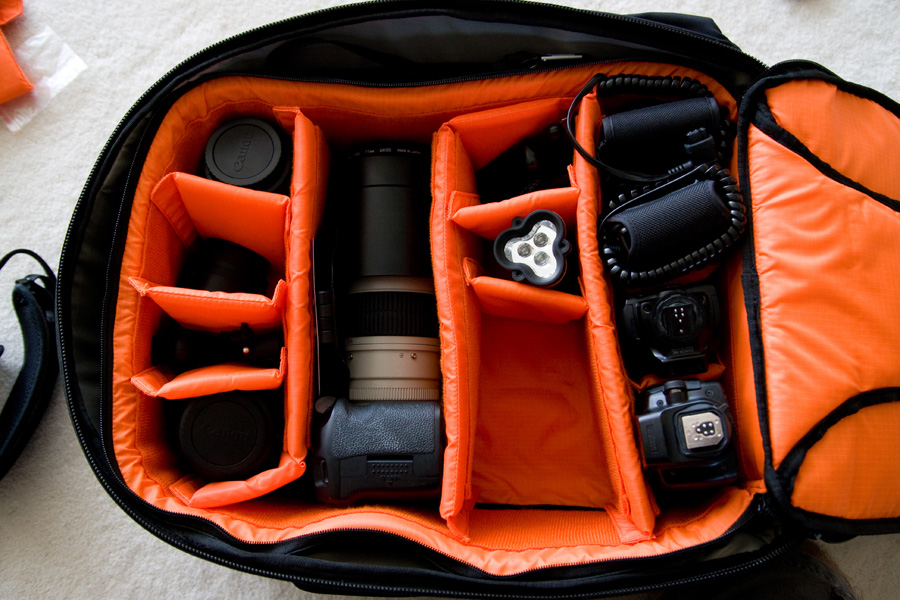 Probably the thing that I love the most about my homemade case is that when it is opened I have a big tray that sits in the open lid. I throw everything into that tray when I'm working, lens caps, gels, remotes… you name it. I really like having a small tabletop like surface where I can toss anything that's in my hand and know that everything is in one place when it's time to pack up. I definitely will miss this feature when using my new bag. However, my new bag is much smaller, much easier to maneuver and much more secure (my old case cannot be picked up with one hand). I wouldn't have any hesitation about using this bag if I had to travel, but I would never think of trying to use my homemade case in that way.
If you're wondering why I ever bothered to build my own case in the first place, it's because I'm cheap and I needed something really big at the time. Probably the most attractive thing about the new bag is the price: it's less than $300.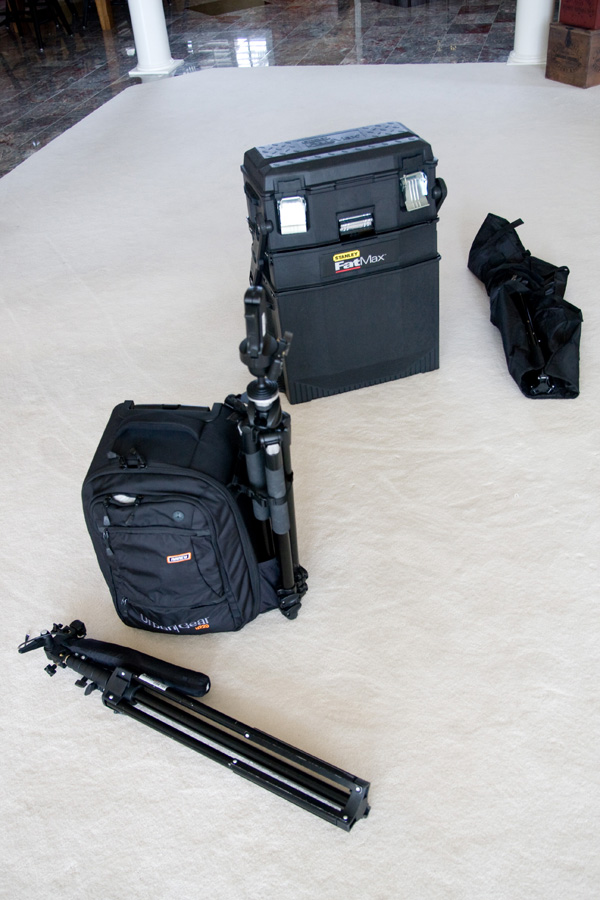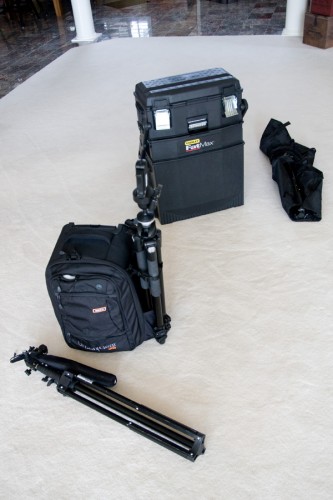 I plan to use the new case this weekend (two weddings) and I'll know more come Monday. But I feel pretty good about the bag overall. I definitely feel like it does what it's designed to do in that it holds a lot, it holds it securely and it's made for travel (rolling or carrying). It even has a slot for your Ipod, with a rubber sealed hole for the headphones. I put business cards in there.
Update:
I used the Naneu UrbanGear U220 last weekend for two weddings and it performed perfectly.   I was concerned that I would have trouble finding gear quickly in what is, for me, a much smaller case than I usually use but was surprised to discover that I had no problems at all.   In fact, I felt more organized with this case than with my old one.   The best part, by far, was the ease of portability.   Moving from home to venue and room to room was so much easier with this bag, as was loading it into the truck.   The tripod strap worked great and left me with one-hand free for opening doors, etc.   Another benefit that I hadn't considered is the ability to strap the bag to a tripod and umbrella stand to keep it upright (I just threw a length of velcro strap in the front pocket).   I work alone and securing a tripod in windy conditions is always a concern.
In my review I mentioned that I couldn't foresee ever wanting to remove the inner camera bag from the outer shell but that's because I misunderstood the bag design.    My thinking was that the  Naneu U220 is designed so that you can remove your camera gear when you reach your destination when in fact it's designed so that you can remove your gear before you travel.   In other words, if you are taking a trip and need a rolling/backpack bag for your clothes you can simply remove all your gear in one motion (thanks to the inner bag) and you now have a standard rolling suitcase at your disposal.   I would think this would be especially useful for college students and the like.


See current prices, and get user reviews from: B&H: Naneu UrbanGear U220 (currently priced around $255).