According to the US Bureau of Labor Statistics, photographers can expect a 13% employment growth between 2010 and 2020, which is about as fast as the average when compared to all other occupations. What this means for aspiring photographers and photojournalists is that no matter how many images people take and share with their smartphones, there's still a market for trained photographers. If you're about to graduate from a photojournalist program, there are a few things that you can do to become a better photojournalist and increase your chances of getting a job.
1. Act as Though You're Always on Assignment
As you're completing your photojournalism program, you'll be better off shooting for yourself just as much and just as well as you do for all of your classes and professors. From the moment you wake up to the moment you rest your head on your pillow, you should always be on the lookout for subjects to shoot. Never stop taking pictures.
2. Create your Own Unique Style
As you're getting the hang of the fundamentals of photography and DSLR cameras, try to start developing your very own vision and style. If you can, take a visual art class. The experts also recommend that you visit museums every now and then so that you can start to form an idea of how other photographers capture and present images and the elements that you're learning about, such as lighting, depth of field and composition.
3. Always think of Photojournalism as a Business
There's no need for you to become a starving, struggling artist in order to become a great artist. Technology and times have changed so that photojournalists and photographers now have more opportunities than ever to make money with point-and-shoot and DSLR cameras. While you're looking for work with local news outlets, you can also make money with holiday portraits, wedding photos and various other commercial and editorial outlets. There's always an opportunity out there if you're willing to look.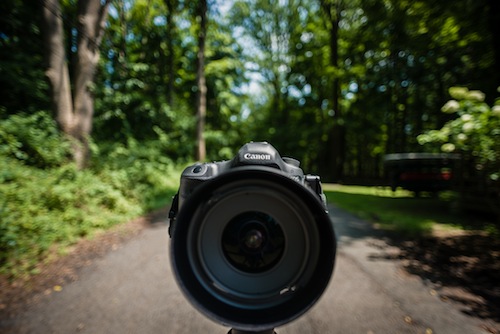 4. Promote Yourself
Technology has also made it easier for photojournalists to promote themselves. Use social media and create a website to showcase a portfolio of your work. You might even want to think about creating a photography blog where you talk about where your images were taken and how you managed to take them. Educate and entertain while you promote.
5. Maintain Full Rights to Your Work
It's essential for writers, artist and photographers to copyright their work in order to protect themselves and to make the money that they deserve off of their work. You'll also want to keep track of the use and the location of any archived and older images that you have.
6. Create your own Assignments
Rather than waiting to be handed an assignment from a news outlet, create, pitch and complete your own assignments. This gives you a chance to do work that you actually want to do and are passionate about instead of work that you may not be so enthusiastic about. This also shows your employer that you are driven, have initiative and are an independent thinker. This also gives you a chance to build up your portfolio in the way you see fit rather than having to create it from projects that you may or may not like.
In order to be a great photojournalist, you have to fully immerse yourself in the industry and take every opportunity that you can. You might not always like the images that you shoot, but at least you're making a true effort.
–
This article was written by Jim North.