Thanks to my friend Mike, I have a great tip to share with Photocrati users and readers.
One year after shooting a wedding, Mike posts on his Facebook page a congratulations note to his clients. In addition, he will include a photograph from their wedding or engagement session if he photographed that as well.
Check this out: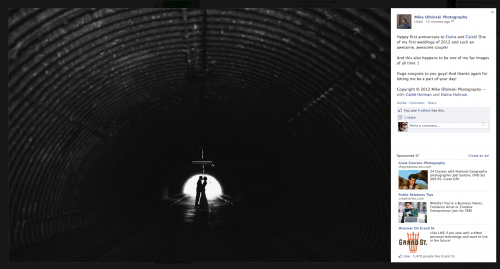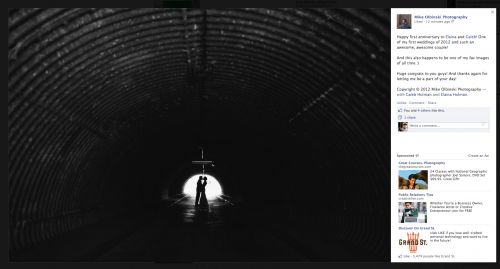 How to go about it?
Pick the best engagement or wedding photograph when processing the photographs for your client
Create a folder on your computer specifically called Anniversary Letters
Inside the folder, place the photograph inside a sub folder with the client's name
In a text file, write a letter to your client (it can be short) and include something personal from their wedding
Place the letter inside the client's sub folder
Add the client's anniversary to your calendar so you are alerted when it is time to post the letter and photograph
So how can you take this concept to a blogging level?
Take the same concept that Mike has been utilizing, but in a blog article form
Try to write a longer letter
Include 3 of your best photographs from the wedding and/or engagement session
Send an email to the client so there is no way they can miss it
In the email, include a note about your referral program
Close it with something like, "Thank you for having me photograph your amazing day"
What do you think of the concept, both Mike's and my expanded view?
Have you done something like this?
Please comment below to share your thoughts.
Thanks for reading,
Scott