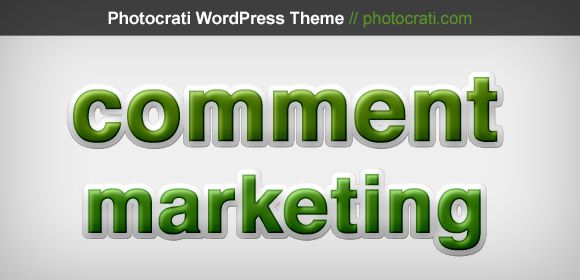 Comment marketing is the use of a website's comment feature to engage with others as a way of promoting (marketing) your business.
There is something very important to remember when attempting comment marketing.
Comment marketing is not link building.
In fact, by treating this form of marketing as link building, you can find yourself faced with the spam button.  Look at the example below, a screenshot taken of a comment on our Pinterest for Photographers article.  WordPress automatically caught it as spam, and for a good reason.

The better choice would have been to engage in a discussion with other people have commented.  Answer their questions or reply to their statements.  Including the obvious advertisement will not get people to click as much as being engaging.
Example: "Good point John Doe, Pinterest isn't for everyone.  However, Pin Authority has a few photographers beta testing our software and the statistics and conversions have been incredible."
A comment like that will get people thinking… curious… clicking.
I want also mention the biggest problem in comment marketing. That is people who truly believe comment marketing is link building.  They believe it so much that they purchase tools that will automatically search the web for specific topics and comment with random names and email addresses.   Want proof?

Notice the % symbol in that comment?  That is where the comment link building tool will place a specified keyword.
Avoid doing this at all costs.  It's not worth your money, time or effort.
Have you been successful with your comment marketing endeavors? Comment below and share your story.
Thanks for reading,
Scott