Canon's enthusiast-level series has included the EOS 10D, 20D and 30D, each boasting some improvement over its predecessor. The most recent DSLR in this range — prior to the EOS 50D — the 10 megapixel EOS 40D definitely qualified as a substantial upgrade over the 8 megapixel EOS 30D. Aside from higher resolution, the EOS 40D benefits from a great deal of new technology, such as an improved CMOS sensor, a faster DIGIC III processor plus a huge buffer (temporary storage bank) that allows for taking numerous shots at a blazing 6.5 frames per second. Several other amenities also make the EOS 40D more desirable than the earlier EOS 30D, including an automatic sensor cleaner, an Auto ISO option, a larger/brighter viewfinder, a 3″ LCD screen, and Live View.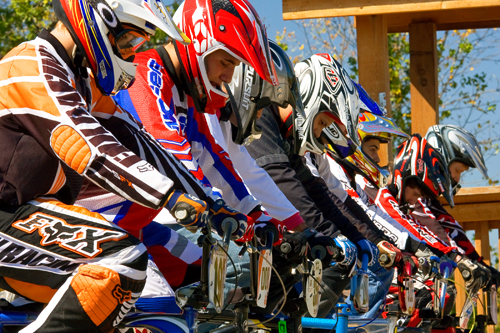 Live View Technology
A fancy term for a simple concept, Live View refers to a mode that allows for image preview (before a photo is taken) on a camera's LCD monitor. That's standard with compact digicams but was difficult to achieve with an SLR because of the reflex mirror. This mechanism is necessary for reflecting light to the pentaprism which then reflects light to the viewfinder, for through-the-lens viewing. Some of the light is diverted to the light metering and autofocus sensors to allow those systems to operate.
When you're not actually taking a photo, the reflex mirror remains in the down position, preventing light from reaching further into the camera body. It's only after you press the shutter release button that the reflex mirror flips up to allow light to enter deep into the camera. At that time, the shutter curtain also opens, exposing the sensor to light, allowing for image capture after focus and exposure have been set. During autofocusing — and while a picture is being taken — the viewfinder is blacked out, but the entire complex process takes only a half second.
When using the EOS 40D in Live View, I generally focused manually; at the touch of a button, the preview image was magnified as an aid to more precise focus. Pressing the AF-ON button causes the camera's reflex mirror flip up momentarily, allowing for automatic focusing. That's convenient in theory, but AF in Live View does create a lot of noisy clicking and LCD display blackout due to frequent reflex mirror flip-flopping.
After the EOS 40D was developed, all of the camera manufacturers introduced newer Live View technology using contrast detection Autofocus. That type of system allows the latest DSLRs to autofocus without reflex mirror action. Hence, they provide uninterrupted Live View during focusing but autofocus is quite slow (except with the Sony a350) and that can also be frustrating.
The EOS 40D does not include a Live View On/Off button, but item 6 in Custom Function III allows the SET button to be used for that purpose. In most situations, I recommend selecting the Exposure Simulation Live View mode for an accurate representation of actual exposure. In very dark conditions however, it's better to set the brighter preview option for greater ease of composition and focusing. Also activate the histogram whenever you want make the most accurate exposure evaluation during Live View.
In my experience, the live preview feature is particularly useful in serious photography, such as macro or landscape, with the camera mounted on a tripod. Use manual focus and activate the grid pattern option as an aid to composition and for keeping subject lines straight. A Quiet Live View mode is available. It's ideal when you must shoot with minimal noise: during the vows at a wedding ceremony, for instance. Activate the Quiet option (available only in Single Shot drive mode) and the EOS 40D will capture one photo with a gentle click. Afterwards, it will remain silent as long as you maintain slight pressure on the shutter release button.
Other Features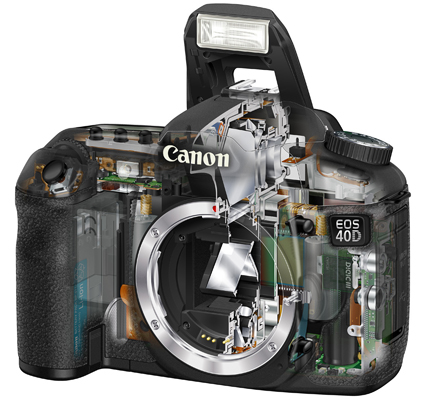 In other respects, this is a moderately-large conventional DSLR with a magnesium alloy chassis, contoured handgrip and a full range of external controls. While the mode selector dial includes seven fully automatic Scene modes for novices, the EOS 40D targets the experienced DSLR user. In addition to a vast range of advanced functions, numerous overrides and remarkable speed, the camera offers some pro-oriented features. These include weatherproof compartment doors, a very reliable AF system, 14-bit color depth in RAW capture, the ability for remote camera control from a computer (in Live View), plus compatibility with interchangeable focusing screens and a Wireless File Transmitter (WFT-E3) accessory.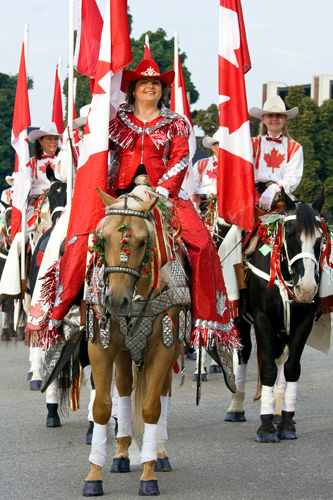 The menu layout and operating sequences were inherited from the pro EOS cameras. That does make operation more complicated than it is with an EOS Digital Rebel XSi, for example. As well, the purpose of some valuable high-tech features is not intuitive. To maximize its potential, anyone upgrading from a digicam or an entry-level DSLR will probably need some guidance from the EOS 40D owner's manual.

Performance and Image Quality
When using the large, bright viewfinder instead of Live View, the camera's AF system really shines. All nine focus-detection points are cross-hatched so they're sensitive to most types of patterns. Mount an f/2.8 or wider aperture lens and the center point provides even greater sensitivity to various patterns and better low light performance. I used an f/4 lens, the EF 70-200mm f/4L IS USM zoom with ultrasonic focus motor and AF was fast even in low light. Continuous AF performance was also impressive. When examining the series of 36 JPEGs that I had made (in 5.5 seconds) of fast/erratic cycle race action, I found that most of the photos were sharply focused.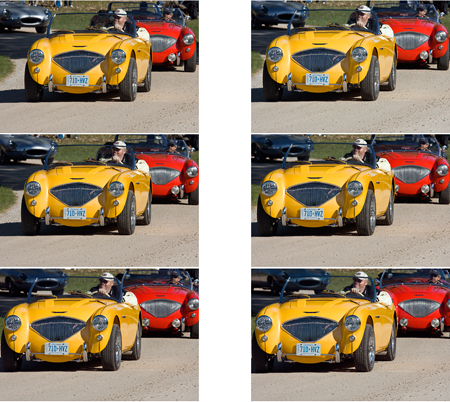 The EOS 40D is also capable of producing stunning images. The Standard Picture Style provides JPEGs with high sharpness, snappy contrast and very bold, vivid colors, but sometimes, with a loss of detail in the richest reds. For a less intense effect, switch to the Neutral Style and applying these overrides: +1 for Saturation, +1 or +2 or +3 for Contrast and +3 for Sharpness. That combination works well for most subjects, but it's worth experimenting with the other Picture Styles as well. When shooting high contrast scenes, activate the Highlight Tone Priority mode; modified image processing will provide slightly more texture in very bright areas such as snow or a white wedding gown.
Images made at low ISO are gorgeous. Even ISO 400 JPEGs are clean, silky smooth and finely detailed. The RAW images are very slightly better but this capture mode is primarily intended for maximum color depth and to allow for major technical modifications in RAW converter software.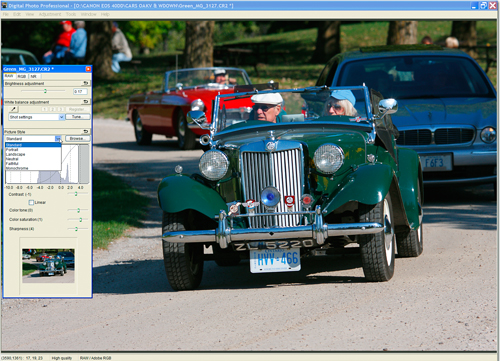 At higher ISO levels, digital noise is very well controlled. The Digic III processor provides just the right blurring of the digital noise pattern to provide a smooth look while retaining high resolution of fine detail. My best ISO 1600 images made for very good letter-size inkjet photos. Even ISO 3200 produced nice 5×7″ glossies. There's a menu item for setting more aggressive Noise Reduction processing; that provides smoother images, but the extra processing also smudges intricate details and extends the image recording time.

Final Assessment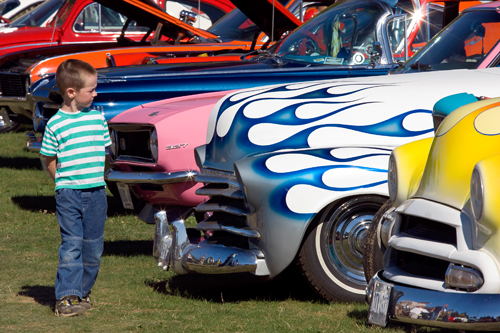 A higher megapixel number might make the EOS 40D even more appealing but 10 MP is plenty for making a gorgeous 13×19″ print. In spite of the relatively low-tech Live View technology, this camera is great in other aspects. Its remarkable speed, great reliability and comprehensive feature set should appeal to anyone who has mastered an entry-level DSLR. While the newer 15 megapixel EOS cameras boast even greater resolution (and a better LCD, more versatile Live View plus a few extra amenities), the EOS 40D is much faster and features larger pixels. Frankly, this is a really fine camera in most aspects and it should satisfy photo enthusiasts who do not demand all of the latest "bells and whistles."
Get information and user reviews for this camera from Amazon: Canon EOS 40D 10.1MP Digital SLR Camera (Body Only)
Specifications: Canon EOS 40D
Sensor: 10.1 megapixel CMOS (3888 x 2592 pixels)
Processor: DIGIC III; 14-bit A/D conversion
Lens Mount: Canon EF/EF-S
Shutter: Electronic; 30 sec. to 1/8000 sec. range plus Bulb
Capture Formats: JPEG, 14-bit RAW, Small RAW, RAW+JPEG
White Balance: AWB, 6 Presets, Custom and Kelvin; WB Bracketing and Color Shift
Focusing: 9 cross-hatched sensor points; Single Shot and Continuous AF; phase detection AF selectable in Live View
Sensitivity: ISO 100 to 3200
LCD: 3″ (230,000 dot) screen;
Live View: 100% frame coverage; grid pattern, Magnify, quiet mode Quiet View and live histogram available; Autofocus can be used (mirror up/mirror down)
Exposure Control: Center Weighted, 3.8% Spot, 9% Partial Area and 35-zone evaluative plus compensation and bracketing
Operating Modes: AUTO, P, A, S, M, A-DEP plus 6 Scene modes and 3 Custom settings
Image Adjustments: 6 Picture Styles plus three User Defined; Sharpness, Contrast, Saturation, Color Tone and B&W filter levels adjustments; Highlight Tone Priority to optimize highlight detail; two Color Spaces
Drive Modes: Single shot, Continuous to 6.5 frames per second for numerous shots
Flash: Built-in E-TTL II; accepts EX-series Speedlites; Wireless off-camera support with accessory; PC cord socket
Other: Automatic sensor dust removal system; 24 Custom Functions; Auto Rotation; depth of field preview; histogram, reflex mirror pre-lock; accepts Wireless File Transmitter/Grip and conventional Battery Grip
Connectivity: USB 2.0 Hi-Speed; remote control terminal; can be controlled from a computer, in Live View, with bundled software
Power: Rechargeable Lithium-Ion BP-511A; optional AC adapter
Size/Weight: 5.7×4.2×2.9 inches; 26.1 oz.
Average Street Price: $900.