A 14.7 MP pocket-size point-and-shoot even the pros use.
I don't know of any point-and-shoot camera that commercial advertising shooters have used more than Canon's PowerShot G-series. Yes, there are other very capable point-and-shoots out there, but none has garnered the G-series' rep. As with its predecessors, the G10 remains the flagship in Canon's point-and-shoot lineup, and as such, this camera proudly carries the colors into the heat of battle.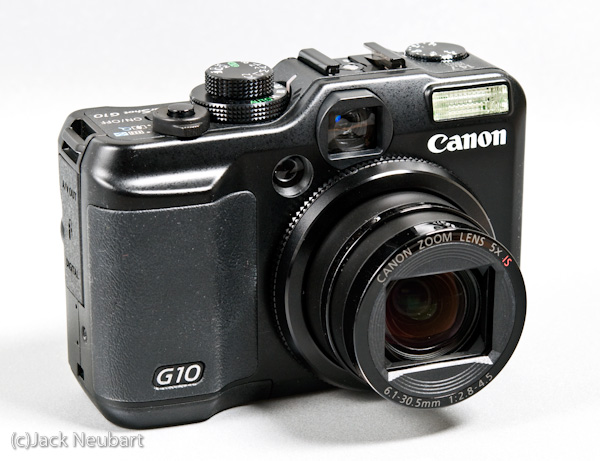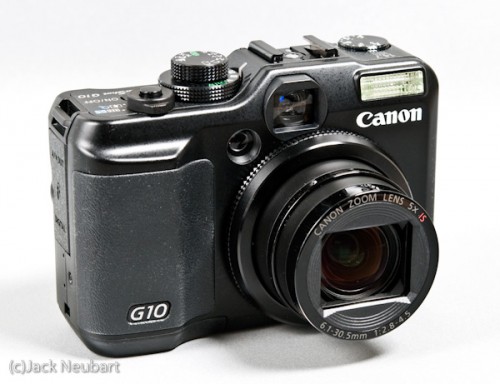 The G10 ups the ante in resolution, compared with earlier models in the G-series, delivering 14.7 megapixels (MP). That gives you enough real estate for cropping. Granted, it's a CCD chip. Chatter on the Net is that the next G will be the G-whiz wunderkind, with a CMOS sensor adding new vitality into this series. (With that said, should you buy the G10 or wait? Well, you'll need to read further.)
On the Surface
The G10 has some heft to it, but is still small enough to be easily pocketed. In fact, I kept it in a vest pocket most of the time, since I also had a DSLR hanging from my neck.
The G10 is an odd little tyke. Previous versions featured a 6X optical zoom (I don't even look at digital zoom, since that is such a waste of time with any digital camera). The current G10 has a 5X zoom, 6.1-30.5mm f/2.8~4.5 (35mm equivalent: 28-140mm). That means the new model goes wider than before (cf. 7.4 = 35mm effectively), but not as deep (effectively 210mm on the G9). Wider is better for shots of groups and scenics, but I'm often more concerned with the reach of a zoom lens in this range. So, as you can imagine, I feel I've literally been shortchanged here.
The overall dimensions have changed slightly, so I'd say it's a wash as to which is actually–and noticeably–bigger: the G9 or G10. However, at 12.3 oz, the G10 is a full ounce heavier, if that means anything to you. The stocky build gives the camera a solid feel. On the other hand, this camera doesn't sport the best grip–it feels more plastic than rubbery, and the camera lacks a thumb grip on the back for a surer grasp. So, ergonomic it's not. And it lacks the stylish allure of other PowerShots. I know, I'm quibbling.
Aside from that, there have been subtle changes to the G10's interface. Subtle, yet substantive. The exposure compensation function has moved to a dial at the top of the camera–a very logical place for it to be. That means no more futzing around with dual controls. With the EV override indication now readily visible, you don't have to search it out in the viewfinder.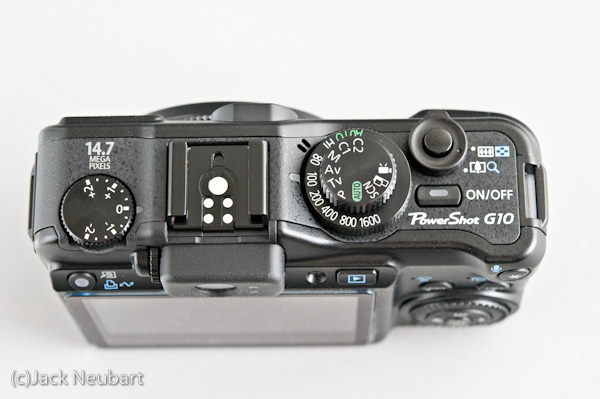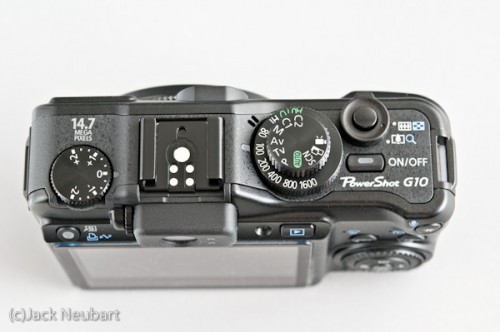 Of course, that change bumped the ISO dial from its original slot. Where did that go? It is now the lap on which the shooting mode dial sits. Both dials are adjacent to the zoom lever, which surrounds the firing button. And that means that all the most frequently-used functions are at your fingertips.
The back of the camera features the usual array of functions (menu, display, playback, AF frame selector, metering mode, cursor wheel, flash, AF/M, drive, macro/normal focus, built-in ND filter). And there is one little button on the front: a lens release so you can mount the optional converter–a toy I never played with (nor felt the need to) so can't comment on.
The LCD's the Thing
While the G10 does have an optical finder and the requisite diopter correction (to the left), the finder is not all that functional. It cuts off some of the view, but worse, there are no frames to identify what the sensor is locking onto. So you have to visually extrapolate the target. As someone who loves optical viewfinders in SLRs (film or digital), I found this to be disheartening, and soon found myself switching to the live view on the LCD. Granted, I had worked with an earlier G-cam and frankly don't recall having had this problem, though I likely did.
Thankfully, Canon saw fit to fit this camera with a large 3-inch PureColor LCD II (460,000 dots/VGA) monitor screen. Canon points out that it's scratch-resistant, with anti-reflective coating. On the practical side (all fancy monikers aside), the LCD is viewable from practically any angle–even in fairly bright light. I had no problem following the action of a soccer match on this display. How well the camera did in action–well, there you go, jumping ahead of me again.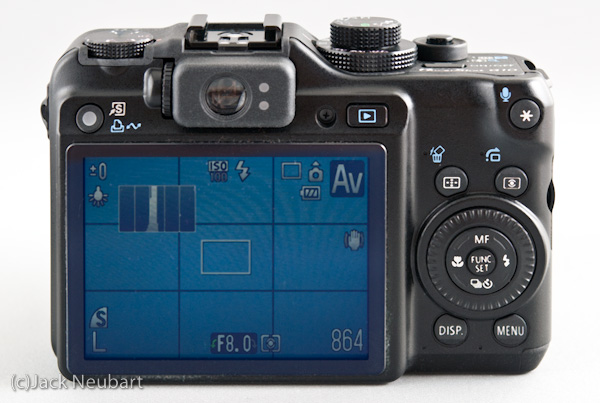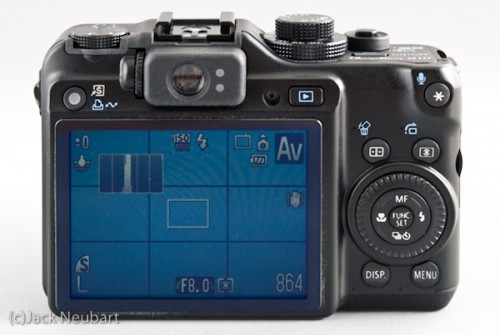 So, what it came down to was this: If I was going to take any pictures with this camera of anything other than the wide open spaces, then I'm going to live with the fact that I'll be using the exterior display as viewfinder. The good news is that it gave me a more precise gauge of my compositions, as well as focusing. The bad news is that I had to hold the camera in such a way that might induce camera shake.
Well, toward that end, built-in image stabilization (IS) did manage to save the day on more than one occasion with relatively slow shutter speeds (again, it has no real effect with fast shutter speeds). I set IS at Continuous, which means it also prevented the viewfinder image from having the jitters. There are other options, aside from Off. Shoot Only becomes apparent in the final capture. Panning IS is great if you're photographing a runner or a race with everyone or everything moving in the same horizontal direction. I almost availed myself of this IS mode during the soccer match, but since I sometimes found myself fixated on a certain spot, it didn't seem the most prudent step to take.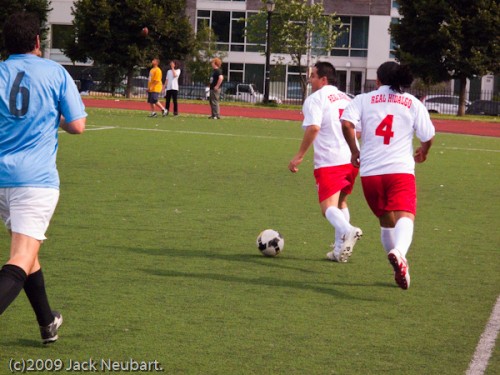 RAW Capture
The G9 restored RAW capture to this mighty camera series, and, thankfully Canon has let it be. So you have a variety of capture modes, with various JPEG compression levels/sizes and a 16:9 widescreen rendition. There is no TIFF capture, and frankly, I know no reason to have it. Movie clips are at 640×480 at their best–another feature the next G will no doubt improve upon with HD video.
I'd set the camera for simultaneous RAW and JPEG capture. I like shooting both on cameras I'm testing, especially point-and-shoots: This way I see how the camera's software interprets the scene, and what it looks like without all the sugarcoating. I also find this approach useful when geotagging images, since RAW files are rarely supported.
I should point out that Adobe ACR in CS3 does not support these RAW files. And since Photoshop CS4 on my PC became corrupted–thankfully after I'd finished a couple of projects–and destabilized the system, I removed it, which restored my system to normal (by the way, I'd like to hear of similar experiences with CS4–and solutions). That said, Lightroom 2.4 easily read these RAW files, so I imagine the same should apply to CS4. Phase One's Capture One 4 Pro also had no problem with these native files. And since Canon Digital Photo Professional, or DPP, is so minimalistic, I bypassed it and availed myself of these other more robust RAW conversion utilities. All editing was done on a Gateway laptop, using a Dell 24-inch display.
On the Inside
Everyone has their own proprietary image processing firmware, and Canon certainly has theirs, called Digic 4. Digic 4 is said to improve face detection and add Servo AF and Intelligent Contrast Correction ("i-Contrast"). Servo AF holds focus on a subject, no matter where it moves in the frame. I-Contrast is the camera's attempt to stretch tonal range so that areas of deep shadow are brought out of the doldrums. This is a function that can also be applied post-capture. However, it only applies to JPEG images. Great for snapshooters, not so great for the rest of us shooting RAW.
After reviewing all the manual has to say about autofocusing, including face detection, I was ready to return to my trusty DSLR–the one that doesn't have a hodgepodge of AF modes. Or more to the point, it offers AF modes I can readily sink my teeth into. This camera has way too many combinations and permutations involving AF operation, among them caveats about what will or will not work and when. Do pros really need or want face detection? (I'd be interested to hear views from readers.)
Anyway, I'd made what I felt were all the appropriate settings and just went with it. I wasn't about to resort to the manual to see if any particular set of conditions applied in any one situation. To me that defeats the purpose of a point-and-shoot. I know this is not a PhD (push here, dummy) camera, as we used to say back in the day when discussing point-and-shoots, but still, the camera should be user-friendly–and up till now, I'd thought it was.
We also have exposure options. Lots of shooting modes, including scene modes, stitch-assist (panorama), movie, and two custom modes. And a choice of evaluative metering, centerweighted, and spot. Pretty much the usual cast of characters we find in a camera of this ilk. Much of it begs the question: Why? If the camera is to be taken seriously, why add functions that appeal to rank amateurs. I'd rather season the RAW file to my own taste and let it cook slowly than have the camera prepare a fast-food meal that will not appeal to my palate in the least, or that would lull me into a sense of being falsely satiated.
In Action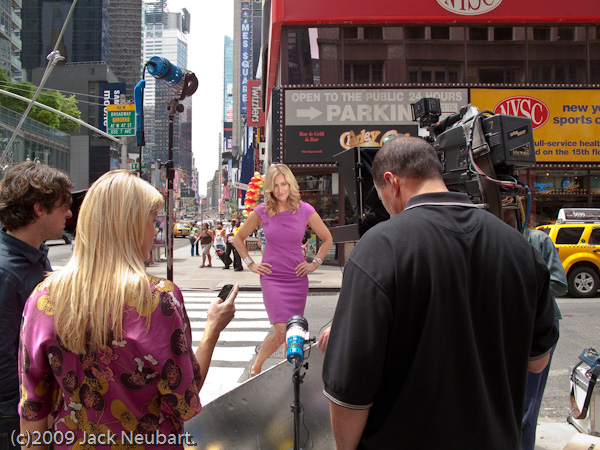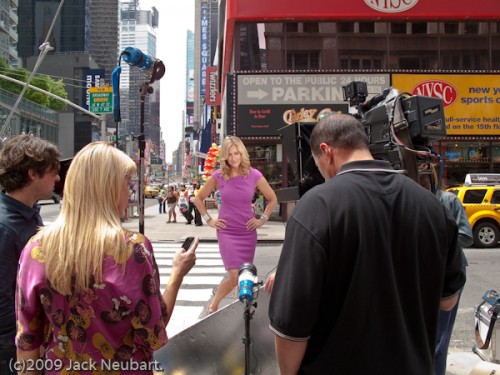 I was both pleased and disappointed with the operation of this camera and the resultant images. Face detection seemed to work only on people standing relatively still. When I tried focusing on the soccer players in action, I had as many misses as hits. But the worst part was the shutter lag. It was obvious.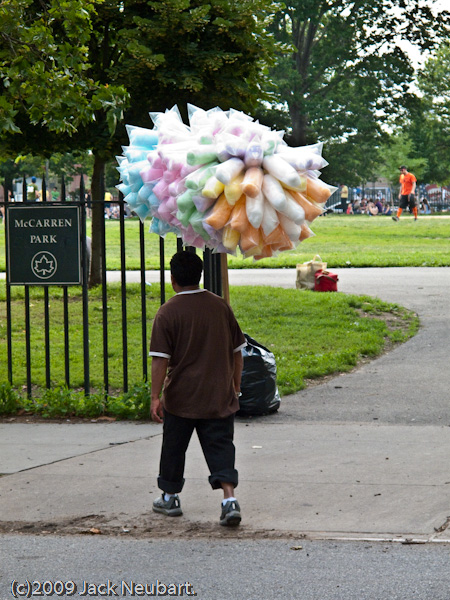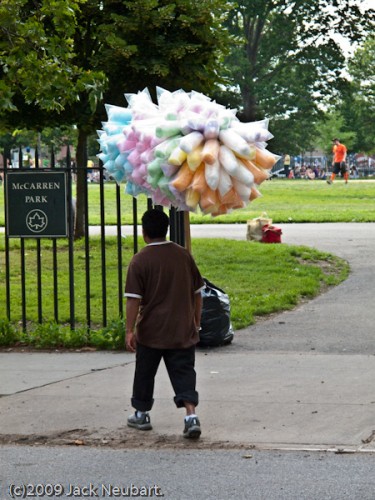 On the other hand, I was able to get quite close to a caterpillar in close-up mode. Fill-flash worked admirably, so long as I wasn't too close (to the point where the lens apparently blocked the light beam).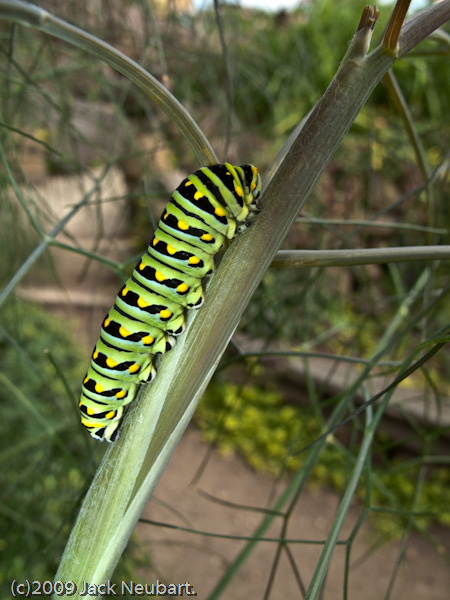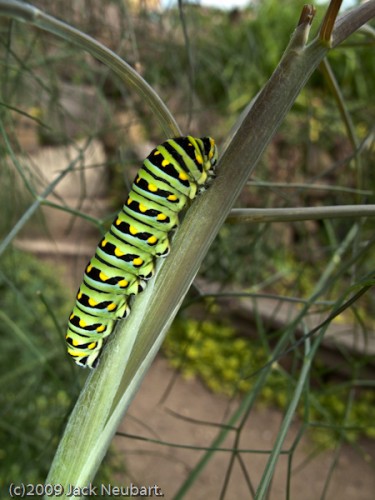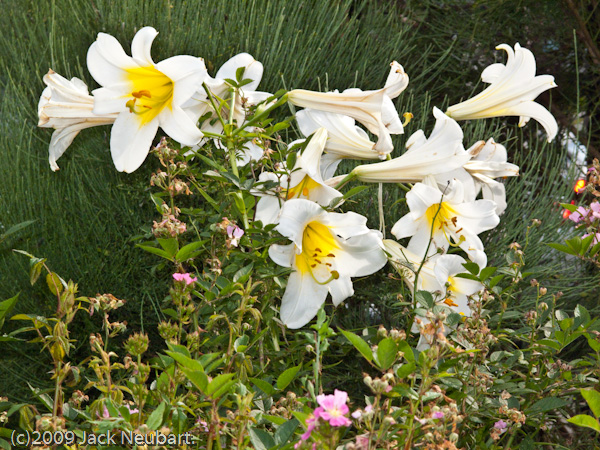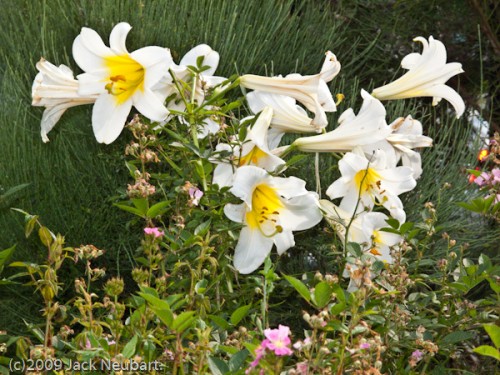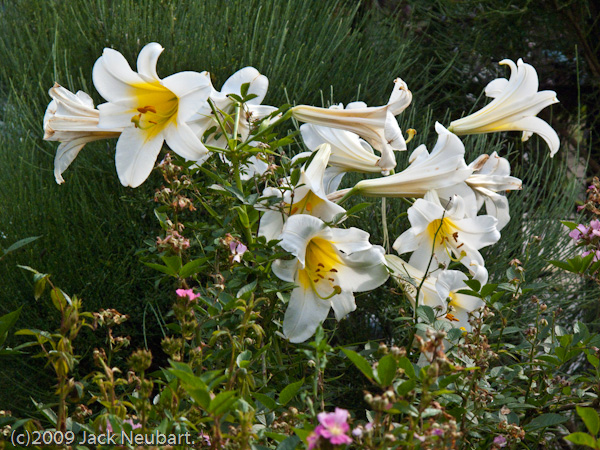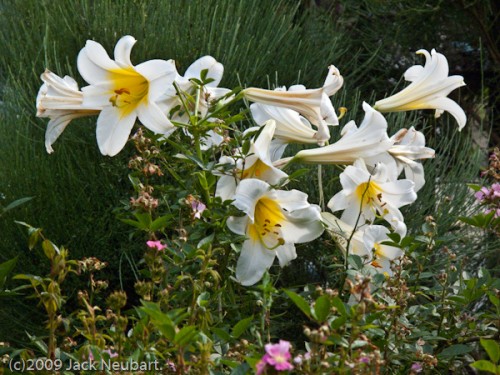 Optical performance was very good, with the only apparent distortion at the wide end–and mild barrel distortion at that. Color fringing was fairly well controlled. Images may not have been the punchiest, but they were sharp. Editing in post helped.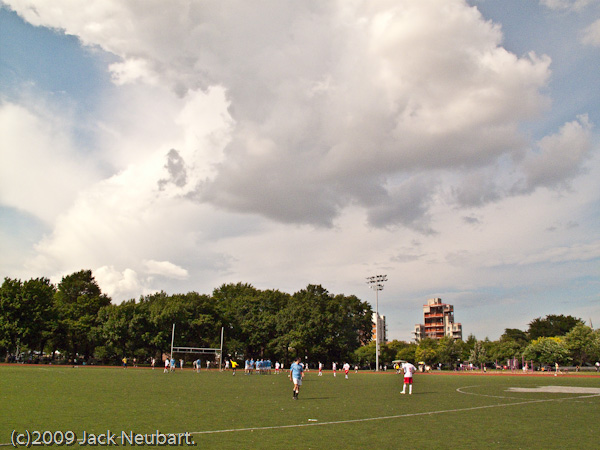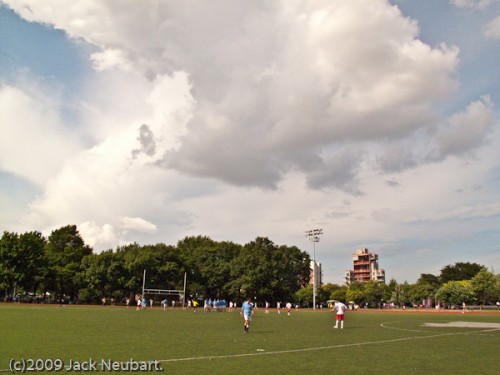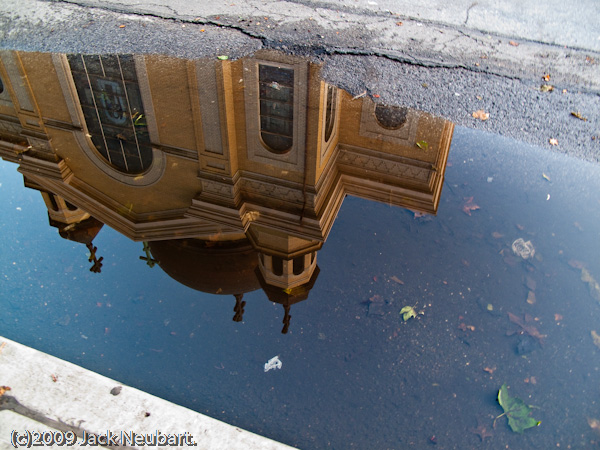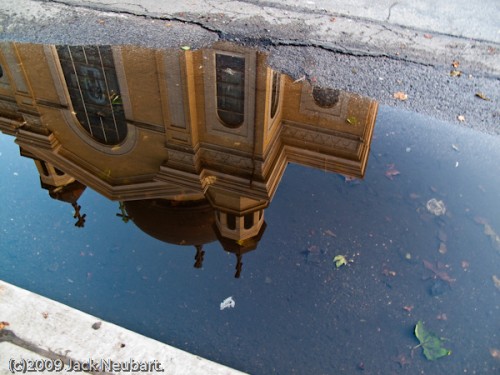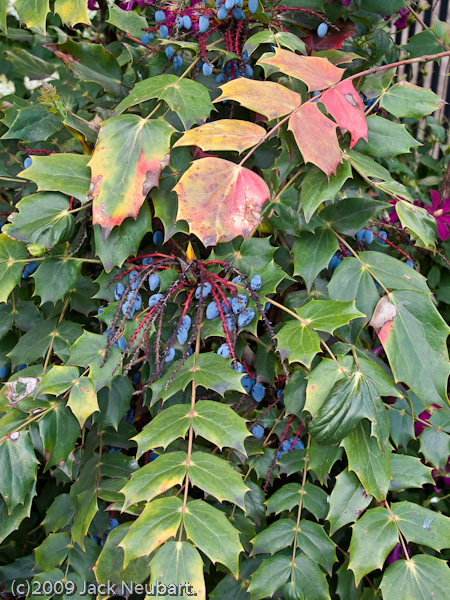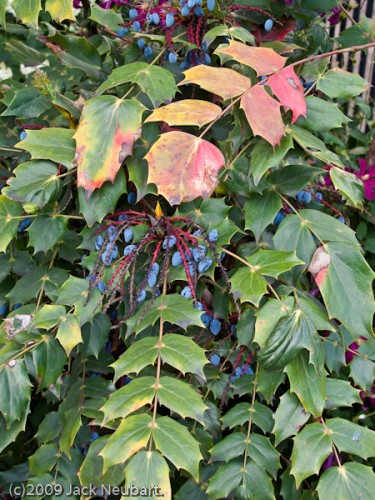 Auto WB was reasonably reliable out of the box, but as with everything digital, a little tweaking in post couldn't hurt. Noise was well controlled down to ISO 100, with graininess becoming somewhat apparent when ISO reached 400. However, at ISO 1600, the noise–notably color noise–was ear-shattering.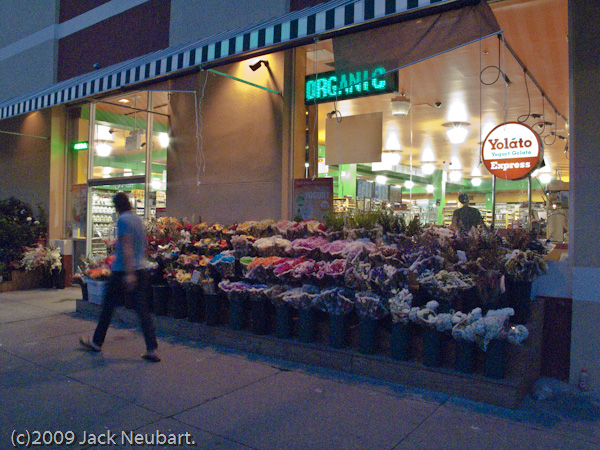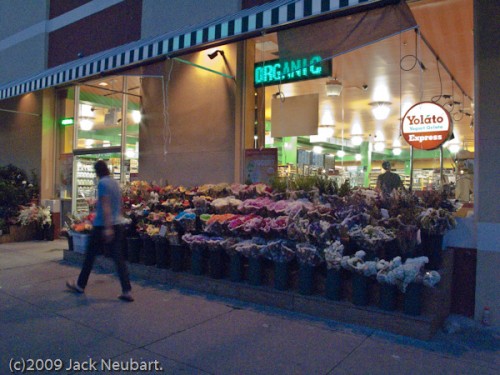 Evaluative metering did a nice job with exposures. In fact, I often found that my usual penchant for compensating exposure on the plus side proved counterproductive. Having said that, the habit a core group of photographers has adopted, namely "exposing to the right" (overexposing just a bit to bring down noise levels when the histogram is brought back to nominal levels) is not advisable, as that may result in irretrievable highlight data–which reflects poorly on the sensor.
All in all, the Canon G10 will not replace my DSLR, but there is a reason to own one. I'd certainly use it in the capacity that it's being used by many pros, namely to shoot background elements that they can incorporate into complex digital composite images.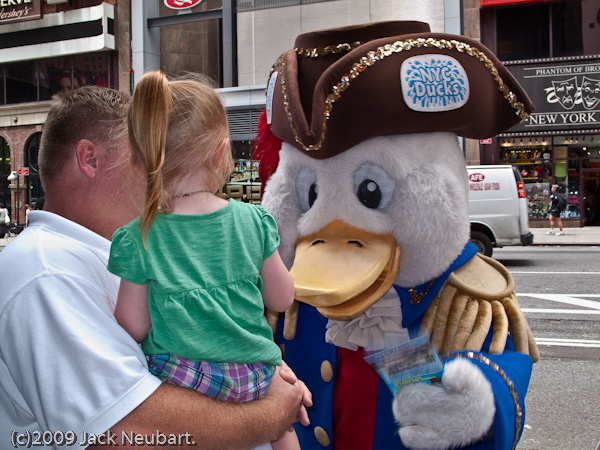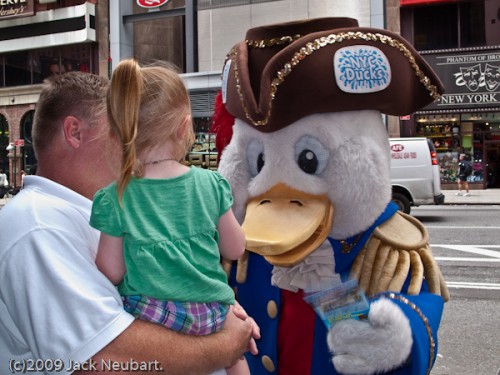 Verdict: Buy it. It's easy to carry and will always come in handy. Besides, there's nothing better out there in this genre–at the moment, at least.
For more information visit: Canon USA.
Tech specs: Canon PowerShot G10
Canon PowerShot G10 street price: $499.
See prices and reviews at: Amazon ($445) Canon Powershot G10 14.7MP Digital Camera with 5x Wide Angle Optical Image Stabilized Zoom and at B&H ($499) B&H.
Other Recent Digital Camera Reviews on Photocrati
Nikon D700
Nikon D300
Nikon D90
Canon Rebel T1i
Olympus E-P1
Olympus E-30
Olympus E620
Comparison: Full Frame Digital SLR Cameras
–
Go Home – Photography Blog