Peter Burian tests this 12.3 megapixel interchangeable-lens camera with HD Movie mode and a wealth of SLR-style features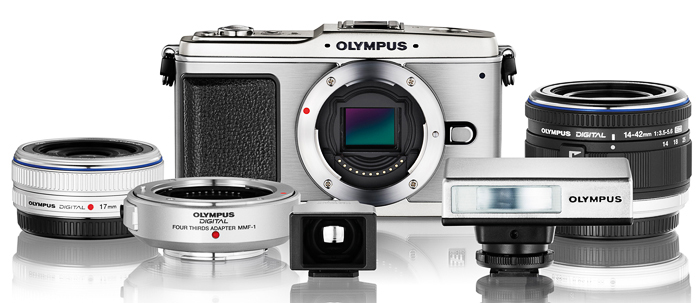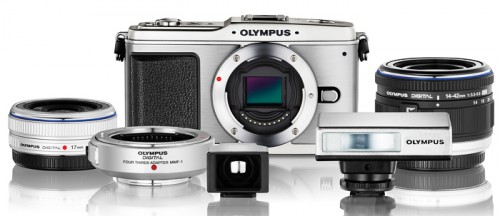 In their promos for the 12.3 megapixel Olympus E-P1 camera, the company often referred to the heritage provided by their Pen series SLRs first introduced in 1959. That's understandable, because the Pen models were unusually compact and featured classic styling.
Those qualities also apply to the E-P1, available in a white or silver stainless steel body with silver or black (optional) lenses. That's where the similarities end however, since the Pen SLRs were small format cameras, taking two photos on a single frame of 35mm film. The E-P1 also accepts interchangeable lenses, but it's not an SLR nor a small format camera in terms of sensor size. Even so, the new Olympus Micro Four Thirds concept certainly has a great deal of appeal and it should be as successful as the Pen concept was in the 1960's and 1970's.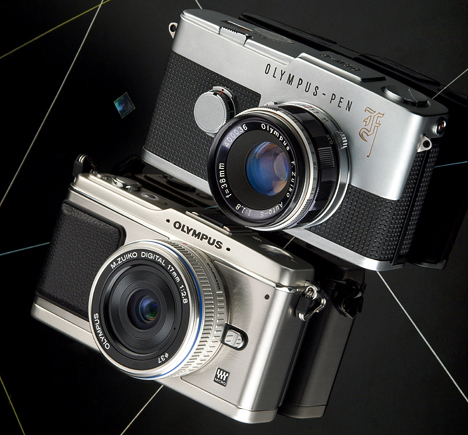 Technology and Features
As discussed in my recent Q and A column post What's the deal with the new Micro Four Thirds format?, miniaturization was achieved by eliminating the reflex mirror, AF unit and pentaprism. But this camera employs the same size (18×13.5mm) sensor as an Olympus DSLR like the E-620. Hence, the pixels are adequately large for great light gathering ability, plenty of highlight/shadow detail and excellent image quality. The E-P1 was intended for use with the remarkably small/lightweight M. Zuiko lenses, but it also accepts the full-size Micro Four Thirds lenses with an MMF-1 Olympus MMF-1 Four Thirds to Micro Four Thirds Adapter adapter ($180) and the old manual focus OM lenses with an MF-2 Olympus MF-2 OM Lens to Micro Four Thirds Adapter adapter ($170).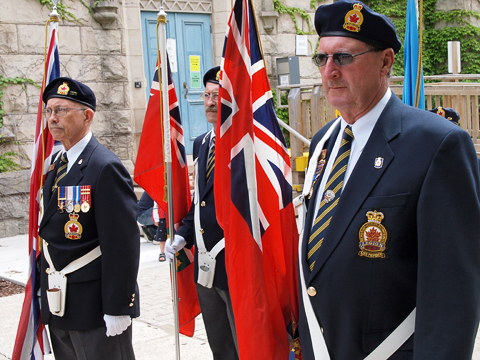 A full-size 12.3 megapixel Four Thirds sensor plus improved TruePix V processor plus fine optics should produce excellent technical quality. And the E-P1 delivers on that potential. My Large/Fine JPEGs made with the M. Zuiko 14-42mm ED zoom look great, with very high resolution of intricate detail. (Natural picture style; ISO 400; 14-42mm zoom at 27mm, f/8.) (c) 2009 Peter K. Burian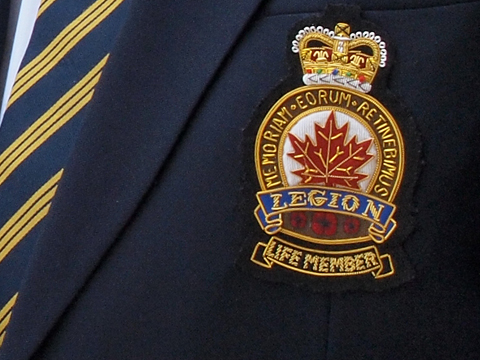 The gorgeous, rangefinder-style metal body–with built-in mechanical image stabilizer–is a tad heavy (11.82 oz.) but it's small enough to fit into a large jacket pocket with the 17mm "pancake" lens Olympus 17mm f/2.8mm Lens or the14-42mm ED zoom Olympus 14-42mm f/3.5-5.6 Zuiko Digital Zoom Lens (Silver) with collapsible barrel. (The zoom takes 40.5mm filters, while the 17mm lens calls for 37mm filters; those sizes are available in several brands such as Hoya – Filter – circular polarizer – 40.5 mm and TIFFEN 37mm Circular Polarizer.)
In order to keep the size and price of the camera acceptable, Olympus did not install an electronic viewfinder or a built-in flash. Instead, images are composed using the large 3″ LCD monitor and the E-P1 accepts a very compact FL-14 Olympus FL-14 Flash for Olympus E-P1 Micro Four Thirds Digital Camera flash unit ($100). It's also compatible with the full size FL-R series flash units.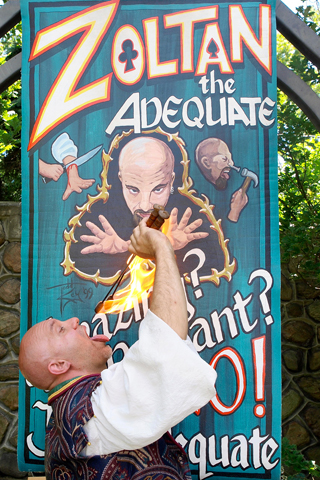 In terms of feature set, the E-P1 is very versatile; it's similar to the E-620 (see Photocrati's Olympus E-620 Review) providing the six Art Filters, double exposure mode, post-processing functions in Playback mode for enhancing photos, plus a vast range of functions and overrides. But the new camera offers several benefits, including a larger LCD plus a new, more sophisticated 324-zone metering, a faster TruePic V processor for better sharpness and high ISO quality. It's also equipped with the Level Gauge developed for the pricey E-30; this feature provides guidance about camera positioning so that lines in a scene will be straight in a photo. Other E-P1 extras include HD video capture, Intelligent Auto mode and ePortrait mode. The latter–available in both capture and playback mode–smoothes wrinkles for a more flattering (though natural-looking) effect and reduces resolution to 5 MP.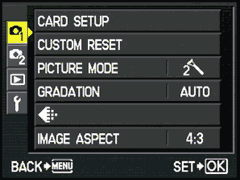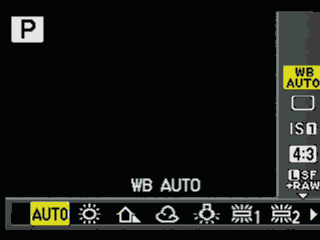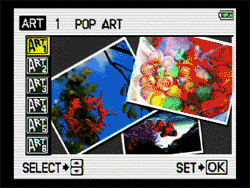 The E-P1 is similar to an entry-level DSLR in basic operation, with a mode selector dial, all of the essential analog buttons and two control dials; one surrounds the four-way controller while the other is a unique vertical thumb dial. You'll also find the usual series of menu pages; be sure to take the time to find the hidden Custom Function screens. Few of those items are essential however, and a control panel allows for quick access to 11 frequently-used features at the touch of the OK button. Intelligent automation, ease of use in some aspects, plus numerous advanced functions make the E-P1 suitable for both the novice and for the serious photographer.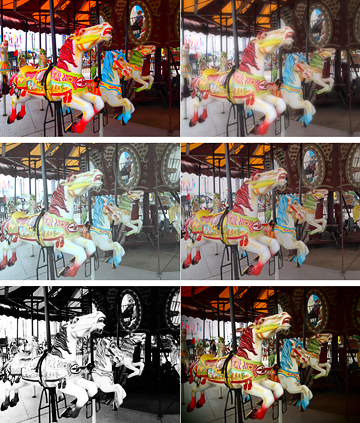 Evaluation: This small camera is very well-equipped but snapshooters may miss a built-in flash while experienced photographers will constantly try to find the viewfinder. Traditionalists will want the 17mm f/2.8 lens Olympus 17mm f/2.8mm Lens ($300) since it ships with an optical viewfinder (VF-1). Future E-P cameras may have a viewfinder and/or a built-in flash according to one published report in the British Journal of Photography.
In truth, composing on the 3″ HyperCrystal LCD–with anti-reflective coating and brightness level control–works well. The display is clear and crisp, in spite of the modest (230,000 dpi) resolution; glare does not obscure the live preview except in unusually bright light. The LCD monitor cannot be tilted but the 176 degree viewing angle allowed me to compose photos with the camera held above the heads in a crowd.
Speed and Image Quality
The E-P1 can shoot numerous photos at a fast 3 frames per second. Autofocus–using contrast-detection AF technology–is quite fast in daylight, taking one second or less. And autofocus becomes sluggish indoors; in very dark locations, it may fail, calling for manual focusing. Even so, AF speed is better overall than you'd get with most DSLRs when using Live View. A focus-illuminator lamp would be useful for indoor shooting at least with nearby subjects. (The large FL-R series accessory flash units are equipped with a focus-assist feature but–surprisingly–that does not function when they're used with the E-P1; perhaps a future firmware update will fix that issue.)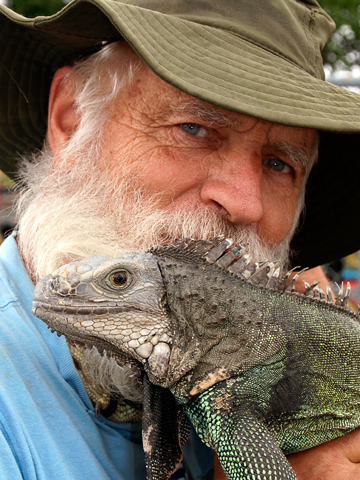 Images made at low ISO levels are stunning in terms of resolution of intricate detail, clarity and freedom from obvious digital noise speckles. Avoid underexposure and even ISO 800 can provide surprisingly clean images, suitable for 11×15″ prints that you want to frame and display. (ISO 100 and ISO 800, respectively.) (c) 2009 Peter K. Burian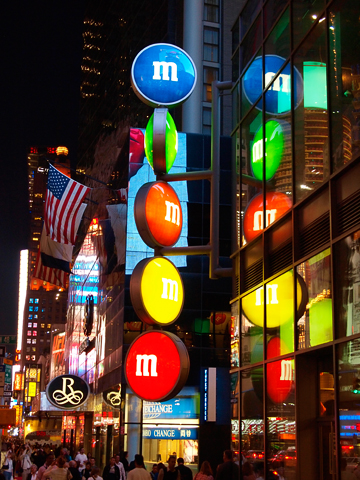 Evaluation: My Large/Fine JPEGs–made in New York and during festivals and family outings at ISO 100 to 400–are amazing: perfect in most technical aspects. They're crisp, colorful and smooth, with great definition of intricate detail. Some E-P1 owners will want to set in-camera Sharpening to +1 while others will prefer to do all sharpening in image-editing software. In JPEGs made with Auto Gradation Control in harsh lighting, there's plenty of shadow detail; some highlight areas are excessively bright (clipped), however. Even ISO 800 photos look very nice as 11×15″ prints. Digital noise speckles are more obvious at ISO 1600, but well-exposed images are still suitable for decent 8×10 glossies. Frankly, the E-P1 produced even better JPEG quality than the E-620, thanks to the newer processor and improved algorithms.
Movie Mode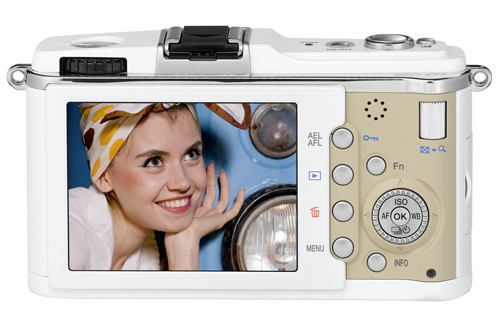 Rotate the mode selector dial to the Movie icon, set focus and press the shutter release button to start recording video clips–as long as 7 minutes–in the familiar AVI format with stereo sound. Note too that Olympus has added a unique feature, Multi-Mix Slideshow playback with a choice of five background music options and volume control for the music; you can also add your own favorite tunes. Create your own slideshow of still photos and videos; they'll be crowd pleasers when viewed on a wide screen TV with stereo sound.
The E-P1 provides quite a bit of control over video clips. Several functions that can be set before actual recording: picture styles and their parameter adjustments, exposure compensation, Art Filters, focus mode, WB, electronic Image Stabilizer, and others. A desired aperture can also be pre-set for depth of field control; avoid using very small apertures in low light however, because the video clips will be dark. During recording, autofocus can be activated by pressing the AEL/AFL button; AF works well outdoors but it is slow in low light.
Evaluation: After connecting the EP-1 to a wide screen TV with an optional HDMI cable, I found that 1280×720 video quality was very good. The fast 30fps framing rate was useful for smooth effects with moving subjects or when panning the camera. Audio quality (recorded in non-compressed linear PCM format) was fine too in clips where the subject was close to the camera. Naturally, the built-in mic picked up any noise made while handling the camera as well as the buzzing produced by the autofocus motor. The Art Filters provided some cool effects; creative photographers should appreciate these options whether shooting stills or videos.
The Bottom Line
After examining my 900 images and dozens of HD video clips, I can confirm that the E-P1 and M. Zuiko lenses live up to their full potential. The lenses may seem overly small and lightweight, but they're impressive optically. The compact FL-14 flash unit Olympus FL-14 Flash for Olympus E-P1 Micro Four Thirds Digital Camera (a bargain at the time of this writing) is a fine companion to the short focal length lenses; I found it to be perfect especially for fill-flash in outdoor photography. When shooting with the full-size Four-Thirds lenses (using an adapter), I preferred the larger, more powerful FL-50R flash unit. While the EP-1 body may seem too small for such large accessories, that did not create a problem at all. I simply cradled the over-sized lens in my left hand and used the right hand for manipulating camera controls.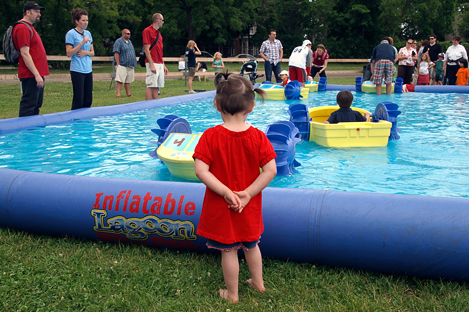 Because of the small size of the E-P1, M. Zuiko lenses and the FL-14 flash, the Micro Four Thirds system is ideal for taking photos during events and family outings when you don't want to carry a large/heavy camera bag. It's great for snap shooting with Intelligent Auto mode but equally suitable for serious photography using any of the many creative features and overrides. (c) 2009 Peter K. Burian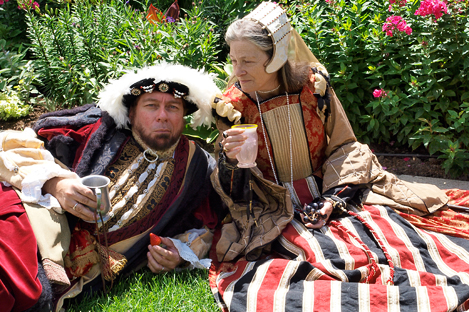 The large 12-60mm f/2.8-4 SWD zoom worked perfectly with the compact E-P1 (using the MMF-1 adapter) as did the huge 50-200mm (100-400mm equivalent) f/2.8-3.5 SWD zoom. Autofocus was a tad slower with the larger lenses, particularly with the telephoto, but owners of an Olympus DSLR system should still appreciate the E-P1 as a second camera. With another optional adapter, even the old OM lenses can be used; certain camera features will not function but stop down metering in Aperture Priority AE mode works well.
The E-P1 system is great as a compact alternative to a DSLR for occasions when you don't want to lug a heavy camera bag. By next year, additional lenses will be introduced and those will provide even more versatility. Granted, there are a few issues (such as low light AF performance and a lack of a viewfinder and built-in flash) but the favorable aspects outweigh those, in my estimation.
Although it's pricey when you add accessories, the Olympus E-P1–in white Olympus PEN E-P1 12.3 MP Micro Four Thirds Interchangeable Lens Digital Camera with 14-42mm f/3.5-5.6 Zuiko Digital Zoom Lens (White Body/Silver Lens) or in silver Olympus PEN E-P1 12.3 MP Micro Four Thirds Interchangeable Lens Digital Camera with 14-42mm f/3.5-5.6 Zuiko Digital Zoom Lens (Silver Body/Black Lens)–offers good value in terms of styling, craftsmanship and sophisticated technology as well as pride of ownership.
This is one of those cameras that attracts a lot of attention because it's clearly not "just another digicam". If you appreciate the portability–as well as intangibles such as refinement and a bit of exclusivity–this classy imaging tool may be just right for you.




SPECIFICATIONS – OLYMPUS E-P1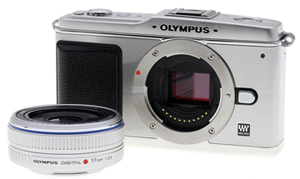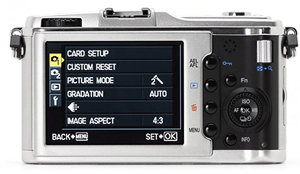 Format: Micro Four Thirds, interchangeable lens camera

Sensor/Processor: 12.3 MP LiveMOS (4032 x 3024) with 4:3 aspect ratio; TruePic V

Sensitivity: ISO 100 to ISO 6400

LCD Monitor: 3″ (230,000 dot) HyperCrystal with anti reflective coating; 15 color and brightness steps; Live View with 100% frame coverage; available Auto Gain, 2-axis Level Gauge, histogram and magnified view

Flash: Accepts optional FL units; supports many flash modes; 1/30 to 1/180 sec. sync speed; flash exposure compensation

Capture Formats: Numerous JPEG options, RAW, RAW + JPEG, AVI Motion JPEG

Movie Modes: HD (1280×720 at 30fps; 16:9) and SD/VGA (640×480 at 30 fps; 4:3) at 1/12 compression ratio; 2GB limit; built-in stereo mic (PCM/16bit, 44.1kHz)

Drive Modes: Single shot, Continuous framing to 3 fps and self-timer

Autofocus: 11-point Imager Contrast-detection; selectable focus area; AF-S and AF-C modes (but not Tracking AF); Face Detection AF with 25 points; available; MF override available in AF

White Balance: Auto, 8 presets, Custom and color temperature (Kelvin); WB Compensation and WB Bracketing

Operating Modes: Intelligent Auto, P, A, S, M, Art Filters (6), 13 Scene modes plus e-Portrait

Exposure Control: Center Weighted, 324-zone Digital ESP, Spot (2%); Highlight Based Spot, Shadow Based Spot; Exposure Lock, Compensation and Bracketing

Image Stabilizer: In-camera sensor shift system; electronic stabilizer in video capture

Image Adjustments: AdobeRGB or sRGB; four Gradation Control options; five picture styles with overrides for Saturation, Sharpness and Contrast or B&W filter and Sepia Toning; user-selectable NR level

Playback Options: Data display, Index, Rotation, magnification; several Slide Show options; background music; histogram and Highlight/Shadow warning; RAW picture edit/conversion with Art Filters; JPEG Edit: B&W, Sepia, Red eye reduction, Color saturation, Resize, Shadow Adjustment Technology; Resize, Aspect Ratio and Trimming; Image Overlay (multi-exposure composite); e-Portrait

Other: Supersonic sensor dust removal system; Double Exposure with available auto exposure adjustment

Storage: SD or SDHC card

Connectivity: USB 2.0 Hi-Speed, HDMI (Type C), video out, remote control cable port,

Power: Rechargeable BLS-1 Li-Ion battery for 300 shots (per CIPA)

Dimensions/Weight: 4.74×2.75×1.38″; 11.816 oz (120.6×69.9×36.4mm; 335g)

Average U.S. Street Price:
$750, body only Olympus PEN E-P1 12.3 MP Micro Four Thirds Interchangeable Lens Digital Camera (Body Only)
$800-$1,099 with 14-42mm f/3.5-5.6 zoom Olympus PEN E-P1 12.3 MP Micro Four Thirds Interchangeable Lens Digital Camera with 14-42mm f/3.5-5.6 Zuiko Digital Zoom Lens (Silver Body/Black Lens)
$900 with 17mm f/2.8 lens and optical viewfinder Olympus PEN E-P1 12.3 MP Micro Four Thirds Interchangeable Lens Digital Camera with 17mm f/2.8 Lens and Viewfinder (Silver)
Other Recent Digital Camera Reviews on Photocrati
Nikon D700
Nikon D300
Nikon D90
Canon Rebel T1i
Canon Powershot G10
Olympus E-30
Olympus E620
Comparison: Full Frame Digital SLR Cameras
–
Go Home – Photography Blog