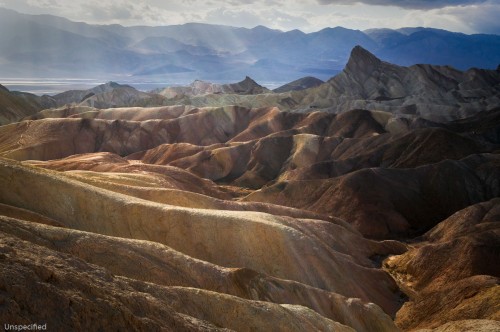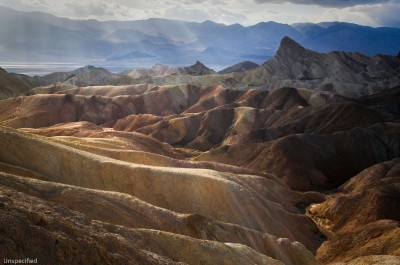 In this last installment of my introduction to Death Valley, I'll touch on a few more locations for first-time visitors to Death Valley.
(If you haven't seen them yet, check out part one and part two.)
Zabriskie Point
One of the classic photographic locations of Death Valley is Zabriskie Point, located just up the road from Furnace Creek. Erosion has carved up these layered, multicolored hills into strangely folded patterns. The main viewpoint overlooks this folded landscape and marks the beginning of trails which descend down into it. I've most often photographed Zabriskie in the early morning, the area does not get first light until a half-hour or more after nominal sunrise, but there are things to shoot here all day.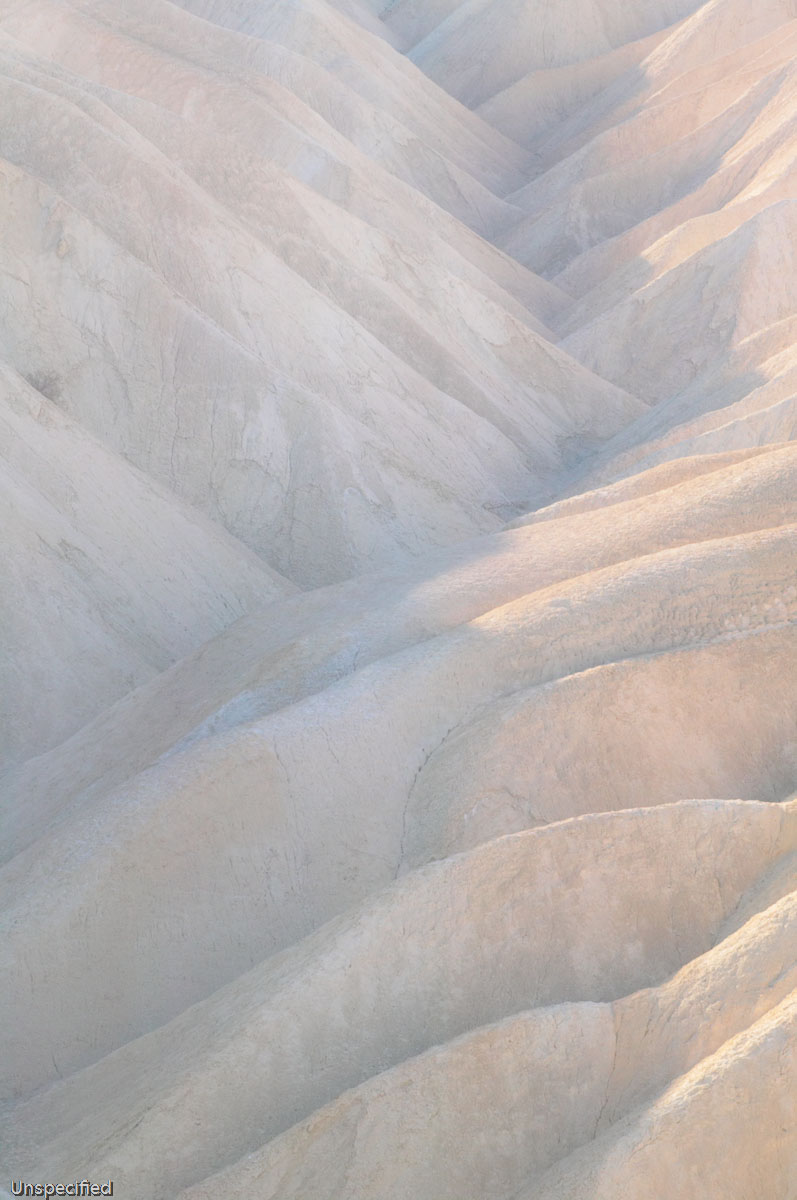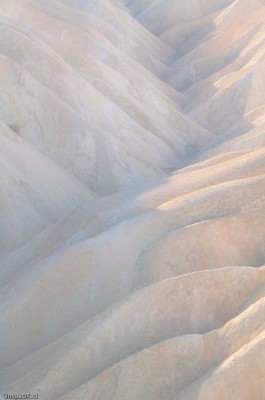 In addition to wider scenics, bring a telephoto zoom as well. This is a great place to practice finding and framing abstracted portions of the landscape.
An Unlikely Garden
Visitors in February and March may, on rare occasion, be treated to wildflowers. To be clear, very few flowers can live up to the harsh conditions of Death Valley, and what flowers you'll see will rarely be as dense as you'd expect to find nearly anywhere else in the world, but there is something special about seeing delicate wildflowers gracing such a harsh environment. In the best years, I've seen the densest areas of wildflowers primarily along the road between Furnace Creek and Ashford Mills to the South.
A Few More, Quickly…
There are several sites of interest for photographers interested in the history of Death Valley.  The ghost town of  Rhyolite is a particular favorite, in the park just over the border into Nevada, work to get angles that integrate the ruins with the landscape. But Scotty's Castle is a odd two-story Spanish villa dating from the early 20th Century. The Charcoal Kilns are rebuilt versions of mid-19th century kilns used in the making of (unsurprisingly) charcoal, the perfect row of eight of these nearly gumdrop-shaped ovens creates at least some photographic potential.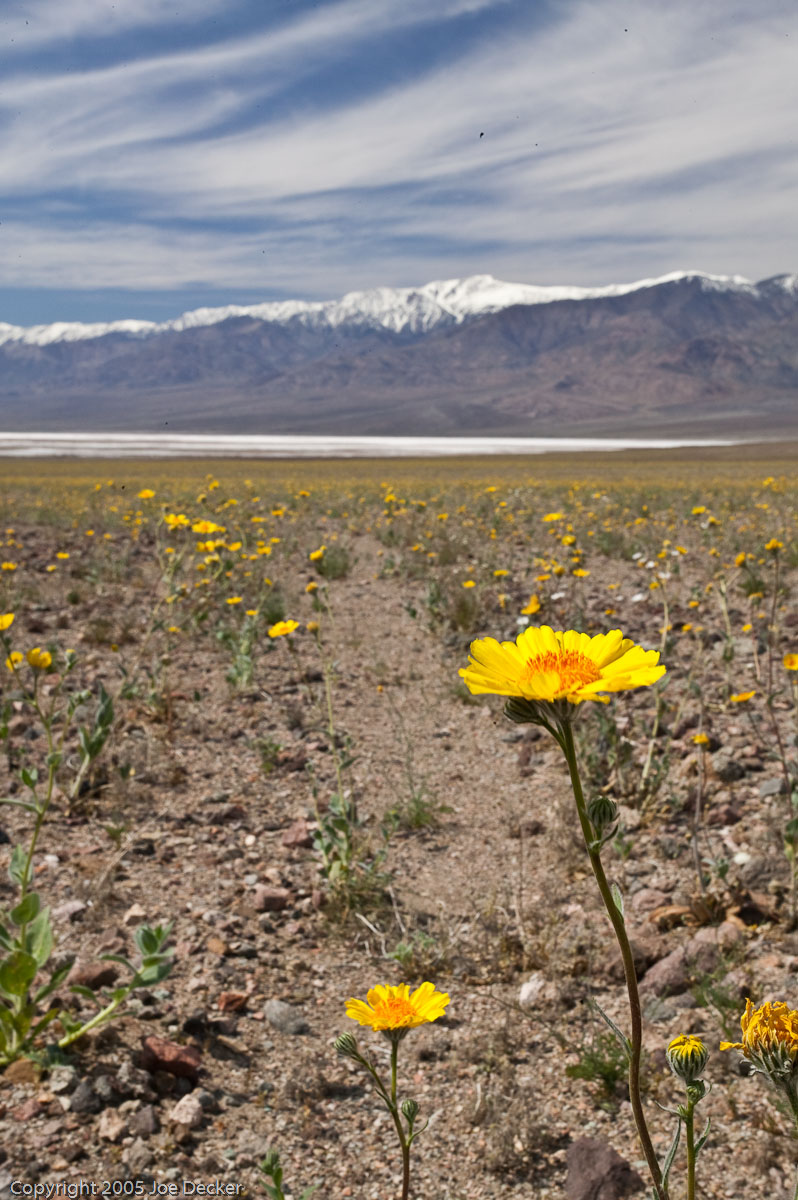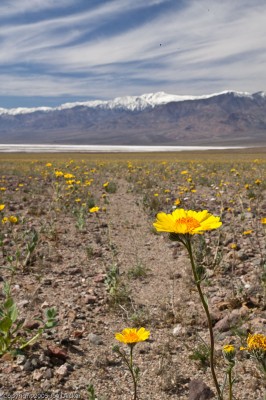 Geology abounds too. Ubehebe Crater is a roughly 600-foot-deep volcanic crater, I've found it difficult to get an image here that I'm really happy with, but it is an amazing sight. Finally, while I've never been that taken with Artist's Palette, the strange array of oddly colored geology is unique. If you go, it's a sunset shot for sure, and the loop around it offers some (to my eye) interesting opportunities before you reach the Palette itself.
One Great Place to save for a Later Visit
The Racetrack Playa is without question one of Death Valley's most famous photographic landmarks, if you can get there safely, you should go. But…. I usually don't recommend it for first visitors, largely because of the difficultly of safely getting there and back again if you're not used to the harsh conditions of Death Valley and working with 4WD (with off-road tires) in tire-eating conditions. Road washout and unreasonably sharp rocks make the Racetrack a "bring two spares" trip.
It's Time to Go!
Death Valley is a prime location for photography, the opportuntines for interesting photography will almost certainly fill up as much time as you're willing to spend there. Consider visiting in early March for a chance at wildflowers, or, barring that, anytime in winter. Give it a shot (or a thousand shots), and let me know what you come back with!