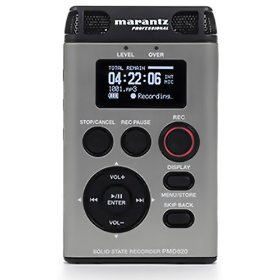 One of the accessories I needed to get before leading my Theyyams of Kerala photo expedition earlier this year was the ::amazon("B000Z8CUX2","Marantz PMD620)::. It is a small hand-held audio recorder, which I needed badly at the time because my aging M-Audio MicroTrack I was beginning to act erratically.
The PMD620 is attractively designed, with a grey metal front covering a black casing. In terms of size, it's about the size of an older generation iPod, or about 4 inches by 2 inches and 3/4 inch in thickness. It sports two built-in mics into the top two sides of its body, and two 1/8-inch jacks are available for an external mic and headphones. A neat little trick is to use the Line-Out jack for your headphones instead of the one on top. This is more convenient, and avoids the headphones coming near the mics whilst recording.
In contrast to the M-Audio Micro-Track that has built-in batteries, the Marantz PMD620 is powered by two AA batteries (easily found everywhere"¦always a plus). The recorder is light, weighing about 4 oz. without the batteries. It uses SD/SDHC Cards for recording uncompressed WAV or MP3 files, and I bought a 2gb SD card which is more than enough for my use.
I used the recorder in Kerala at the many outdoor Theyyam rituals I attended (in fact, I found it easier to turn it on, and give it to a small boy to hold for me, while I was photographing), as well during an indoor Kathakali session. I used it for the first time at a Sufi shrine in Delhi and recorded a Qawwali performance"¦.also outdoors, where I was just feet away from the lead singer and the percussionists. There was some distortion because of my proximity to these sources, and in retrospect I should've moved back a few feet. I wore headphones while recording, but in this instance I didn't notice that anything was amiss. I guess this comes with experience.
I found it very easy to use, and its controls reasonably intuitive and simple. It is designed for a one-handed operation, requiring just a single push of a large button to start recording. The display is OLED which was presumably chosen because it draws far less power and does not need a backlight, however it's small and while it's easy to read in the shade, it's virtually unreadable in the sunlight.
Its operations are simple: one slide of the power switch and it's ready to record in 2-3 seconds. Push the large Record button and the recording starts instantaneously.
I found PMD620 was small enough to be carried in my pocket, and I never used its belt clip. Its canvas case is sturdy and well made, with an inner zippered pocket that kept my headphones. While traveling, it was carried around in my day bag from where I fished it out whenever I needed it.
I'm not an audio engineer, so my take on the quality of my various recordings should be viewed as that of a photographer who records ambient sound to accompany slideshows"¦no more and no less. There's no question in my mind that the PMD620 is an excellent "point and shoot" audio recorder, small enough to be carried as an accessory, and well capable of capturing sounds in sufficient quality to provide lovely sound tracks for my multimedia productions.
From my recordings, I deemed the built-in mics to be more than adequate but I had to be careful not to move my hand or fingers while recording since that sound would be captured. Naturally, I would avoid this issue with an external mic, but that's not in my immediate plans. To avoid handling noise, I looked for places where I could place the recorder, turn it on, press the record button and leave it there for the duration of the performance or whatever else I was recording. Sure, I had to keep an eye on it, but never had any cause to worry about it. I even noticed that people took pains as to not walk too closely to it, giving it a wide berth.
I suspect all the currently available audio recorders in the same price range will provide more or less the same quality, and as in the case of DSLRS, it really boils down as to which has a better fit with the user.