Peter Burian tests this improved lens, one of the very best available in the "fast" telephoto zoom category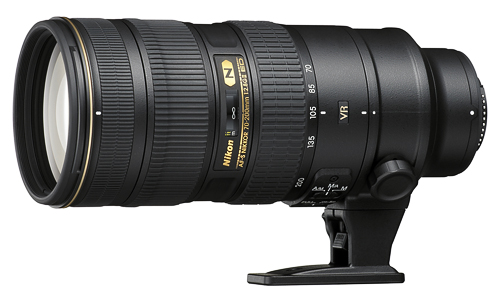 The preferred "workhorse" among many professional photographers since 2003, Nikon's AF-S 70-200mm f/2.8G ED VR model was also my favorite lens in the Nikkor series. It was just about perfect in all aspects, except for some slight corner softness at wide apertures with a full-frame digital SLR. Some reviews also mentioned less than ideal flare control, but frankly, that was nit-picking. In any event, Nikon has replaced that earlier model with a new VR II-designated version boasting a superior optical design, more effective VR stabilizer plus some other benefits.



Nikon's latest 70-200mm f/2.8 lens is pricey, but it's a professional-caliber product in all aspects, including the latest optical design, an incredibly effective autofocus system, and unusually rugged build quality. (Nikon D300s; ISO 400; f/7.1; at the Great Northern Concrete Toboggan Race, Milton, ON). © 2010 Peter K. Burian

An f/2.8 lens is desirable for several reasons. The very wide maximum aperture allows for faster shutter speeds than the more typical f/4.5-5.6 zooms. That's valuable in low light or action photography, allowing us to use lower ISO levels for superior image quality. A maximum aperture of f/2.8 also allows more light to reach the AF sensor for faster autofocus. And AF is maintained even when a 1.4x or 2x teleconverter is used. Granted, this 70-200mm f/2.8 lens is very large and heavy, but it's built to tolerate pro-level abuse and it's also dust- and moisture-resistant.
Modifications at a Glance
The AF-S 70-200mm f/2.8G AF-S ED VR II model retains most of the best features of its predecessor including the Silent Wave (AF-S) focus motor and the tripod mounting collar. Other aspects were modified however as per the following list (below image).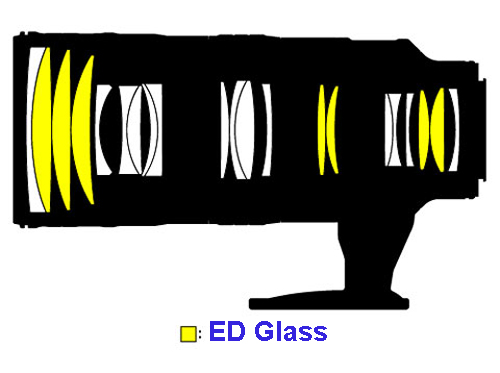 As this illustration indicates, the lens employs a full seven elements of extra low dispersion glass, including three of large diameter at the front for maximum aberration control. This optical formula provides superior image quality that will be obvious particularly at the edges of images made with a full-frame DSLR.
* Superior aberration correction and higher edge sharpness/brightness; the latter makes the new lens a better choice for a full-frame DSLR
* Some new elements feature Nano Crystal Coat deposits for additional flare control
* The newer VR II stabilizer provides more effective camera shake compensation
* Barrel length has been reduced by 0.374 inches but the weight has increased by 2.47 ounces
* The new hood is more compact so the lens is more likely to fit into a camera bag's lens slot
* Instead of a focus range limiter option of "infinity to 2.5 meters" the switch now provides "infinity to 5 meters"; this minimizes searching in the near-focus range
* The AF Lock buttons of the older model have been omitted; apparently most photographers want this feature only on longer telephoto lenses
* Minimum focusing has been reduced to 4.6 feet vs. 5 feet, but maximum magnification is lower at 0.12x vs. 0.16x
* In close focusing, the effective focal length is now shorter  (discussed later)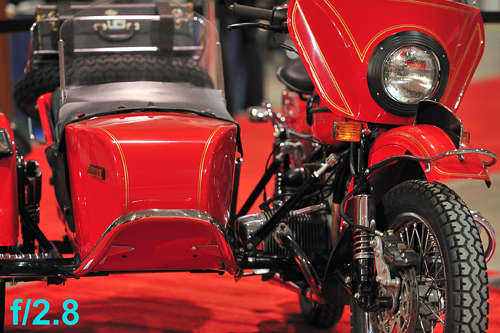 When viewed at 100% magnification on a monitor, these photos – made at f/2.8 and at f/9 – appear nearly identical, except for depth of field and an extremely slight difference in sharpness in the corners. That's certainly an indication of an excellent optical formula and confirms that the new lens can deliver pro grade image quality at the widest aperture. (D700; ISO 1600; at the Supershow 2010, Toronto.) © 2010 Peter K. Burian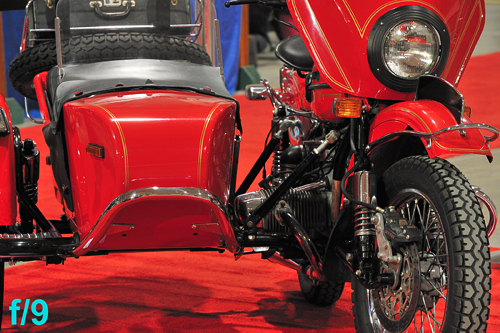 Design and Construction
Even at first glance, this is an impressive, beautifully-finished lens with tank-like construction. The zoom and manual focus collars are very wide, and rubberized for good grip. The action of both controls is extremely smooth and well "damped": with adequate friction to satisfy even those switching from manual focus lenses. Several switches adorn the barrel including the focus-range limiter, VR (stabilizer) On/Off, and a switch for the VR Mode. Normal VR is useful for most purposes, including panning with a moving subject; Active VR (with 4-axis stabilization) is recommended for use when shooting from a very unstable platform such as an aircraft.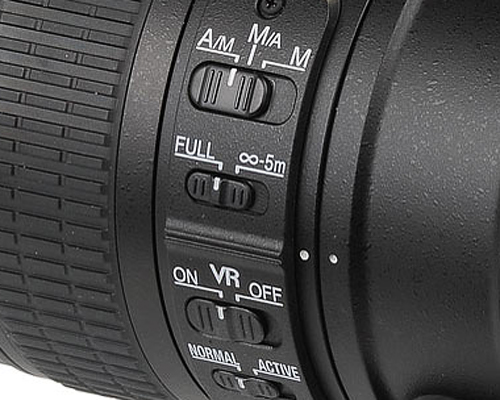 A distance scale, in feet and meters, is provided under glass. The lens employs internal focusing; that requires shifting only a few elements. Because very little mass must be moved, focus response with the Silent Wave motor is extremely fast. During focusing and zooming, the lens barrel does not extend and the filter mount does not rotate. (However, I found it difficult to remove my thin-ring polarizer. Wrapping a wide rubber band around the filter ring helped make the process easier.) The diaphragm includes nine blades for a circular aperture at many f/stops, for a very pleasing bokeh: the rendition of defocused areas in the background.



While some shooters will prefer a tele-zoom lens with extremely close focusing ("macro") ability, a "fast" 70-200mm lens is more likely to be used for photos of more distant subjects. (D300s; ISO 400; f/5.6; 1/800 sec.) © 2010 Peter K. Burian
As mentioned earlier, the new lens' effective focal length becomes shorter when focusing at distances less than infinity. Consequently, the maximum available magnification is lower than it was with its predecessor. Frankly, even that lens did not provide high magnification. Note too, that many other zoom lenses' effective focal lengths also  reduce in close focusing; this is definitely not unique to the Nikkor 70-200mm f/2.8 VR II lens. Anyone who insists on a zoom with closer focusing or higher (0.256x) magnification might prefer Nikon's AF-S 70-300mm f/4.5-5.6G ED IF AF-S VR model. Of course, that would mean giving up the benefits provided by the pro-grade f/2.8 lens.
Optical Performance
Although this is a multi-platform lens suitable for all types of SLR cameras, it is optimized for high sharpness/brightness at the edges of an oversized sensor (or  a 35mm film frame).   The superior coatings minimize the risk of internal flare and "ghosting" (reflections in the shape of the lens diaphragm) caused by highly reflective digital sensors. They also provide greater resistance to flare from external light sources, making for images with higher contrast and hence, with greater apparent sharpness.



This Nikon lens is the "sharpest" telephoto zoom that I have tested to date. In this image for example, even the finest lettering on the ski pass tag is razor sharp and very crisply defined. (D300s; ISO 400; f/6.2; 1/1250 sec.; at an Ontario Ski Telemark race, Caledon, ON.) © 2010 Peter K. Burian
Thanks to the seven Extra Low Dispersion glass elements this lens produced incredibly high sharpness across the entire frame at all apertures and focal lengths. Note too, that three of the ED elements are large, and located in the front group, for maximum effectiveness. The result is improved image quality, particularly noticeable at wide apertures, with very high sharpness and freedom from color fringing around subject edges.
Images made at f/2.8 are well within professional standards. Even corner sharpness is high, particularly in the 70mm to 150mm range. In the 151mm to 200mm range, there's a slight softening at the edges but that's noticeable only under very high magnification. Chromatic aberration is virtually non-existent, distortion is minimal and flare correction is incredibly effective.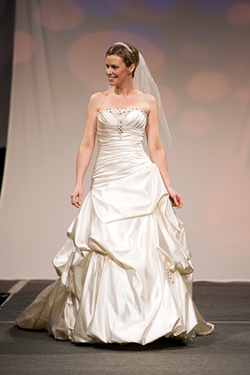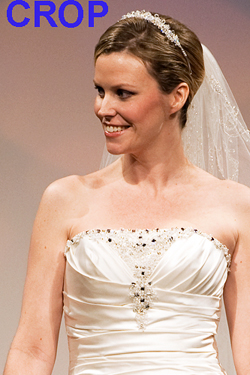 Image quality at f/2.8 is excellent at most focal lengths. The unusually wide maximum aperture transmits more light to the camera minimizing the need for very high ISO levels and ensuring fast autofocus in dark locations. (D700; 190mm at f/2.8; 1/500 sec.; ISO 800; at the Hamilton, ON, Spring Wedding Show). © 2010 Peter K. Burian
This lens provides excellent edge-to-edge sharpness by f/4 at all focal lengths. My best images made with a full-frame D700 are suitable for beautiful 16×24″ prints  after some resing-up in Photoshop. The same level of quality is available at other f/stops down to f/8. As with any lens, there's a slight loss of sharpness (because of diffraction) by f/11, but 13×19″ prints made from f/16 images look great after some sharpening in Photoshop. On the other hand a telephoto lens is not often used at such small apertures.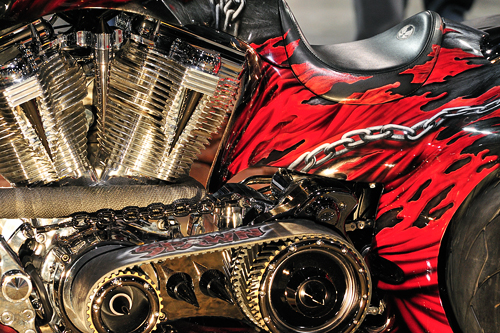 This image confirms the exceptional optical potential of the latest Nikon 70-200mm lens. When viewed at high magnification on a professional LCD monitor, it's perfect in all technical aspects and suitable for a huge print or a double-page spread in a magazine. (D700; 200mm; f/6.3; at the Supershow 2010, Toronto.) © 2010 Peter K. Burian
In photos of a snow-covered hill with the full-frame Nikon D700, there is some shading – darkening of the corners – especially at f/2.8 at long focal lengths. It's very slight, impossible to see in most other types of photos. Some Nikon DSLRs can automatically eliminate corner shading and it is also easy to correct with software. (My evaluation was based on RAW captures, with the vignetting-correction feature turned off in the Capture NX2 software.) Because the lens was optimized for use with a large (FX format) sensor DSLR, it produces even better edge sharpness/brightness at f/2.8 with a camera using the smaller (DX format) sensor. With the D300s, this was a 105-300mm equivalent lens that was useful for ski and snowboarding races without a teleconverter.
Autofocus and Stabilizer

When used with a recent Nikon DSLR, this Silent Wave lens provides fast/reliable autofocus. And as mentioned earlier, defocused highlights in the background are rendered as circular (not octagonal) at many apertures. (D300s; ISO 400; multi-point AF; f/5.6; 160mm; at an Ontario Snowboarders (RBC Riders) race, Caledon, ON.) © 2010 Peter K. Burian
As with any wide aperture  Silent Wave (ultrasonic) lens, autofocus performance was absolutely first class. During races on snow-covered slopes, focus acquisition was lightning fast with the D300s and with the D700. The camera/lens combination also aggressively tracked the fastest moving competitors. The AF Tracking system was not quite as effective with the fast/erratic action of wakeboarders on an indoor "lake". That's understandable considering the low light conditions in the arena.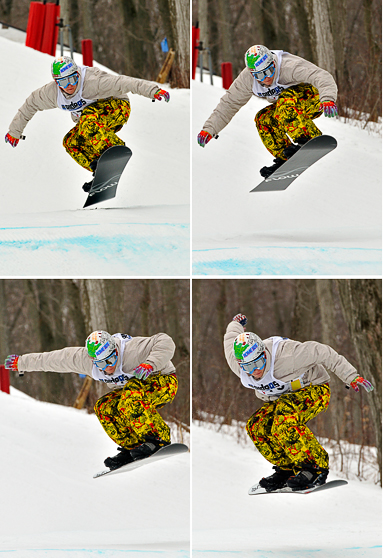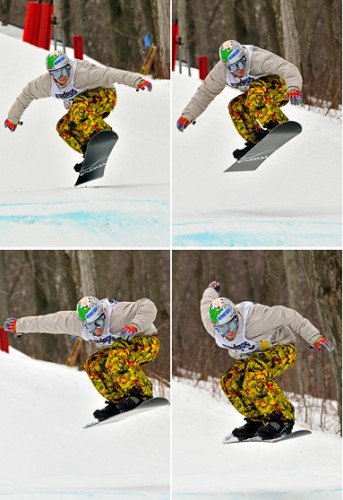 As this series indicates, the Silent Wave focus motor, was often successful in tracking fast moving subjects. The primary problem in this type of photography is predicting where the subject will appear over a jump and keeping it properly framed for a long series of shots. (D300s; ISO 400; multi-point AF; f/5.6; 200mm; at an Ontario Snowboarders (RBC Riders) race, Caledon, ON) © 2010 Peter K. Burian
With static subjects, the ability to quickly fine-tune focus manually at any time was a real plus. This feature allowed me to optimize focus for the eyes – instead of the tip of the nose – when making portrait photos at a fashion show using autofocus.
Nikon indicates that the new VR II stabilizer offers a four shutter-speed-step advantage, as compared to three with the older VR technology. In other words, images made in hand-held shooting should be sharp even in exposures that are four times as long as those made without Vibration Reduction. That's an average and some photographers are steadier than others. When shooting displays at an indoor motorcycle show with the D700 at 200mm, I was consistently able to get sharp photos at a 1/15 sec. shutter speed. Some photographers report similar results at 1/8 sec.



Nikon's latest vibration reduction technology is very effective. As with any stabilizer, the exact results do vary depending on the person using the lens and the focal length in use. In any event, a VR system is certainly valuable in low light when a tripod cannot be used. (D700; 200mm; 1/30 sec.; at the Supershow 2010, Toronto.) © 2010 Peter K. Burian
The Bottom Line
The AF-S 70-200mm f/2.8G AF-S ED VR II lens was designed to satisfy professional photographers working for demanding clients. Naturally, it will also appeal to serious photo enthusiasts who demand the absolutely best equipment. Anyone who still doubts that a zoom can match an excellent single-focal length lens should become a convert after trying this one. In terms of sharpness, resolution of intricate details, snappy contrast, freedom from flare and from color fringing, it is definitely an outstanding performer.



While the more compact/affordable Nikon AF-S VR 70-300mm f/4.5-5.6G IF-ED zoom is impressive in many aspects, photographers who appreciate the benefits of a pro-grade f/2.8 lens will want the new 70-200mm model. (D300s; ISO 1600; f/2.8 at 1/400 sec. at the Toronto International Boat Show). © 2010 Peter K. Burian
If you're considering this new lens, check it out in person at a photo retailer to determine whether you'll be comfortable in carrying and handling its 3.4 lb. of mass. (Removing the tripod foot subtracts a few ounces.) Frankly, some potential buyers will prefer something smaller, lighter and more affordable, such as Nikon's highly-rated AF-S VR 70-300mm f/4.5-5.6G IF-ED lens. That's understandable. But if you're a discriminating photographer you'll want to save up for the 70-200mm f/2.8 VR II model. Considering its level of performance, this zoom will pay dividends for many years in terms of professional-caliber images.
For additional test photos see  http://picasaweb.google.com/pkburian/Nikon70200mmF28BurianSNOWBOARDERSRACE#
For more information, and for specifics about Nikon teleconverters,  check out this lens at  Amazon (about $2300) Nikon 70-200mm f/2.8G ED VR II AF-S NIKKOR Lens For Nikon Digital SLR Cameras; or at B&H Photo (about $2330) AF-S Zoom-Nikkor 70-200mm f/2.8G ED VR II Lens  

AF-S Nikkor 70-200mm f/2.8G ED VR II Specifications
Construction: 21 elements including 7 of ED glass
Angle of View: 34 °20′ – 12 °20′ with full-frame FX sensor; 22 °50′ – 8 ° with DX format sensor
Vibration Reduction: New VR II optical stabilizer
Focus System: Silent Wave with manual override on demand; manual focus; internal focusing mechanism
Minimum Focus Distance: 4.6 feet (1.4m)
Maximum Magnification: 0.12x
Filter Size: 77mm
Size/Weight: 3.4×8.1in; 3.4 lb. (87×205.5mm; 1540g)
Accessories: Lens hood and soft case included; fully compatible with Nikon TC-E II teleconverters
Average Retail Price: Under $2350