A versatile camera, a powerful combo.
While it was fun to use, the Olympus E-620 did not leave a lasting impression. I needed to get back to my own DSLR system and do some serious shooting. Fast forward. Now the Olympus E-3 lands on my doorstep. Obviously not the newest camera in the Olympus Four Thirds DSLR camp, the pro-level E-3 certainly is the one that takes itself most soberly, as the flagship in the fleet.
You might say, I began with the progeny and traced its lineage back to the progenitor. Well, not all the way back, an interim step but a quantum leap above the original E-1, the DNA strand from which all Olympus digital SLRs evolved.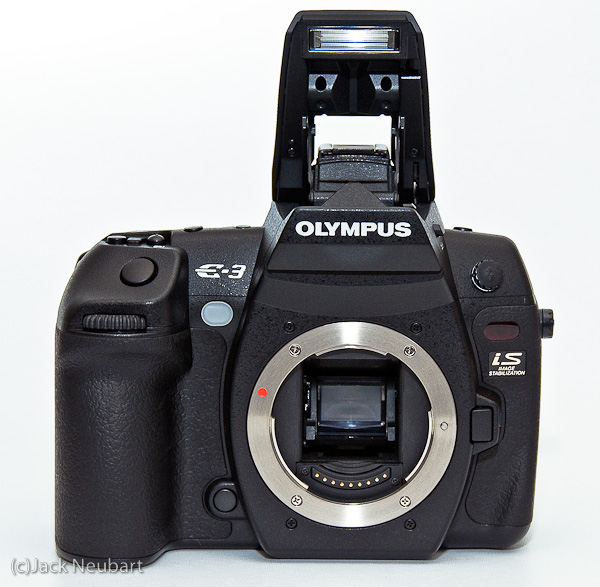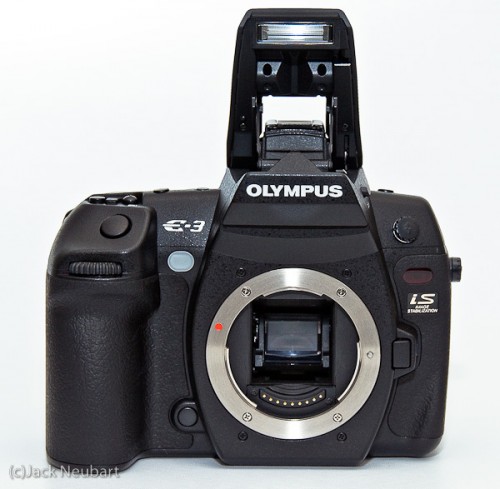 The E-3 ($1,250) begins with the high-speed Live MOS sensor and 10.1 million effective pixels. It also features Olympus's Supersonic Wave Filter dust reduction system for the image sensor, along with image stabilization built into the camera body (effective range: 5 steps, according to the specs), making it usable with every compatible Four Thirds lens (and there are lots of them).
In contrast to some of the newest Olympus DSLRs, the E-3 doesn't lure you with those gimmicky "art filters" (frankly, calling it "art" is artifice) or face detection (if it can't work with Cousin It from The Addams Family then it won't work with my Uncle Frank or Aunt Harriet).
What the E-3 is, really, is a responsive machine that understands what you're trying to capture-and attempts to deliver. And, for the most part, it does. Moreover, the 50-200 SWD lens ($1,035) takes this camera where it needs to go, helping it excel, especially when it comes to action, wildlife, and candid street photography.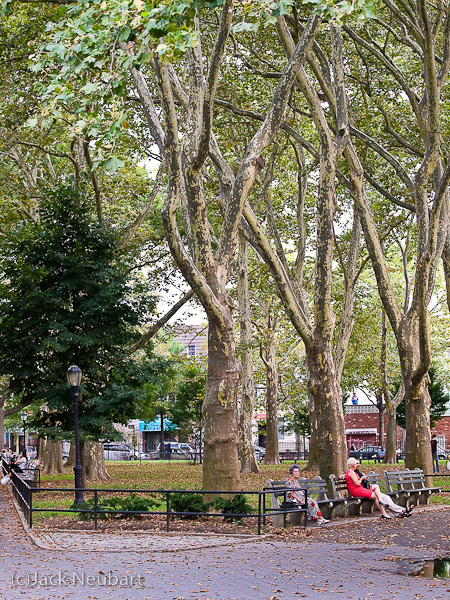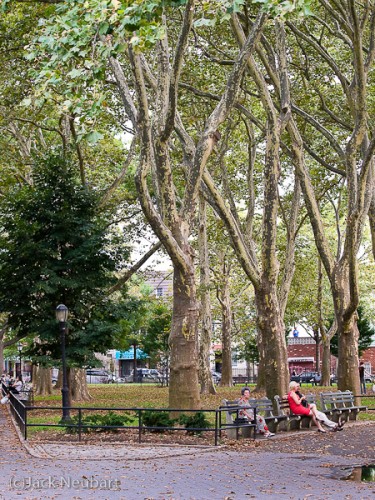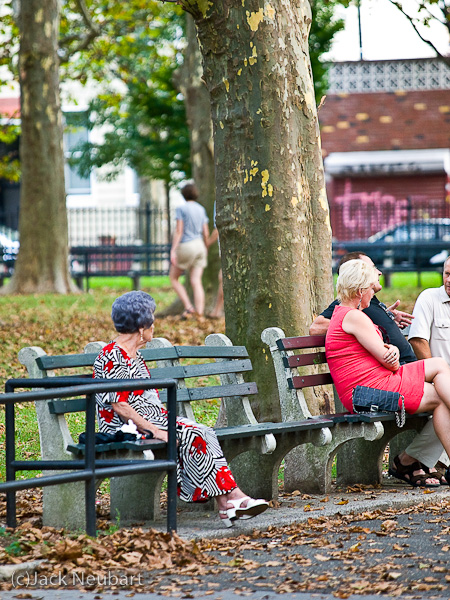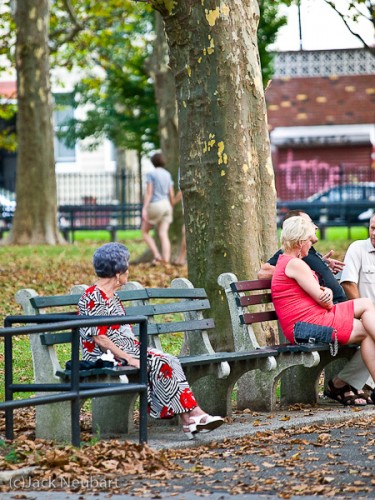 Live View
At this point, you may be asking about live view. So let's mention it now and get it off the table.
Live view is not the first phrase that jumps onto the page when I review a DSLR, but I mention it for those who would fault me if I didn't. Yes, it's here. But for me, it's like a timer on my coffee maker–nice to have, but not something I find myself using. I just flip open the articulated (swing/tilt) LCD monitor and slide it back in place facing me, so it can be used for playback, or to facilitate inputting settings in the camera. In my view, live view thwarts good camera handling practices. You can't simply rely on the camera's image stabilization to guarantee blur-free pictures. It's not a video camera.
Besides, I'm not comfortable with it. There, I've said it, now let's move on. (In some respects, I'm still an analog guy at heart.)
A Hard Body
The one thing you immediately notice when you grab hold of the E-3 is that it has body and substance. Reminds me of myself, he remarks humbly (okay, no comments from the peanut gallery). It doesn't feel like a toy. The rubberized grip is superbly contoured. The lens mount looks as solid as they come.
I know… When I review those lightweight cameras, I'm bursting at the seams with glee that I don't have to schlep around something this heavy (and, really, the E-3 is not that heavy). But when I put camera to eye with all seriousness and deliberation, the camera I'd rather have is one that makes me exercise mind, spirit-and body. And given a choice between an E-620 and an E-3, I'll take the E-3 any time. I should add that my tests didn't include the optional booster battery pack, a $200 add-on. Keeping that attached to the camera might have shifted the balance, but then again, that's why I left it out of the equation.
Buttons, Buttons, Who's Got Da Buttons?
Unfortunately, the E-3 does. Lots of "˜em-over 20-and literally all over the place. Whoever designed this thing must have six fingers on each hand, with possibly two opposable thumbs. Worse yet, I had to take my hand away from the lens barrel to get at the Mode button and others that are situated alongside the finder on the left, as well as those at the base of the monitor-not a pleasant chore with a heavy lens attached. And to make matters worse, there are two rotary dials plus cursor buttons that add to the confusion.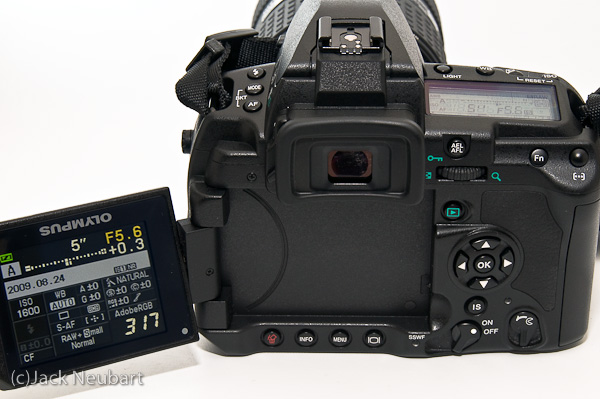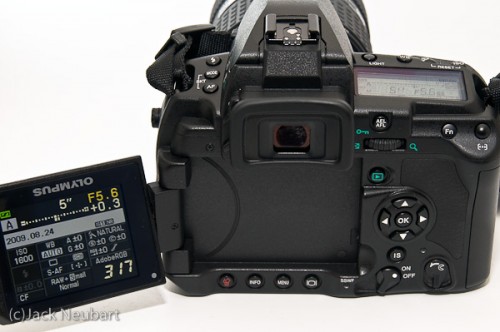 Now the menus. By accessing the main Menu on the color LCD monitor, you open yourself and the camera up to virtually endless possibilities-so many, in fact, that it gave me a headache. I'd say tweak these settings over time, as you find need for them. Don't just dive into it, or you may find yourself coming up for air rather frequently.
There is one menu that you will frequent. When hitting the OK button, a screen pops up with all the most-used functions. You can usually avoid the more involved main Menu by taking this route. Or, you can use one of the dedicated buttons. Only difference is that some parameters require the main Menu. For instance, when adjusting AF target areas (say, from single to full screen array), you'll need to switch targeting modes here: the "OK" route only lets you shift the array in one direction or another (for example, if you want to target subjects on the left, instead of in the center of the screen).
Of course, if I were working only with this camera on a daily basis, I'd have all that figured out before setting out on some life-altering journey. All I'm saying is that this plethora of buttons, dials, and menu options does not make the journey any easier. And you'll need to take more than just one step to get on the right path.
Digital Noise
Even at ISO 100, images exhibit some graininess. But having said that, the observable noise is luminance-not color-noise at this light-sensitivity level. As you move up the ladder in ISO, luminance noise becomes more obvious, but color noise is not as detrimental as we might expect-even at ISO 1600. Color noise was, however, easily observed in images captured at ISO 3200 (but still not as bad as in some other DSLRs with larger sensors). As they say, you win some, you lose some. Add some noise reduction software and you should be living in a fairly quiet neighborhood.
My Field Experience with the E-3
All my initial complaints aside, I spent very little time with the user manual my first time out with the camera. OK, with all those buttons, you'd think they'd have what you need right up front. NOT. So I did have to crack open the manual a few times. And even then, when it came time to switch to manual focusing, what did I do? I looked for a button (game show buzzer sounds shrilly here). I forgot that it's set electronically-and that's truly annoying. The one button I really would appreciate having at my disposal is what this camera/lens lacks.
Anyway, I'd removed the tripod mount from the lens to make it easier to handhold. Despite the lens's weight, the combo was not uncomfortable in the least, either around my neck or in my hands. I had initially set my sights on photographing birds and squirrels. The reason? When you translate in Four-Thirds-speak, 50-200 becomes a whopping 100-400-with a pretty fast maximum aperture, given the modest size of the lens-and I really wanted to take advantage of that 400mm with wildlife, which in New York City means mostly birds and squirrels, and the occasional raccoon (yup, we got "˜em). If anyone dares mention those denizens of the subway tracks as examples of NYC wildlife, it'll be pistols at dawn.
So, I'm walking, and what do my eyes behold? The newly built skateboard and related-wheelie-hijinks park buzzing with activity. So I planted myself in one spot. Asked a guy if this spot was safe; he said yes. With my Spidey sense tingling, I moved back onto the grass. Seconds later another skateboarder lands on the exact spot where I was standing!
I noted that I needed a better vantage point, so I moved to the top of a skateboard ramp–the runway, if you will–and kept an eye on the skateboarders as they whizzed by. I'd set the camera to continuous AF, using a single, central AF point, with the drive in high-speed continuous mode. Given that the background was a bit distracting, I kept to ISO 100, shooting in Program mode for this series. I'd switch to Shutter Priority for the soccer game. Well, I captured some amazing mid-air acrobatics! Not bad for my first few minutes with the camera.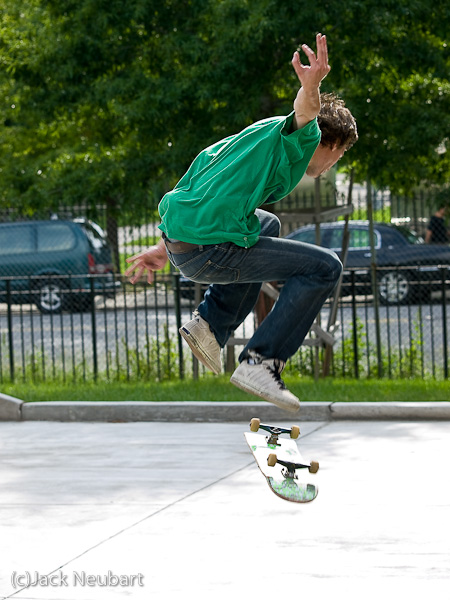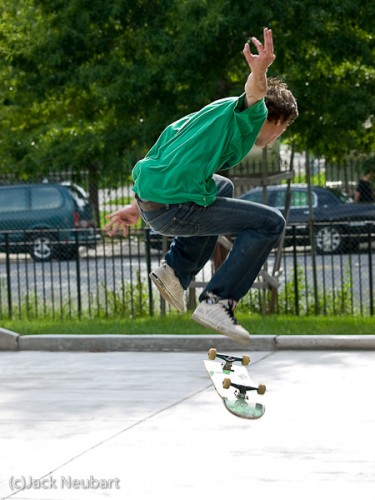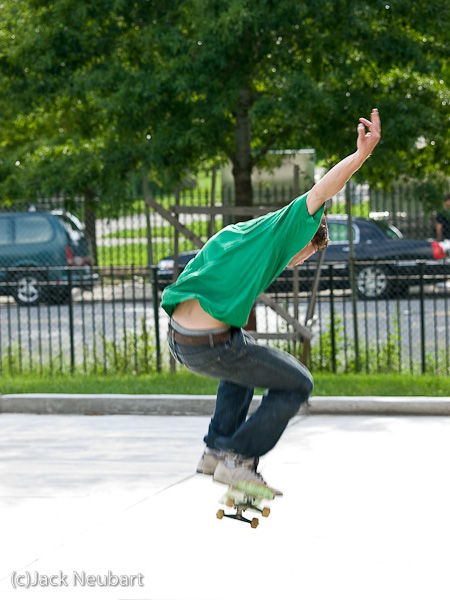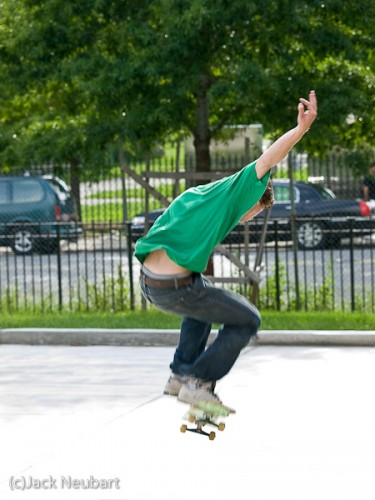 I did mention soccer. As I approached the soccer field, I kept shooting with continuous AF, but set focusing to multiple AF points to see how well the E-3 could track action that zigged and zagged. That wasn't the best choice, although I did grab one nice shot of a kicker sending the ball flying. So I switched to dynamic single target AF (which uses only a few AF points out of the array). I liked this mode for action. Tight, but not too tight; loose, but not too loose, if you get my drift.
I captured a heart-pounding sequence as two players vied for the ball as it was in the air. I swung the camera round to follow the action. Here I also shifted to ISO 400 and switched from Program to Shutter Priority at 1/500 second in an attempt to freeze the action. I had set image stabilization to IS1 (to compensate for all movement) but, at this shutter speed, it didn't matter, even though I panned with the action. Normally when panning, the IS2 setting should be used.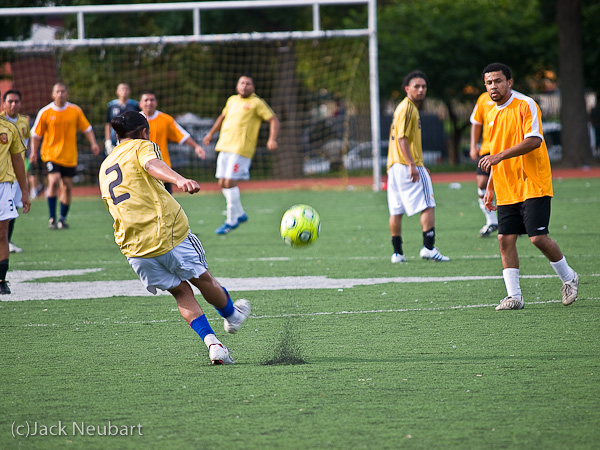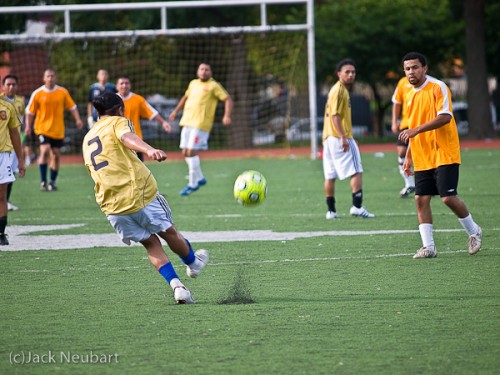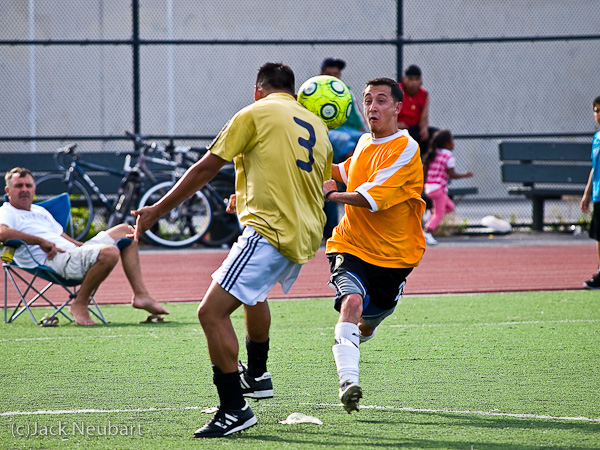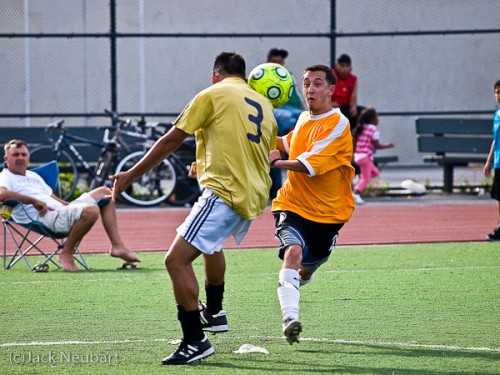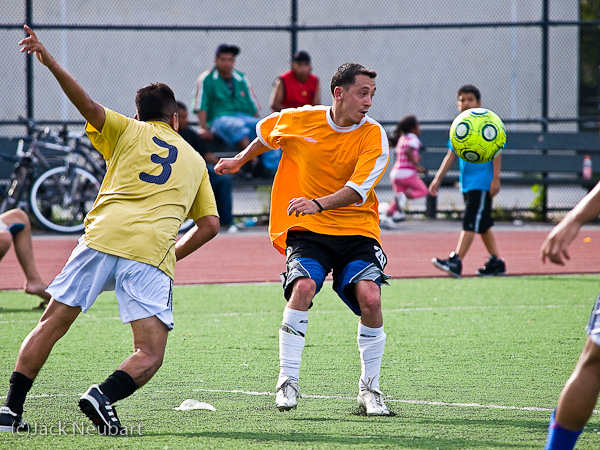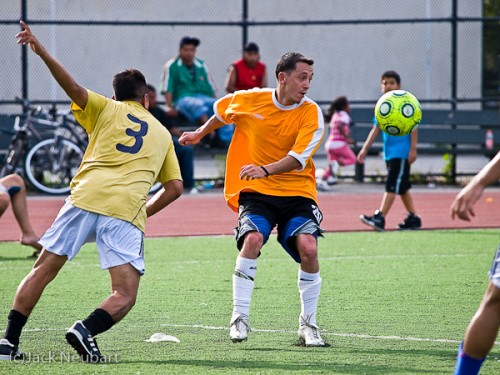 Finally, I switched to single-point AF in one-shot mode when it came time to shoot pictures in the garden. Cabbage white butterflies have eluded me all summer. I wasn't expecting a tight close-up, but I figured that with 400mm and reasonably close focusing on this lens, I could get something I could work with. And I did. I had to crop out half the frame around the butterfly, but I like the result. And I did the same with a bee on a flower. For the bee resting on a leaf (this one sat there for some time), I added an Olympus shoe-mounted flash. I also found some leaves with water droplets interesting, and shot that full frame with flash.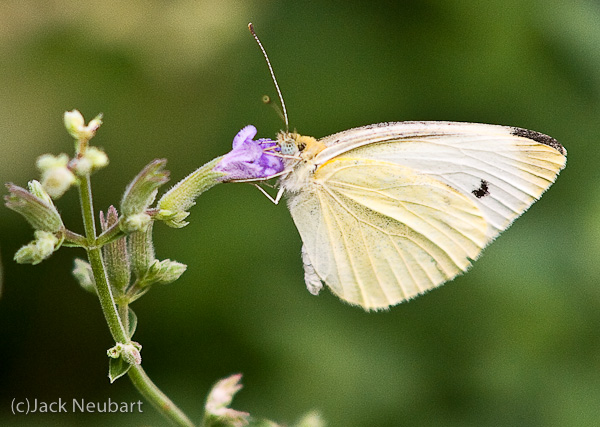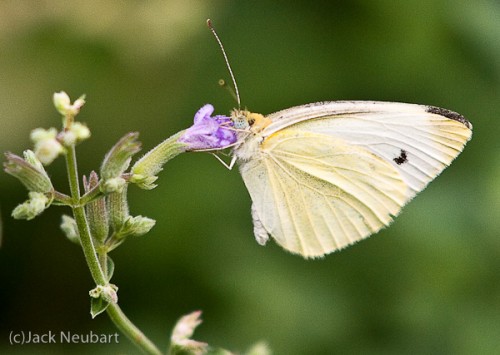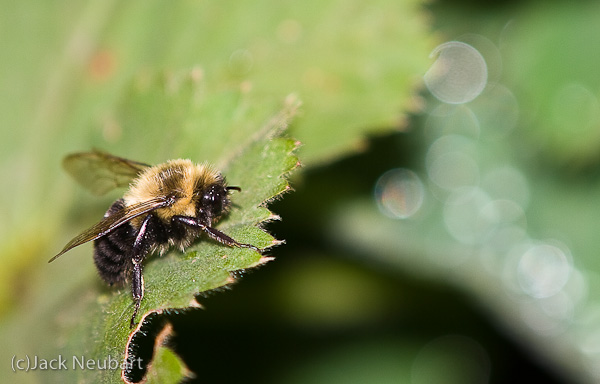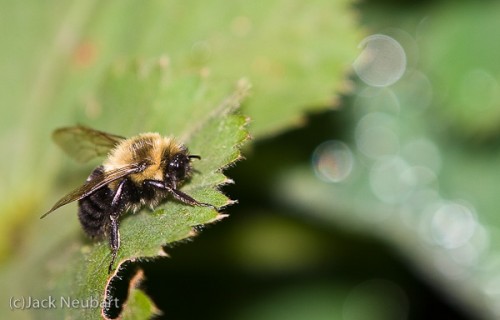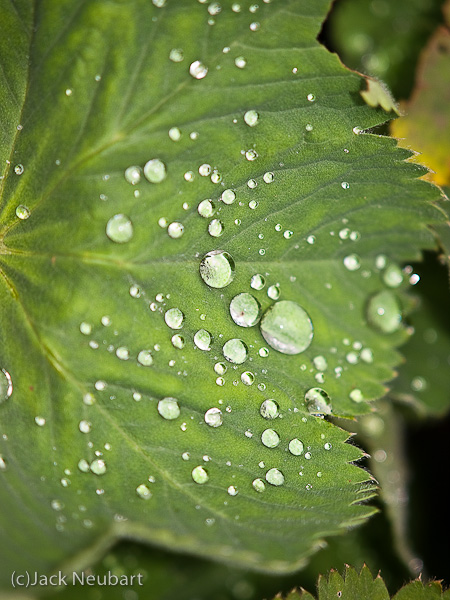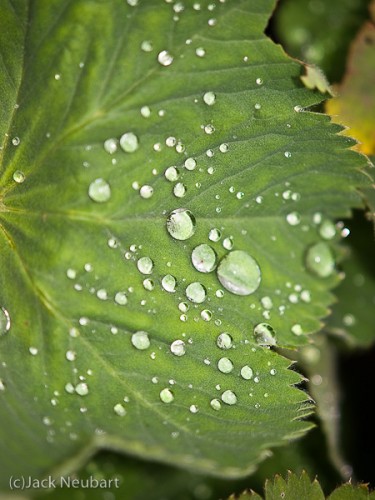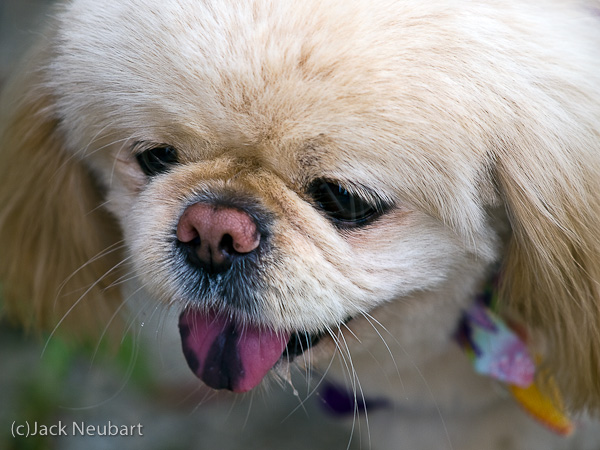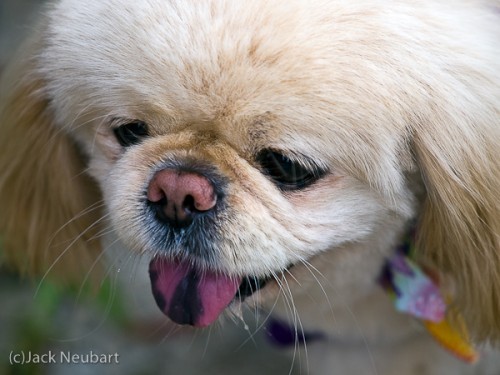 A Sweet Lens
Using the camera's built-in flash was not even a consideration, given the size of the Olympus Zuiko Digital ED 50-200 f/2.8~3.5 SWD lens, made worse by the long lens shade.
And speaking of lens shades, this one has an interesting twist-the moral equivalent of a moon roof: slide a small panel (door?) back to allow easy access to a rotating circular polarizer. Nice touch, Olympus!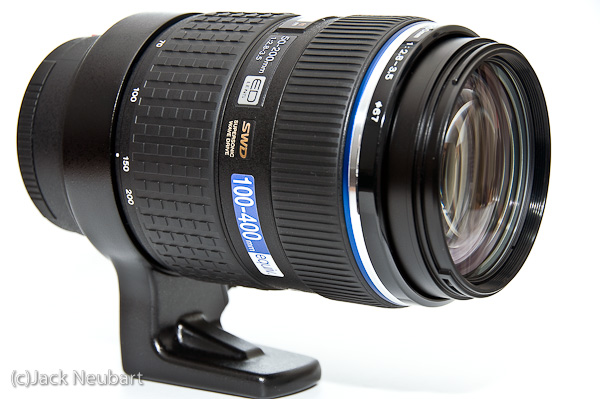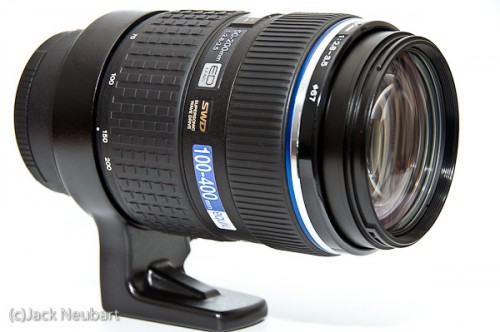 One noteworthy point: in the shot of the bee on a leaf, the water droplets are out of focus. But what we should emphasize is how nicely circular those out-of-focus highlights are, due to the 9-bladed circular aperture.
Mechanically, the lens leaves a little to be desired. The zooming ring tends to fight you on its long and arduous journey from 50 to 200mm. At around 100mm, it's as if someone put a "slow down merging traffic" sign in your path, and the lens almost grinds to a halt. Not the most conducive for fast responses to unfolding action-which is why I normally worked within a short range of focal lengths.
Optically, the lens cannot be faulted. I was just as happy with the results shooting wide open as shooting stopped-down. All that exotic glass appears to have paid off.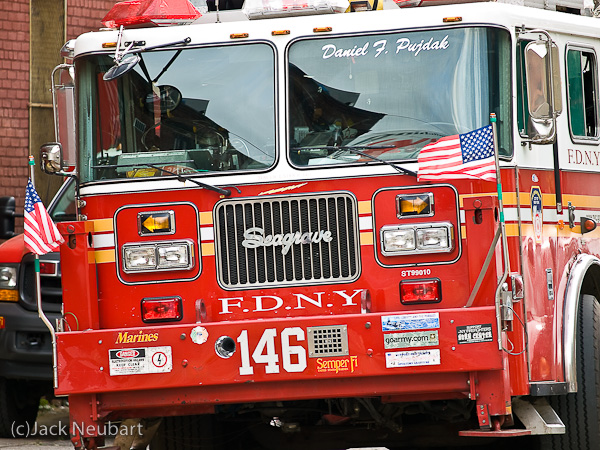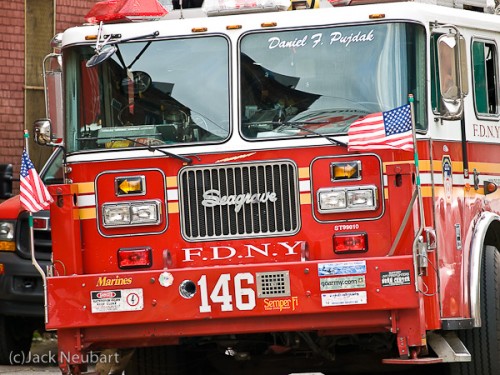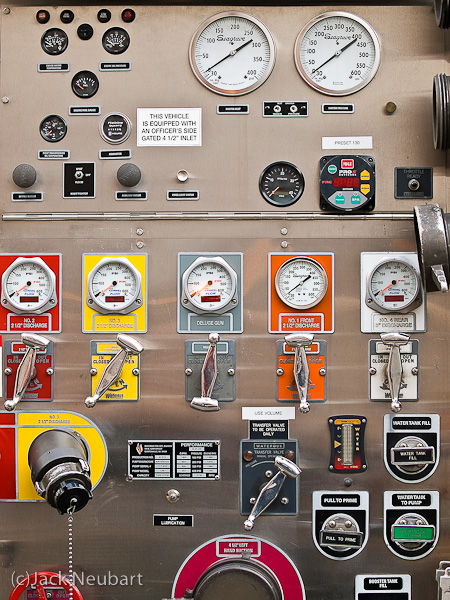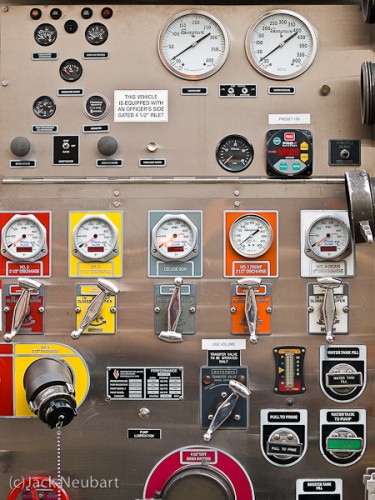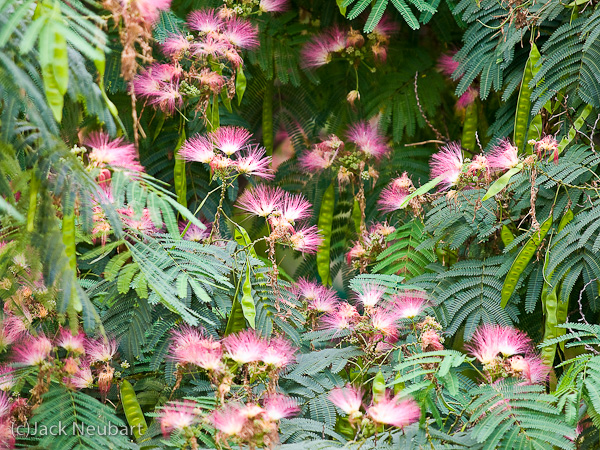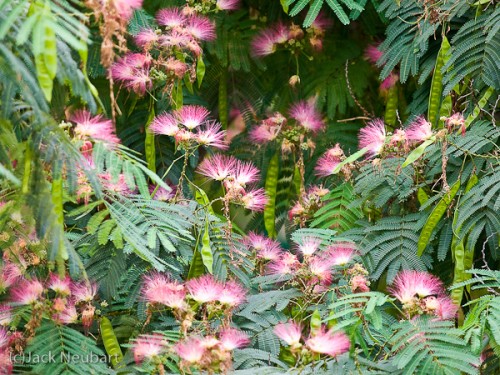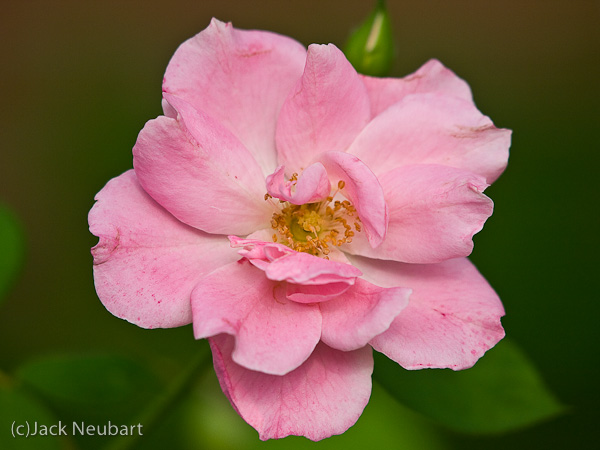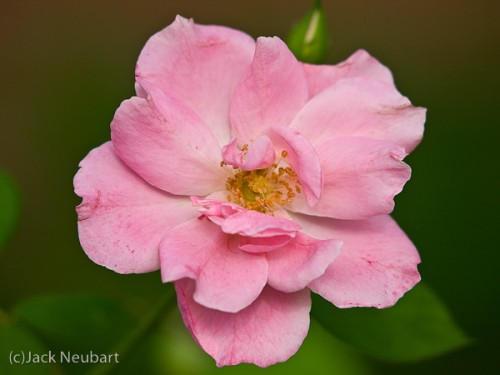 In Conclusion
I was not done shooting. I meant to bag me a squirrel, and, gosh-darn-it, I did just that on a subsequent outing. It was after 5 pm, late summer. I set the lens at 200mm, the camera in program mode, AF to one-shot, and ISO to 800 to give me motion-stopping shutter speeds (as much as possible without cranking ISO any higher, not so much for camera shake, but rather for the squirrel's movements).
I made several exposures, and as the critter moved away, I tried to anticipate it. I moved closer; it climbed up a tree to enjoy its bounty, a peanut obviously tossed by a passerby. As it reached about eye level, where it felt safe enough, it started to shell the peanut and dig in. I watched and photographed, moving a step closer, inching my way more and more with each few exposures. Finally, peanut eaten, patience worn thin, the squirrel vamoosed up the tree, leaving me with my own bounty of countless exposures. Another rewarding experience with the E-3 and 50-200 lens.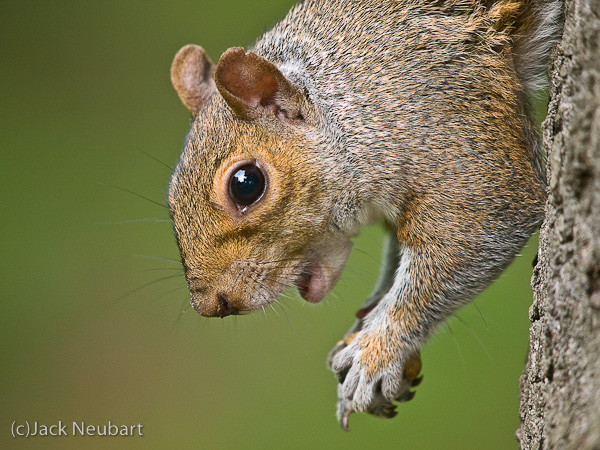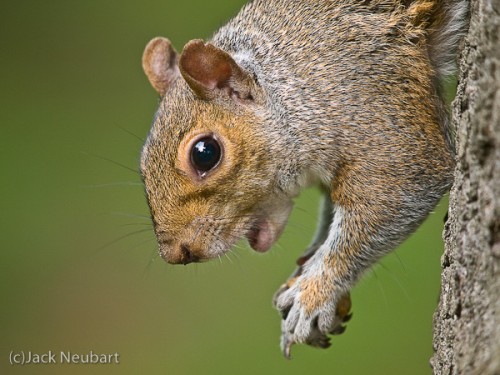 Verdict: Buy it. If you don't mind the smaller Four Thirds sensor or being limited by 10.1 MP resolution (little room to crop), this is definitely a camera to own and use.
For more information: Visit Olympus USA , or Amazon Olympus Evolt E-3 10.1MP Digital SLR Camera
Tech specs: Olympus USA
B&H Price–Olympus E-3: $1,250
B&H Price–Olympus Zuiko Digital ED 50-200 f/2.8~3.5 SWD Lens: $1,035