We are proud to recognize C.S. Ling and Ethan Lim as Photographers for Good for their impressive project to document orangutan conservation efforts in Kalimantan.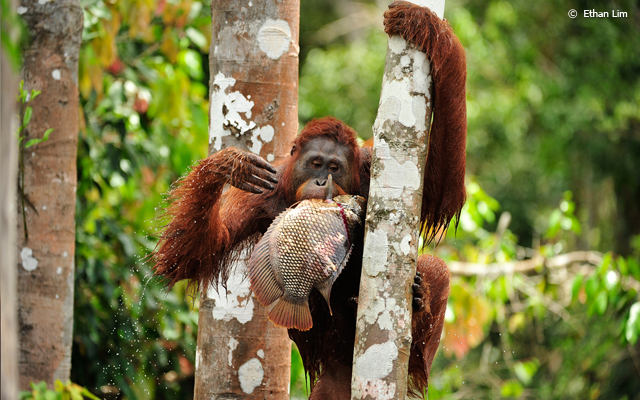 Give us just a little bit of background about you — and how you got into this kind of photography.
Ling: My passion in nature and wildlife has compelled me to want to know more, see more and understand more of the world outside of my immediate surroundings. Coming from a creative background instead of a scientific one, (I've been a creative designer/director for the past decade), I find that conservation photography is my key to infuse all my different passions together with a meaningful purpose, and thus i am able do my best and at the same time, make a positive difference in the world with the visual stories I've captured.
Ethan: My 16-day solo travel photography trip to Myanmar got me seriously into photography. But it wasn't until I met C.S. Ling in one of her photography workshops that I got interested in wildlife photography. The opportunity to embark on the To:MOM conservation photography project cemented my interest in wildlife photography and more so, purpose-driven conservation photography to raise awareness about wildlife endangerment.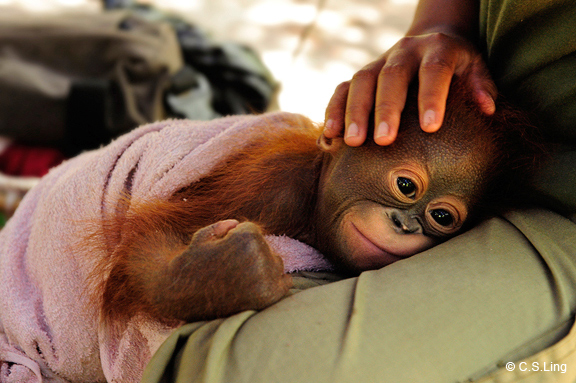 Why focus on orangutans in Kalimantan?
Ling: I've always felt a close affinity with the orangutans ever since 5 years ago when I first visited Borneo with my very first DSLR and have since made more than 10 trips back to capture visual stories of the rich and diverse wildlife there. I can not only see but also feel the similarities between humans and orangutans. Orangutans are the only great ape of Asia and share 96.4% of our DNA markup. As Singaporeans living on the same continent as these majestic great apes, we felt even more compelled to do whatever we can to help safeguard these endangered species, as long as we can make a small positive difference.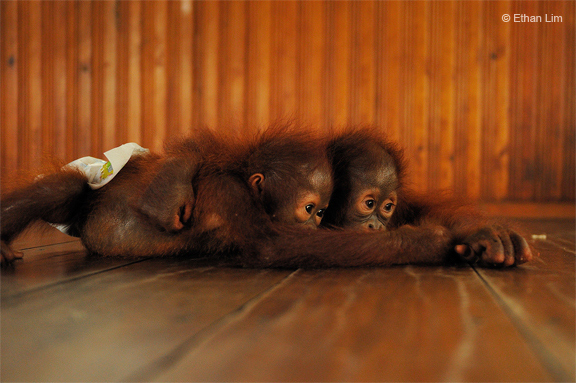 Can you describe what's happening with this issue in  Kalimantan?
Ethan: Orangutans depend on their mothers for the first 7-8 years to learn the necessary skills for survival in the wild. However, they are endangered due to illegal poaching (the killing of orangutan mothers and the selling of orangutan babies through the illegal pet trade) and because of natural habitat destruction (illegal mining, deforestation, and monoculture of oil palm plantation).
How did you prepare for work on your project To:MOM (To My Orangutan Mother)?
Ling: We spent 3 months to prepare for the trip to Borneo Orangtan Survival Foundation Nyaru Menteng while juggling between our full-time jobs in our respective industries. From writing proposals, getting approval from The Borneo Orangutan Survival Foundation (BOSF), applying for permits to restricted areas, getting sponsors to support the cause and finally getting our leave time approved. We only had 2 weeks to document the orangutan orphans. Thus, we brought $3000 worth of compact cameras sponsored by Nikon Singapore to donate to BOSF and conducted free photography workshops to 20-30 BOSF staff members so that they can make use of the new cameras to continue documenting the orangutan orphans and raise public awareness through the power of photography. Six months after we returned to Singapore, To:MOM exhibition was staged at one of the biggest shopping malls in Singapore on Mother's Day 2011.
What were you hoping to achieve with your photo essays of orangutans?
Ling: We can't understand the orangutans through speech but I find that with visual imagery, we can understand the orangutans. Whether they feel hurt, sad, happy or playful. I want to continue to use photography to forge this connection between humans and animals; that we are all connected as fellow living species on Earth. These visual stories are also important to reach out to the younger generation and educate them to appreciate nature in hopes that as they grow up, they will be concious about the choices they make that will least impact the environment.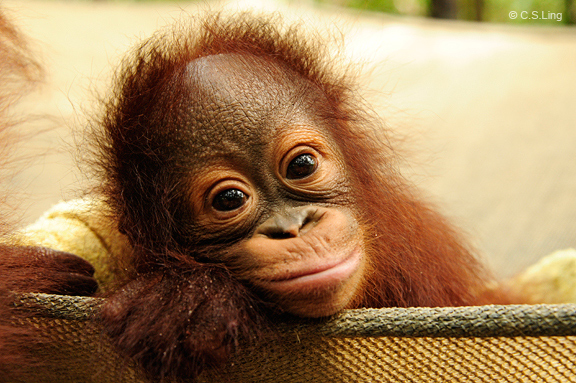 Any special challenges that you encountered?
Ethan: Seeing these adorable young orangutan orphans face-to-face for the first time, it was hard not to fall in love and want to hug these young orangutans. However, we immediately understood the cause of the rampant illegal wildlife trading. Young orangutans are pried away from the dead mothers' bodies (killed by poachers) to be sold on the illegal pet trade. Most orangutan pet owners do not see past the cute adorable faces of the baby orangutan to that of a grown adolescent that is impossible for humans to control. Most of the orangutans thereby live their next few years in cages, boxes or chained up. They are deprived of the chance to learn the necessary skills and knowledge to survive in the wild from their mothers, as such, they will no longer be able to survive in the wild. That is the challenge we face on a daily basis — to respect and remember that the orangutans are not meant to be domesticated; they belong to the wild as their name suggests –orangutan (Person of the Forest).
What's in your bag?
Collectively, we carry the following for our trips:
4 Nikon Professional DSLR bodies (D700, D3, D3s)
2 Nikon AF VR 80-400mm f/4.5-5.6D E
1 Nikon AF Micro-Nikkor 105mm f/2.8D
1 Nikon AF-S NIKKOR 24-70mm f/2.8G ED
1 Nikon AF-S NIKKOR 14-24mm f/2.8G ED
1 Nikon AF 50mm f/1.4D
1 MacBook Pro
1 MacBook White
2 Gitzo Systematic 6X Carbon Fibre Tripods with gimbal heads
12 SanDisk Extreme Pro CF and SDHC cards
SanDisk Extreme FireWire Reader
SanDisk ImageMate All-in-One Reader
Occasionally, we bring along the following selection for overseas shoots:
NIkon AF-S NIKKOR 500mm f/4G ED VR
Nikon AF-S VR 200-400mm f/4G IF-ED
Nikon AF Fisheye 16mm f/2.8D
Nikon Teleconverter TC-17E II
Do you have a favorite image from your series?
Ling: One scene that really touched me was a photo I've taken of an orangutan named Simona. She was introduced into the semi-wild river island many years back and has successfully given birth to her own baby and at the same time, adopted another baby from an inexperienced orangutan mother and called it her own. Simona's innate maternal instinct shines through this image as she not only protects her own baby but also the baby of a fellow orangutan to ensure the survival of the species, even though she is an orphan who lost her mother when she was just a baby herself.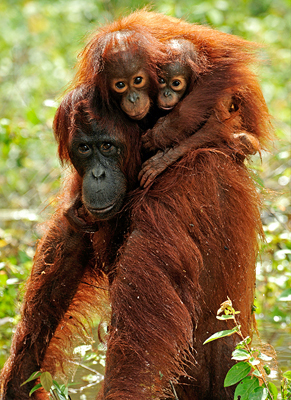 Ethan: My favourite image, is that of 13-year old male, Menteng, the dominant male on the semi-wild river island, Kaja island. The primary diet of orangutan consists of tree bark, leaves, fruits, flowers, nectar, honey and occasionally insects for their dietary protein intake. This image shows the highly adaptable nature of Menteng, living on this river island as he is seen catching a fish from the river bank for his consumption. With the dwindling population of wild orangutans due to the adversity of poaching and rapid natural habitat loss, this act of local adaptation speaks very strongly about his ability to survive against all odds as he learn to innovate, improve and adapt.
What are some of your other important projects?
Ling: We are constantly documenting more endangered species of the world and looking at conservation organizations that we can lend our photography expertise and experience to further empower their conservation efforts.
Any advice for wildlife photographers hoping to make a difference?
Ethan: Wildlife photography is enjoyable for photographers as we spend time and effort to capture the beauty of nature's creations and it helps us to be better able to understand other species outside the human race at the same time. To make a difference, it is important for wildlife photographers to create images and raise awareness, individually or collectively, on the beauty of nature and also the problems that threatens the existence of it. This is purpose-driven conservation photography.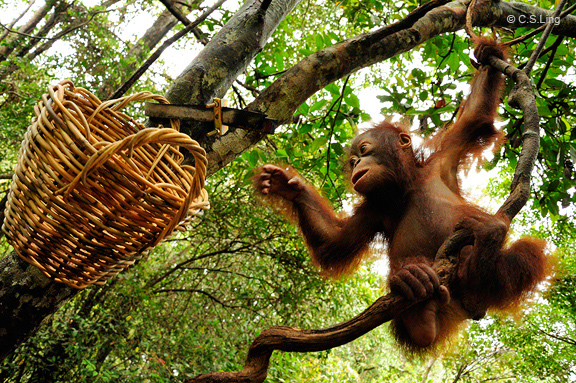 What are you working on now?
Ling: We have since resigned from our full-time jobs and joined forces to create Life List Chase to encourage more people to be in touch with Mother Nature through photography and to educate the young generation of today about the environmental issues that we face now, and more so in the future. For our overseas photo workshops, we make sure that we only work with eco-friendly local guides and operators to reduce any potential environmental impacts and we use paper from sustainable sources that are FSC- or PEFC-certified for our photo exhibitions, name cards, etc. In this concrete jungle that we live in, many of us have lost touch with nature. Thus, being green is not something that most city dwellers would think about and most do not understand why we have to be environmental-friendly even though we keep hearing about how to be green (turn off electricity when not in use, recycle paper, reduce use of plastic bags etc.)
The most important thing for us to do now is to first BE IN NATURE and learn to appreciate it. Take a slow walk in the garden; breathe the fresh morning air to de-stress; head out there and photograph the flora and fauna and see for yourself how beautiful yet fragile nature is and how we are all connected. That's the reason why we have to conserve what we have on earth (the one and only home we have) in order for earth to continue to be able to provide for us. At Life List Chase, we endeavor to empower environmental/wildlife conservation and education through photography.