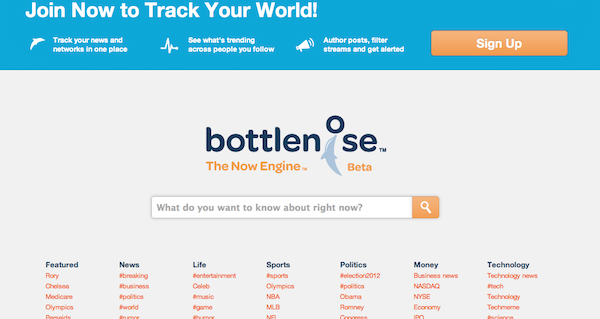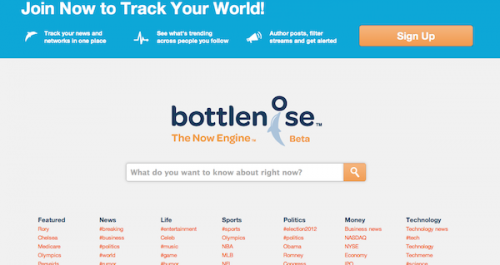 Last week I mentioned a new search engine, Realtime. Today I want to share another very interesting new tool called Bottlenose.
This is not just a search engine. It's more of a research engine.
Bottlenose shows you a live streaming view of what the crowd is thinking, sharing and talking about at the moment and in a visual way. You get insights and analytics into what's behind the trends and who is influencing the conversation. Registering for an account provides a personalized dashboard for keeping up with all your news, interests and social networks in one place.
The website generates a dynamic semantic interest graph about every topic, link and person on the Stream, using a new patent-pending platform for social listening, analytics, and trend detection, called the StreamOS. This performs natural-language processing, classification, analytics, etc.
Before I keep going with the technical jargon, check out this video.
Ok, does this interest you? Head over to Bottlenose and try it on for size. You may find some interested tidbits that can help you find new opportunities for link building, comment marketing or partnerships.
Thanks for reading,
Scott