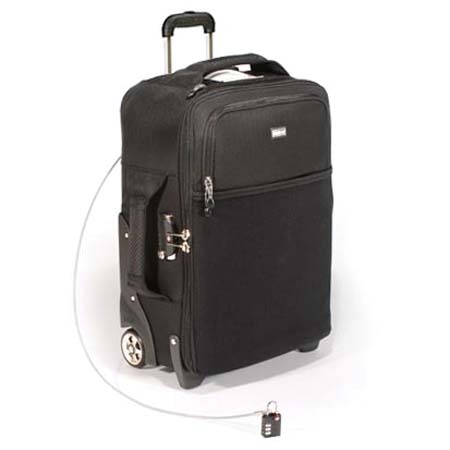 A smaller version of the "domestic" Airport, Think Tank's first bag, this roller meets international carry-on regulations and features TSA-approved locks on the main compartment. An integrated wrapped-steel cable lets you lock it to something nonremovable in a press room or hotel — or to a tree. The supplied dividers can be swapped out for the low divider kit, which leaves enough space for most laptops inside the locked main compartment.
A retractable handle, in-line wheels, and a subdued black-on-black design make the Airport International look much like a regular carry-on bag — but it's all business for the frequent-flyer photographer. About $320. READ FULL REVIEW AT POPPHOTO
If you own or have used this bag, let us know what you think! Leave your comments and thoughts below.
Get information and user reviews for this bag from Amazon: Think Tank Airport International 2.0, Medium Size Airline Carry On Photo Roller Luggage
Other Think Tank Airport International Reviews
Luminous Landscape
When the bag arrived I was very impressed with its overall fit and finish. Materials are first rate, as is construction quality. The bag is also covered by a no-nonsense lifetime warranty. Any failure due to materials or construction and the bag will be fixed at no charge. The interior is comparable to most current bags, with a surfeit of removable solid though padded dividers which velcro into position. The interior can therefore be configured a number of different ways, and large lenses up to and including a 400mm f/2.8 of 500mm f/4 can be managed. There is also an optional set of low dividers available that allows a laptop to be carried inside the bag. This arrived too late for testing, but I likely wouldn't have used it this trip as it reduces the thickness of lenses that can be carried. UK-based photographers may find this to be just the thing due to the 'one bag" restriction, though a laptop can also be carried in the bag's external stretch pocket – though not as securely. Like all Thinktank products with which i have experience, the International is of first-rate construction and materials. If international air travel is where your photography leads you, the Thinktank International may be just the bag for you. READ FULL REVIEW