One thing that many buyers of commercial photography like to see are behind the scenes videos of a shoot. It allows them to get a sense of how you like to work and what kind of shoot you might run if they were to hire you. Even for photographers working in the retail and personal fields, behind the scenes video can be a great marketing tool, showing potential clients and customers what their shoot might be like.
Of course, like photography, productions vary widely. You can shoot a scripted narrative with voice overs and scores. You can shoot a time lapse of the shoot and simply post that. The latter is certainly the easiest to shoot, and the TimeLapser app is designed to make that easy.
TimeLapser uses the built in camera to shoot individual frames, at a user-determined rate and resolution, then stitches those images together into a .mov file (at a user determined frame rate). At its heart, it's basically an intervalometer that will combine the individual files together for you.
Settings
The app will allow for the following adjustments to the capture, stitching and playback…
Frame size – Chose the resolution of the images captured, ranging from 240×180 to full camera resolution (note: larger file sizes are not supported but the iPhone, so those need to be emailed out directly from the app).
Capture rate – Chose how long between each frame captured. Each subsequent generation of iPhone has limitations to how quickly it can capture images. Selectable rates range from 3 sec. (3Gs only) to 5 minutes.
Delay – Chose the delay between button tap and first frame capture.
Stop after – Chose the length of time to shoot. Ranges from 1 minute to 24 hours, also can be told to shoot indefinitely.
Playback rate – From 1fps to 30fps.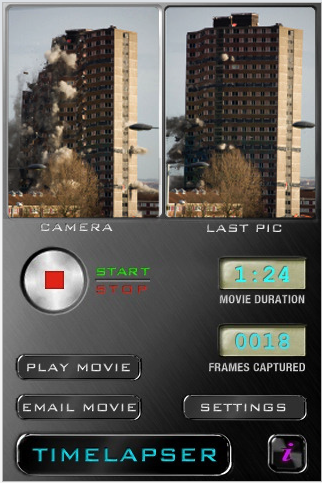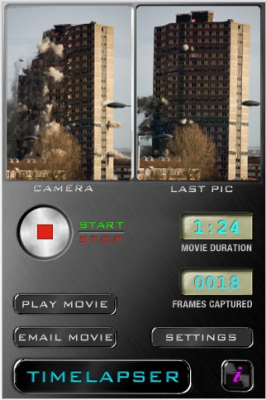 Use
While the concept is cool, the interface could be thought out a bit better. First, the control panel is vertically-oriented. While most of us are used to the vertical orientation on the phone, most videos are viewed horizontally. The app doesn't take advantage of the built in accelerometer, so if you turn the phone horizontal to shoot, you have to work sideways. Not horrible, but not easy either. Of course you should move the phone to airplane mode while shooting so you don't have an interrupting phone call (which will kick you out of the app and not save your images) and also disable the auto lock feature.
Finally, on several attempts to shoot videos, all of them had significant artifacting. This is the deal killer. As an imaging professional, it's simply unacceptable to put something out in the world that's got technical deficiencies. I hope subsequent updates fix this, because otherwise, it's limited to just a toy. Of course at $1.99 it's a cheap toy.