This may sound strange, but designing a wedding album can be more stressful than actually taking the pictures. When you're  shooting a wedding,  you try all sorts of different techniques to get the shot.   That way  you have a lot of options available to  you later when designing the album. However, when designing the album, you don't have the luxury of "covering  your bases," so to speak. You have to take 700 images and eliminate down to 60-100. There are a lot of criteria to meet:
Do these images tell the story of the day?
Do you have all the formal and family shots that the client wants?
Does this client like big pictures or lots of small ones?
What's more important to the client: beautiful formal pictures or candid fun ones?
Those are just a few of the questions that you have to think about as you begin the design and we haven't even touched on the whole artistic side yet. There are certainly times when I am more nervous showing off an album design than I am showing off the pictures. With an album you are saying, "This is how they should be displayed.   This is the way your wedding story should be told."   You don't want to get it wrong.
There are some photographers that don't let the client have any input into the album design but I'm not one of them. I am better than the client when it comes to designing a book that flows and beautifully showcases the wedding but I cannot compete with the client's ability to select the images that will mean the most to them over the years. So, I design the album myself, then allow the client to make changes. It's a back-and-forth process that varies by client (some want a lot of changes, some don't want any).
There are times when I will design a beautiful page only to have the client suggest changes that destroy it. It's a legitimate concern because the client will show your album to friends and it will be a representation of your work, even though it's been altered. But I believe that a client who has a hand in the design feels more connected to the work, and is more likely to show it off and brag about  how great the photographer was and how understanding he was, etc.  This will ultimately get you more clients than a beautiful album that the bride had no part in making.
I don't ever want a bride, while showing her album, to say, "I'm not real fond of this picture," or, "It would have been nice if these pictures were bigger."
I also think   clients love the albums more because they are involved in the process. I do know this: the more demanding and exacting the bride is when designing the album, the more likely she is to order more than one. It's very common for a bride to order one album and, after it's finally finished, order a second album as a gift.
I design my albums in Fotofusion. I don't use templates at all. I start with a blank page and drag the best pictures on to it … then figure out the best way to arrange them and still showcase the ones I feel are most important.
This post would be far too long if I tried to explain everything that goes into an album design so instead I'm going to talk about one of the things that I think really makes a difference: Backgrounds.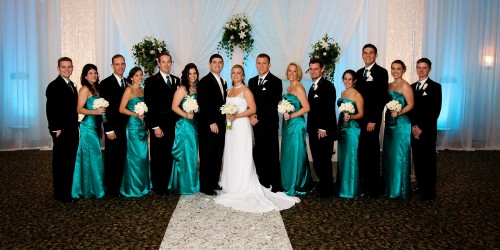 Let me start off by saying that I love a single, double-page print. For me, the best part of building flush-mount panoranic albums is turning the page to discover this huge 12×24 print staring back at you.   This is especially useful with big groups because it allows you to see the faces. When clients turn to a page like this, it always gets a reaction and for many justifies the cost. Of course, it's the easiest page to design. There's no background on this page and I don't frame it in any way. I like the image to fill all the space.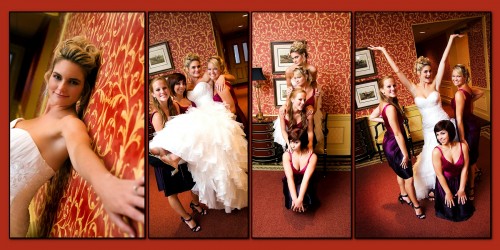 It would be great if there was some perfect combination of pages for every wedding (1 page of getting ready + 2 pages of the ceremony + 2 pages of formals…) but it just doesn't work out that way.
Instead you have to look at the images and decide what's important (and what you have great images of…). The above page was taken at the reception because I noticed the wallpaper and thought it would make for some dynamic shots. I started with the bride and then a few bridesmaids hopped in and the next thing you know we are posing and shooting and having a good time. Once I started the album design  these images  just demanded a page of their own so I had to adjust my other pages to make room. You'll notice that I matched the background of the page to the color of the carpet. I try to color match whenever I can, or even better, use an image. Matching the color really makes this page stand out as it's own "event" in the book.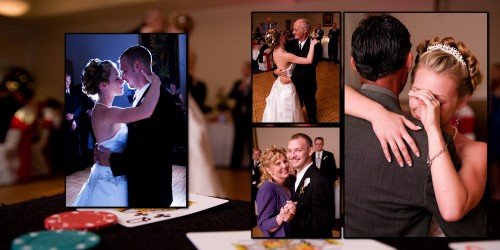 This is a good example of how I like to use an image for the background on a page. (The exception to this sort of design is the family formals page which I usually design with a black background. They look more formal that way.) By using the background image I'm able to showcase the reception's theme (the groom is a casino dealer) without putting it front and center. People spend a lot of time and money on the reception planning, so I always try to incorporate it into the album as much as possible.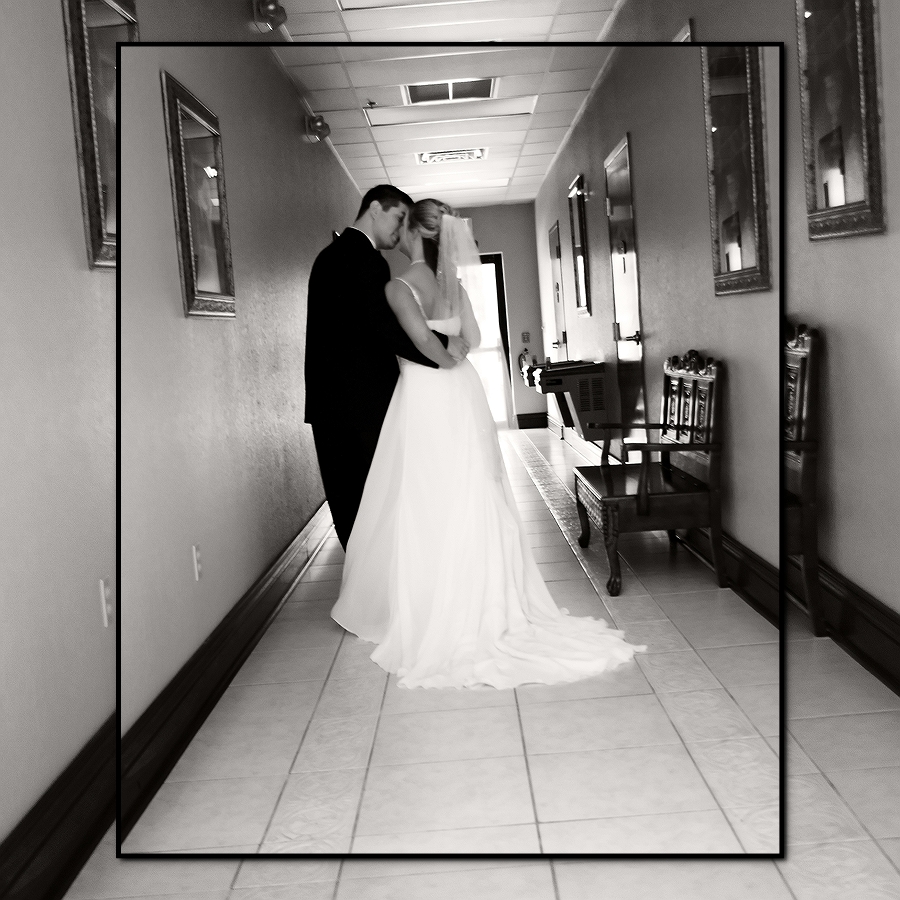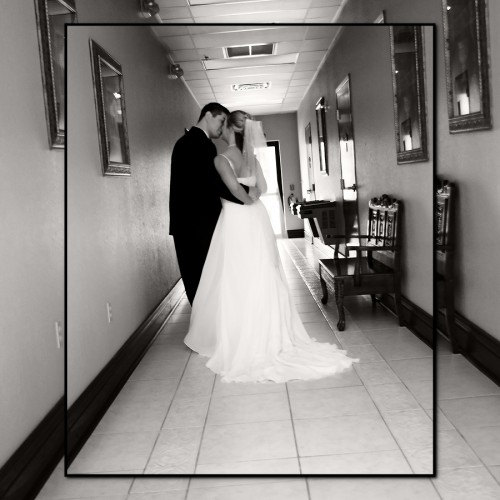 Finally, there's this image which is the final page in a recent album. By using the image as it's own background I'm able to extend the view … making this picture appear to be a wider angle than it actually is. I use this effect a lot on the final page. I like the "going away" feel that signals the end of the day.
As always, I make no claims that my way is the best way… just my way.