What kind of photography do you do?
I specialize in family photography experiences covering everything from maternity bumps, newborn babies and toddlers to older children and small family groups.  I focus on selling more than just a portrait; the business has a dedicated in-house bespoke framing workshop that ensures each portrait leaves the studio as a beautiful piece of framed art.
I also have a commercial side to the business that specializes in business headshots.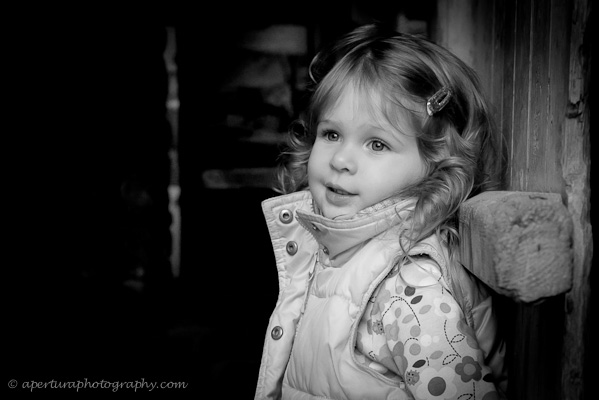 Story behind this image: This little girl was photographed in an old barn that she was having fun exploring…I try to let kids just be themselves and get the images along the way. I always try to get kids under cover with light rushing in from underneath it…you get great catch lights like that. I knew I wanted to shoot  into the darker interior of the barn so as she passed the door and stopped, we had a chat about what the barn was used for. I asked her what animals she thought had lived there and as she stopped to think, I caught this.
How would you describe your style?
My family portrait experiences are done exclusively with natural light and mostly in black and white – I love the simplicity of black and white ; in my mind it allows the viewer to focus on the person's character in that moment without any distractions.  Natural light, if you know where to find it, produces the most wonderful portraits. My starting point for every portrait is the quality of light (note: not the quantity but quality…some of my best images have been taken in low level but very good quality light).
Most of my work is done on location either at clients homes and gardens or any other outdoor country location. I would describe my style as  simple, natural and timeless on-location portraits, reflecting the enjoyment of the relaxed moments had whilst creating them.  I believe many current family portraits styles will go out of date quickly; I strive to create art that will hang on walls for decades to come without the families ever getting tired of them or going out of fashion.
On my commercial headshot side of the business, my style is studio lit landscape headshots against white, gray or colored backgrounds – I believe every business person can have a portrait that projects confidence but with approachability.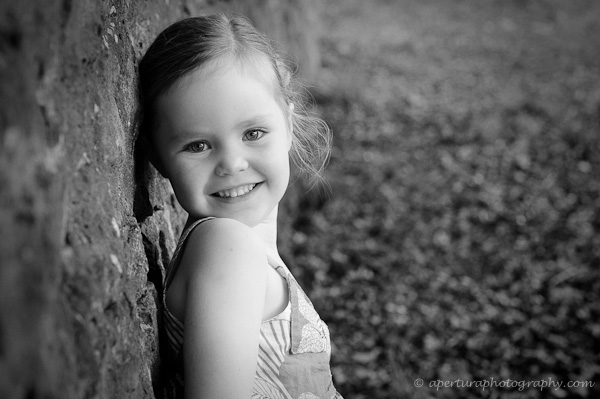 Story behind this image: This girl was shot in a local deer park – she loved having her picture taken and this was right at the end of the session. I had found a great wall that was under the cover of lots of thick trees. The wall ran away up a hill with the ground covered in old leaves. Being under cover meant great catch lights again (you can see the sky 'softbox' in her eyes) and the leaves on the ground behind created a wonderful backdrop. I asked her to look at her mum and on the count of 3 look at me without laughing…she couldn't do it and gave me this shot!
What's your approach to post processing?
I shoot all my images in RAW and import them to Lightroom. I do initial adjustments to the RAW files in Lightroom than export as tiffs to a point of sales program from time exposure.com called ProSelect. From there I individually edit images in Photoshop. For all my portraits, I am passionate about getting as much of the image right in camera – I'm a lover of minimal post processing if I can help it!
For my family portraits, I use Alien Skin Exposure 3 to convert the images to B&W following low level touch ups. I then use a custom action which creates a masked grey layer over the image – I can then paint black or white on that layer to add contrast selectively to existing shadows and highlights; it's like a burn tool but with greater control. A simple gaussian blur on this layer merges the layer to taste. I like lots of grain in shadows and carefully applied vignettes on many of my black and white images. Once complete, I use ProSelect to produce high resolution files automatically at the clients requested sizes, ready to send to the print lab.
For my commercial work, I follow a similar workflow but most are done in color unless clients request otherwise. I like vignettes on my backgrounds but achieve this in camera using a single speed-light behind the subject, firing into the background – in camera vignettes always look better in my opinion.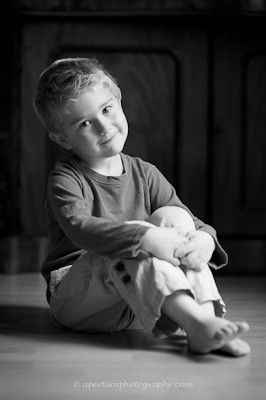 Story behind this image: This boy was in his own home. They had a south facing floor to ceiling living room window, heavy curtains and a nice cupboard. By closing all the curtains and keeping just a narrow gap open on the south facing window curtain, I created a soft modelling light. The boy was a natural and just sat very relaxed, chatting , laughing and posing for me.
What or who inspires you?
My passion for portrait photography grew out of traveling the world as a British Army helicopter pilot, capturing images of colleges along the way. I was inspired to record the moments we experienced together – those moments pass so quickly and a record is essential.
I learned to shoot after being inspired by strobist.com. The early years of my photography were completely dominated by flash photography – I would say I didn't know how to shoot with natural light at all really.
When I was leaving the military, I attended a one-on-one training day with a successful photographer from North Yorkshire, UK,  by the name of Mark Broadwith (http://www.marksstudio.co.uk/). He taught and effectively mentored me over the coming year in natural light photography which I discovered was highly effective in family photography; my style is inspired by his work greatly I would say.
When I started the headshot side of things, my early flash photography skills became useful once again. I have been inspired recently by Peter Hurley having watched his new DVD –  The Art Behind The Headshot. If you shoot headshots and haven't seen this DVD then it will drastically change your approach to your work and I highly recommend it.
In all my work but particularly my family portraits, I'm inspired to create not just an image but a memory of a moment, experience, character and ultimately a piece of art presented appropriately. I take great pride in being trained as a picture framer and my clients come to me to buy both the experience and art, not just a picture for their wall.
What gear do you use?
I'm Nikon fan. I use a Nikon D3s and love primes – 50mm 1:1.4D and  85mm 1:1.4D are my main lenses (old but good!) I also uses a 24-70 1:2.8 AF-S occasionally.
On the lighting fornt – just a reflector for the natural shots occasionally when needed. On the headshots, I have 4 sb800s and a handful of pocket wizard tt5s, a minitt1 with ac3 zone controller. I use shoot through umbrellas, a 60″ octa from Paul C Buff modified to fit speed lights and smaller lastolite softboxes.
oh…and a trusted macbook pro!
–
Links
Website: www.petermarfleetphotography.com
Facebook: www.facebook.com/petermarfleetphotography
Twitter: http://twitter.com/petemarfphoto
Google+: https://plus.google.com/u/0/b/100248340343719760357/