What kind of photography do you do?
I've been creating fine art and conceptual illustration for many years. My work has appeared on award-winning novels ranging from mysteries and science fiction, to books based on the X-Files TV series, to Newbery Award-winning books for children.
I also create portraits of people and wildlife, translating what I feel and what my mind sees into a physical image, its meaning malleable.
Lately I've concentrated on a body of work centering on ordinary backyard wildlife. These photographs capture the unique qualities of light interacting with the natural world, including luminous photographs of honey bees and small birds in flight, glowing fireflies mating and hovering over twilight fields, mosquitoes with a belly full of blood, and new-born praying mantis nymphs emerging from their egg cases.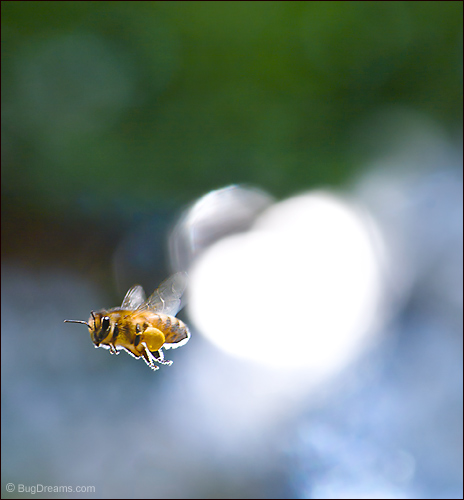 Story behind this image: The ongoing adventures of a honey bee, her unpredictable twists a mutiny against the sky. Thanks for all the bees: honey bees, bumblebees, solitary bees. Like treasure hidden in plain sight, dancing in the scattered sunlight, miraculous pollen-seekers with energy enough to exhaust the average hunter-gatherer, and exhilarate the patient, watchful observer.
How would you describe your style?
I'm primarily concerned with portraying light and emotion, experimenting as much as possible, and finding the image through chance and discovery.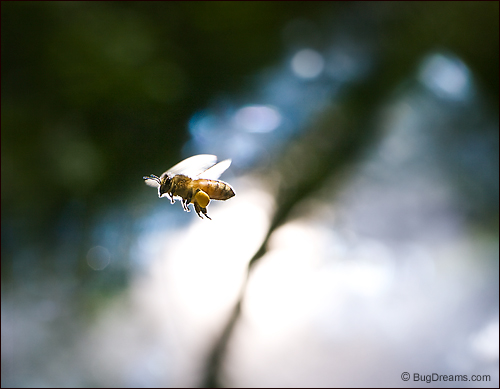 Story behind this image: Using only existing light to illuminate these bees can be very difficult, especially when they're in flight, but so much of what the bee does and is IS flight. Here I was able to use the sun to light up and capture the detail in this worker's wings. It also highlights, in another sense, how harmonious the natural world is, how one process creates life for everything it touches. In the sense that photography is light, the sun is the world, and the bees know that.
What's your approach to post processing?
No more than is needed, but enough to express my feelings for the image. In some cases I discover more than I expected in an image through post processing.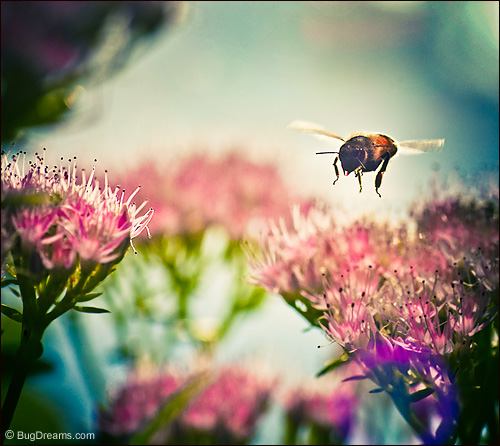 Story behind this image: A sharp little angel of the garden, a honey bee on her way to the wild side, too chic for her own good! She casts shadows throughout the spring air, mixing bravura style and performance in the greatest American road trip. Her natural elegance flashes fire from an understated Gilded Age.
What or who inspires you?
I'm inspired by the challenge of capturing light, and anyone who has surprised me or shown me something new. Artists I've learned from include Francisco Goya, Giovanni Battista Tiepolo, George Inness, Arthur Rackham, Max Ernst, Winsor McCay, Charles Burchfield, Francis Bacon, Man Ray, Henri Cartier-Bresson, Henri De Toulouse-Lautrec and Giorgio De Chirico.
What gear do you use?
Canon 5D MII and several lenses. Much of my equipment I make myself, especially camera supports, since I often work in confined, ground-level spaces.
–
Links
Website: http://www.beedreams.com/
Twitter: http://www.twitter.com/bugdreams